WHY NOT TO BE AN ENTREPRENEUR
Should you consider a full-time job before fully pursuing that startup idea? Full-time jobs can be a blessing in disguise for future entrepreneurs. Here are five reasons to have a nine-to-five before taking the leap of faith.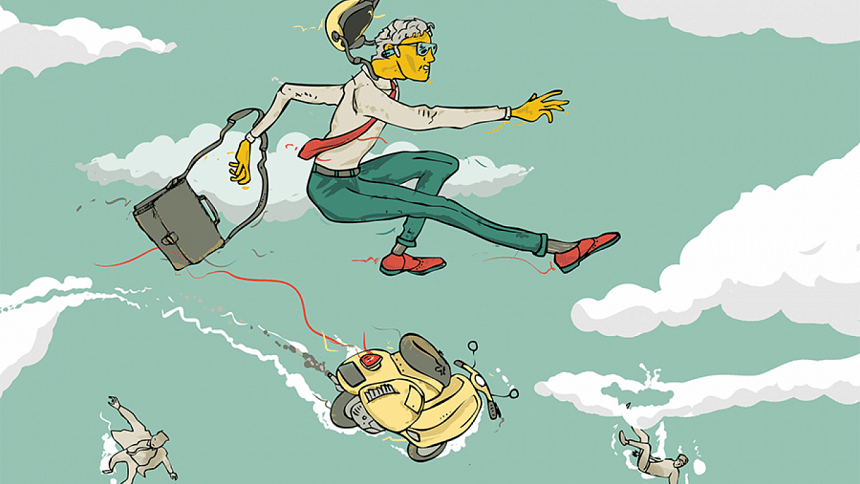 As you do your 40 hours a week and absolutely despise every waking second of it (the peaceful, stolen moments of desk-napping don't count), you fail to realise the benefits of what is happening and tend to focus on what isn't. Some sit and daydream of how it could have been better to pursue that one idea you'e always had a good feeling about, while others quit their first job in less than a month to immerse themselves in their startups.
Despite the climax of the startup ride the world is experiencing, the benefits of a full-time job before pursuing your dream business are invaluable. So when you feel lost and begin to question the course of your journey while juggling between your nine-to-five and your side-hustle, think of the following pointers for motivation!
1. Financial freedom and stability
It's easier to save or make risky investments for your side-business while your full-time job is paying your bills and necessities. You can pay for courses, workshops or other branding opportunities that in most cases cannot be borne unless your survival is financially supported. So while you're getting regular pay-checks and benefits, you can gradually and carefully build your savings to prepare your young business. This also helps reduce the pressure of making huge profits from your business to pay for the food on your table.
2. Doing the impossible
Your life is more disciplined when there are strict deadlines involved that may decide your next bonus or transfer, so you're pushed to your limits to achieve what's needed. Corporate life tests your limits and truly helps you understand what you're capable of. For those who work on their side-hustle simultaneously, days are hard and their nights are even harder. As insane and hectic as it sounds, there's a sense of beautiful accomplishment in it.
3. Skills to run a business
CEO, CFO, Head of HR – these are only a few of the roles one may have to play as a business owner (initially maybe all!). Regardless of what your full-time job may be, you are definitely learning something that will help you do better at your own game. If you're working with finance, it will definitely help you manage the financial ends of your business; if you're working with management, you're learning team and people skills and so on. These skills are better honed in a cultured environment and hence applied better when designing your own business.
Siffat Sarwar, Founder of ShopUp and former Credit Analyst and Relationship Manager at Standard Chartered Bangladesh, says, "Because I worked before I started my own company, I understand two things very well. One, if you fail to execute, nobody cares why. It only matters that you failed and it needs to be fixed. Two, no matter how large of a company you become, every penny matters. It is all about ideas and plans. In real life, while working, you learn that ideas are the cheapest things ever. Execution is what matters."
4. Discover yourself
"Right after graduation, the most important lesson is character development and there is no better way to learn that than from those who have been at it for years," comments Taosif Amin Khan, Assistant Vice-President at HSBC Corporate Banking. What you learn and experience will help you realise the tone and modality of what you envision for your business, guide you in designing the structure and culture of your business. It may be because you either realised the absence or the presence of a particular feature at your full-time job. You also realise what corporate role best fits your personality and the type of corporate leader you aspire to be one day – all under the mentorship and grooming of those who are the best in the field.
5. Sharpened instincts
Undoubtedly, prior experience and learning not only help develop skills and character, but also possibly the most important element in an entrepreneur – instinct. Getting to know the real world helps you get better practical knowledge and hence sharper instincts to guide your decision-making. Forecasting, adjusting and overcoming challenges also become easier, if not more skilled than an amateur. Those who start without any prior experience do succeed, but after hard work and perhaps numerous failed attempts, opines Sajeed Alam, Future Leaders Programme Trainee at GlaxoSmithKline Bangladesh Limited. "To be a bit more certain and informed, wouldn't it be great to learn, experience and develop some competencies and then launch a venture?" he adds.
Of course there are success stories of individuals who made it big with no prior job experience, but this article serves a greater purpose – to influence and motivate those who have or had started their full-time jobs as a safety step before the change in employee to employer status. These pointers are why you started your job and although the struggles may be overwhelming and depressing at times, remember that what you're learning is worth it. Because when you're finally ready for the big step, you'll know you worked hard to get aboard the most terrifying yet thrilling experience of your life.
The writer is a junior at the Institute of Business Administration, University of Dhaka.