Rushdie attacker's mother says son returned to US as "religious zealot" after 2018 Lebanon visit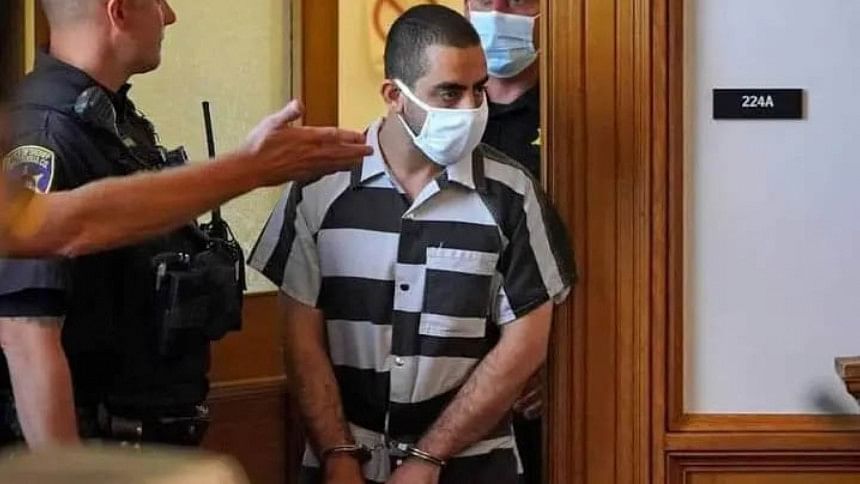 Mother of the man who stabbed renowned novelist Salman Rushdie disclosed that her son, who was born and raised in the US, travelled to Lebanon for a month and returned as a "religious zealot", according to a report in the UK's Daily Mail on Sunday.
Silvana Fardos, Hadi Matar's mother, was quoted as saying that she had hoped for her son to return from the 2018 trip "inspired", but he came back as a "moody introvert" – considerably different from his former sociable personality.
In the exclusive interview, she also disclosed that he would shut himself in their New Jersey home's basement and avoid contact with his family for weeks at a time.
When Hadi Matar stormed the stage and stabbed the Indian-born author on Friday morning, Rushdie was about to give a lecture on artistic freedom at Chautauqua Institution in western New York.
Fardos claimed that the FBI agents took many items, including books, knives, a computer, a PlayStation, and a sharpening tool, from the basement.
"I find it hard to think he was capable of such a thing. He was adored by all and was incredibly quiet. I won't bother talking to him again, as I told the FBI. He is accountable for his deeds," she said.
Fardos, born in Lebanon, claimed that although she did not know if her son had ever read Rushdie's book, she had seen that he had grown more devout since his trip and that he had previously chastised her for not raising him strictly Muslim.
"To be completely honest, I had never heard of his author before. I never read any of his writings and had no idea that he was even a writer. I was unaware that my son had ever read his book," the woman said.
Yaroun, a stronghold of Iran-backed Hezbollah, is a border town in southern Lebanon from which Hai Matar's parents immigrated.
Hadi Matar was American-born, and attended school in Cudahy, California. After divorce in 2004, his mother relocated to New Jersey and his father to Lebanon, according to the Daily Mail.
In 2018, the 24-year-old travelled to Lebanon to see his father.
"I expected him to return inspired, to finish school, to obtain his degree, and to find employment. Instead, he barricaded himself in the basement. He was very different. For months, he kept silent," the mother said.
"He once challenged me, asking why I advised him to pursue an education rather than putting more of an emphasis on religion. He was upset that I did not introduce him to Islam when he was a child," according to Fardos.
"I've been here (US) for 26 years. As a single mother, I'm trying to lead a basic life while making sure my kids have a roof over their heads and food on the table," Fardos was quoted as saying.
"I'm not religious, and I don't care about politics. I am a Muslim by birth, and that is essentially it. Neither did I force my son to follow any one religion or practice," the woman said.