UN chief 'horrified' by Gaza hospital blast that killed hundreds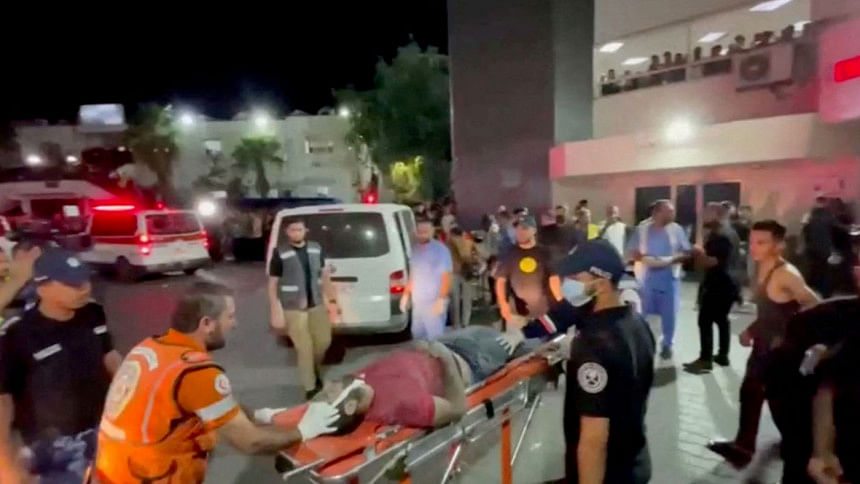 United Nations Secretary-General Antonio Guterres said on Wednesday he was "horrified" by hundreds of people killed in a blast at a Gaza hospital, strongly condemning the action.
Palestinian officials said an Israeli air strike hit the hospital, with the Palestinian Authority's health minister accusing Israel of causing a "massacre".
Israel blamed the blast at Al-Ahli al-Arabi hospital on a failed rocket launch by the Palestinian Islamic Jihad group, which denied responsibility.
Guterres, speaking at the opening ceremony of the Belt and Road Forum in Beijing, said he condemned the Hamas attacks against civilians in Israel on Oct. 7
"But those attacks cannot justify the collective punishment of Palestinian people," Guterres said.
Before flying to the Chinese capital to attend the forum, Guterres said he had appealed to Hamas for the immediate and unconditional release of hostages, and to Israel to allow immediate unrestricted access to humanitarian aid for the most basic needs of the people of Gaza.
He called for an immediate humanitarian ceasefire and made appeals to "ease the epic human suffering."
Guterres was in Beijing to attend President Xi Jinping's ambitious global infrastructure initiative with more than 20 world leaders in attendance.
He emphasised the need for promotion of effective debt relief mechanisms to ensure that countries involved in the Belt and Road programme were not locked into unsustainable debt.
Several partner nations have complained about the high cost of projects of the initiative, which was launched in 2013.
Some countries like the United States view Belt and Road as China's growing move to expand its economic influence on certain parts of the world.