Taking the economy forward: Chamber leaders speak out
A.M.AHAD/ DRIK NEWS
With the eruption of political violence, the confidence of the business people has started eroding.
The productivity in the factories, distribution of goods in local markets and shipments of exportable goods have already faced a severe crisis due to frequent shutdowns since February. In one word, businessmen are worried over the political violence.
Now, they set political stability as an essential pre-condition to maintaining a higher economic growth trajectory. The business people have started crying for a stable political and business friendly environment.
The chamber leaders, on behalf of the businesspeople, have already expressed concern over the shutdowns and the Federation of Bangladesh Chambers of Commerce and Industry (FBCCI) has taken an initiative to have the government and the opposition party BNP hold a dialogue for an amicable solution of the current political crisis.
The targeted 7.2 percent GDP growth might not be achieved, but a moderate 6 percent plus growth is possible in a stable political situation, the leaders of major chambers said.
According to chamber leaders the economy, for the second quarter of the present fiscal, was expected to do well in the coming months, despite the nationwide discontent generated by confrontational politics, poor governance, lack of power and electricity, irregularities in the banking sector, chaos in the garments sector, etc.
But things suddenly changed in February 2013 and the economy is now going through a severely turbulent time.
The outlook for the economy in the coming days thus does not appear to us as optimistic as we had depicted only a month back, according to the major chamber leaders.
The leaders say the government needs to address the structural impediments, improve governance and regulatory efficiency in every sphere of economic activity, reduction of higher cost of business, and ease the pressure of inflation; all of which pose significant threats to the country's economic growth.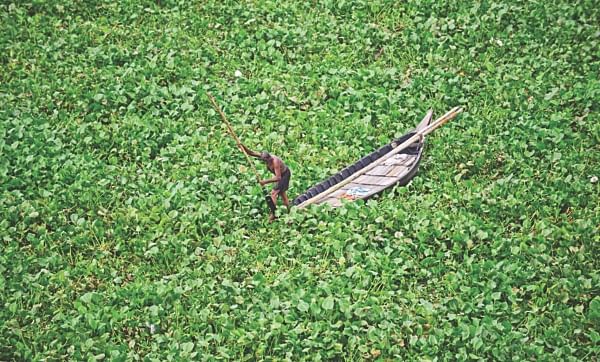 AFP
But considering the special time, the government should urgently try to prevent the spread of anarchy and terrorism, so that growth efforts of government, non-government organisations, and the private sector can be sustained and the economic growth can be achieved.
The targeted 7.2 percent GDP growth will be difficult to achieve because of weak demand for the country's exports resulting from slower recovery of rich country economies, and also because of domestic constraints of poor physical infrastructure and inadequate energy supplies.
FBCCI president Kazi Akram Uddin said the economy is now facing challenges because of nonstop hartals, blockades and political instability over the last several months.
"Economic activities of the country are adversely affected and stagnating due the turmoil. Businessmen, industrialists are in difficulties for want of gas and electricity," he said.
Ahmed also said political turmoil has come on top of this. Investors will turn back if the unstable situation continues.
"Violent programmes will impede growth and the country would be a loser. Without investment it will not be possible to reach the growth target. The ongoing political unrest may dent the country ratings," Ahmed said.
The business community wants to get rid of the continuous turbulent political impasse. Both the government and the opposition should come forward to resolve the ongoing political crisis through dialogue in vital national interest, he added.
"But we are convinced that the growth rate will not be lower than the average rate of growth (i.e. 6 percent) witnessed in the past few years. However, we are afraid that the economy will brace for a lower growth if the ongoing anarchic situation is allowed to continue," said Rokia Afzal Rahman, president of Metropolitan Chamber of Commerce and Industry (MCCI).
Since the external impetus to growth remains weak due to slow export growth and declining inflows of official development assistance (ODA) and foreign investment, prospects of GDP growth seem to lie in increased domestic demand stepped up through appropriate monetary and fiscal policy, Rokia Afzal Rahman said.
She said domestic demand is no doubt getting a big boost from increased remittances, but at the same time there are visible signs of a significant decline in the growth of domestic demand, owing to lower income of farmers due to lower prices of rice, the bursting of the stock market bubble, and slower private sector activities in construction.
"Prudent policy stance is required to achieve close to the target as the economy is facing a few challenges including higher non-food inflation, slow global recovery, international oil price increase, exchange rate fluctuation and recent political turmoil," Rokia Rahman said.
Achievement of the targeted economic growth in FY13 will depend mainly on effective adoption of prudent macroeconomic policies in a sound domestic economic environment along with global economic recovery, she said.
"Large investment projects will have to be undertaken by both the government and the private sector, as well as, through joint endeavours," she added.
Regarding employment she said the country needs to create 2.3 million jobs annually in view of its existing unemployed workforce, estimated at a total of 25 million people in a situation where over 1.8 million youths are entering the job market every year, she said.
The flow of private investment, too, remained low due to the weak physical infrastructure (roads, ports etc) and the poor quality of infrastructure services, inefficient and politicised administration that fails to deliver the desired services to investors, and deteriorating law and order situation.
Foreign direct investment (FDI) inflow has remained small due to the same problems faced by local investors. FDI inflows have never reached the level of even one percent of GDP despite the presence of a large number of lucrative incentives.
She said in particular, foreign investors complain of governance difficulties like policy discontinuity, red tape, administrative hassle, corruption in public services, ineffective implementation of the legal system, high and growing investment-related costs, high corporate tax rates and expensive internet tariffs, an uncertain political environment, shortage of skilled labour, and trade policy-related impediments.
These problems will need to be solved to attract all types of investment, whether domestic or foreign.
"Massive industrialisation is the best way for employment generation," said Murshed Murad Ibrahim, president of Chittagong Chamber of Commerce and Industry (CCCI).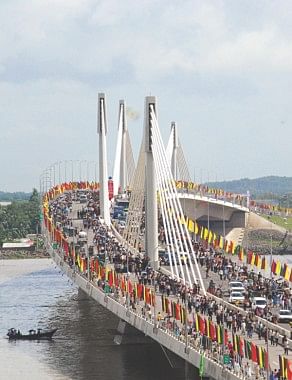 RAJESH CHAKRABARTY/ DRIK NEWS
The government has to create and ensure an industrialisation-friendly environment by providing all out support in infrastructure, policy-making and ensuring removal of possible hurdles on the way to ensuring maximum positive output in the particular sector, he said.
"The government has to work to remove the bottlenecks, particularly regarding policy-making, taxation, infrastructural facilities and other necessary requirements to pave the way for further development. Bangladesh has got some waivers recently in some countries for example duty-free access of goods to India, China and some other countries," he said.
M Sabur Khan, president of Dhaka Chamber of Commerce and Industry (DCCI) also said political stability, united consensus on national economic issues, establishment of good governance, reduction in corruption, steady power and energy supplies, infrastructure development, policy reforms and initiating more PPP projects are pre-conditions to achieving a brighter economy.
...........................................................................
The writer is Senior Business Reporter, The Daily Star.