For more mid-level technicians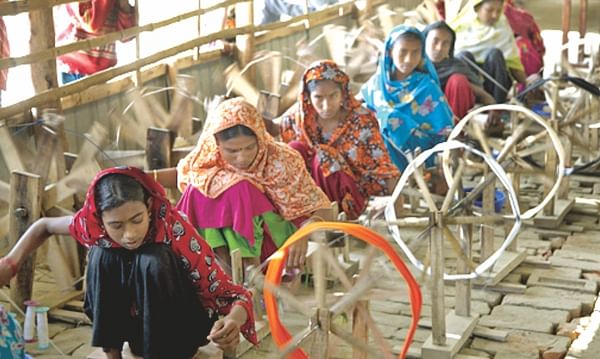 Policies and legislation
The ministry of education has the overall responsibility of making policy decisions for all education including TVET. Other ministries and organizations like ministry of Agriculture, ministry of health, ministry of labour and employment, ministry of textile, ministry of environment and forest, ministry of industries, ministry of youth and sports, ministry of women and children affairs, ministry of social welfare, etc. are also involved. The government has given much emphasis for the expansion and quality of TVET as a means of human resource development for accelerated economic growth and social development. The target is to enroll 20 percent of the secondary and post-secondary students in the TVET stream by 2021 (from that of around 4 percent at present).
The BTEB act also being reframed to match the demand of  skill manpower both locally and globally. Recent trends of TVET is to improve the relevance and quality of TVET and skills training in Bangladesh, through key activities centered on the new National Technical and Vocational Qualification Framework (NTVQF), new competency based skill standards, programmes and resources, and enhanced quality assurance  measures. Another new idea in TVET is Recognition of prior Learning (RPL). Many citisens acquire skills and knowledge through work and other life experiences without access of formal education. The RPL system will officially recognise prior learning (Skills and knowledge) so that individuals can enter or re-enter formal training institutions and thus enhance their employability.
Major organisations involved in TVET
National Skills Development
Council (NSDC)
The NSDC is an important tripatriate forum where representatives of government, employers, workers and civil society can provide leadership and clear direction to skills development in Bangladesh. The NSDC is the highest and apex skills development body which will oversee and monitor all activities of public and private training providers related to TVET and Skills training.
Industry Skill Councils (ISCs)
ISC bring together major enterprises and industry bodies in an industry sector to discus skill development issues affecting their industry sector. ISC will be independently established by industry under the corporations Act and be endorsed by the NSDC as the recognized ISC for their sector with agreed terms of reference.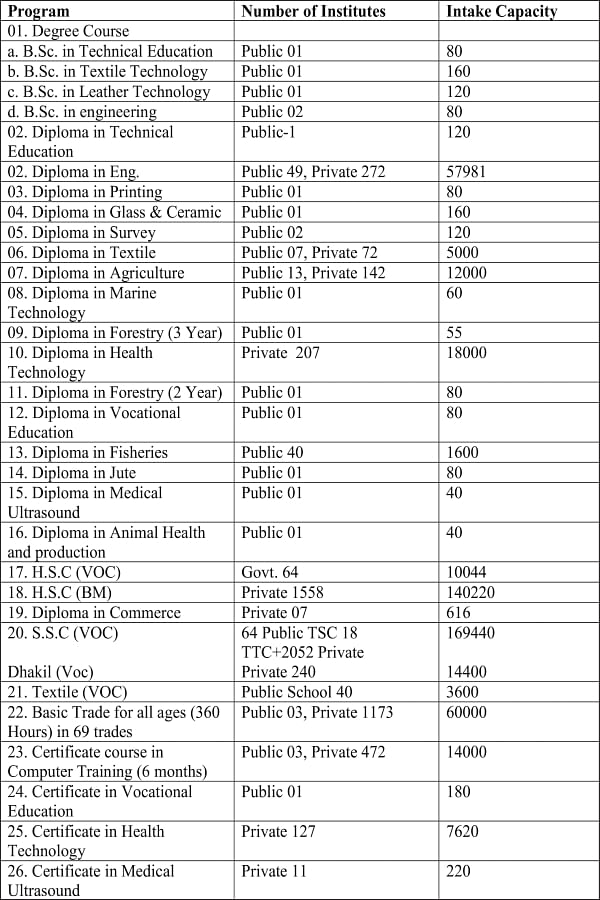 Bangladesh Technical Education Board (BTEB)
BTEB is a statutory organisation and its main function are to develop and prescribe courses of instruction, arrange for development of learning materials, grant recognition to educational institutions offering its courses, prescribe conditions governing admission of students, monitor the teaching-learning activities, hold, conduct and regulate examination of affiliated institutions, and award diplomas and certificates to the successful students.
Directorate of Technical Education (DTE)
Directorate of Technical Education (Est. 1960) is the wing under Ministry of Education is responsible for planning, development, co-ordination and supervision of technical and vocational education in the country. The main functions of the directorate are:
a. Propose policy guidelines to ministry of Education for consolidation and expansion of TVET, b.prepare project proposals and implement such projects for consolidation and expansion of TVET, c. ensure effective implementation of TVET and d. prepare annual proposal for TVET institutions under its control and allocate funds.
Bureau of manpower, Employment and Training (BMET)
BMET is mainly responsible for providing employment services to the unemployed youths and organise training facilities for skill formation in the country. The main functions of the Bureau are to Provide skill development training and retraining, provide employment services both overseas and in-country, collect labor market information, and Provide vocational guidance and generate employment.
Achievement in TVET
International accreditation
MOU has been signed with Asia Pacific Accreditation and Certification Commission (APACC) for accreditation. Steps have been taken to get APACC accreditation.
Employment status of graduates
About 67 percent diploma engineering graduates got employment within one year of graduation. About 55 percent vocational graduates got employment within one year of graduation.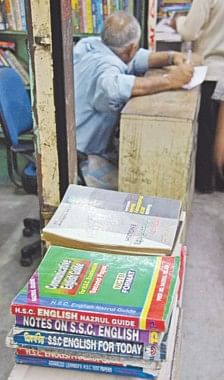 Quality improvement, expansion and modernisation
Nine emerging technologies have been introduced in diploma level. A diploma level specialized Computer Institute is established in Feni for state of the art training in ICT. 41 Polytechnic Institute have Diploma in Engineering Program in ICT. Computer trades in 32 Technical School & Colleges have courses. TVET Institutes have been modernized and new equipment procured. Student activity sheets are developed for the quality improvement of practical classes and being used. Guidance & Counseling service for the students have been introduced in all the institutions. A Quality Manual has been developed to improve academic and administrative management of all educational institutions. To make TVET inclusive, relevant, responsive and of global standards, three projects are being taken with the help of EC/ILO, ADB and world Bank;
Skills Development Project (66.66 million US $), Implementation Period : July 2008- June 2013.
Technical and vocational education and training Reform in Bangladesh (16 million US $), December 2007-December 2013.
Skills and Training Enhancement Project (74.62 million US $), July 2010- December 2015.
Future plan
To introduce competency based curriculum development, upgrading and Updating of training standards, preparation of standardized training and learning materials, capacity building of Institutions, establishing learning Material Development Centres, developing clearing house of resource contents, building programms that include on the job training. BTEB has already been started piloting competency based Training and Assessment (CBT&A) in different places on some trades.
Star
Problems
TVET rule out those who do not survive in the education system up to grade IX. It becomes effective when it results in employment, particularly for the poor. TVET in Bangladesh mainly disconnected from the job market. The Placement rate for VTIs is 40 percent, for TTCs 60-65 percent, and unemployment is also common among graduates of polytechnics. Failure to diversity its clientele and to make the programme more flexible, adaptable and responsive to market needs and geared to the informal economy means that TVET is failing to help the poor improve their employment and income and ensuring human resource development.
TVET does not match the current and future needs; as such students are less interested in practical job related training and skills, ignorance of current and future needs of the economy due to lack of linkage with industries, lack of knowledge in basic science and mathematics of the students, lack of communication skills of the students, lack of qualified and good teachers in the institutions, scarcity of equipment and raw materials, lack of proper monitoring and evaluation, less interest in self employment, lack of co-ordination among different agencies in organising TVET, lack of standardisation of curriculum of different public and private institutions.  The practical component of the curriculum is not effectively taught. The majority of TVET teachers lack pedagogical training and practical skills, and have no industries experience.
In addition, TVET institutions suffer from poorly equipped workshops, lack of teaching and training materials, and inadequate physical infrastructure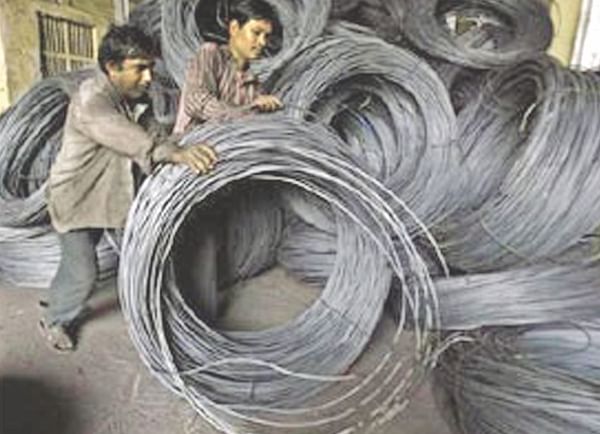 AFP
Human resource development plays a critical role in the socio-economic development of a country. It is an investment towards improving the quality of human life. Although development brings economic gains to society in general, specific measures become necessary to ensure that they reach the disadvantaged and the weaker sections of the population such as women, children, the disabled, the elderly, and the destitute. The welfare and development of these weaker sections of the society largely depend upon suitable policy directions executed through appropriate programmes and strategies. As a developing country we invest less in human resource development and end up with less educated and less qualified labour force.
In some Asian Countries, technical education begins just after completion of Primary Grade 6. Many of  the dropouts are engaged in technical  jobs, like preparation of garments, carpentry, construction, nursery, Poultry farming and Pisiculture, with meager training, or even just with courage and enthusiasm. If we can arrange vocational training for them, we can bring about an industrial revolution in the country and can also export skilled manpower.  With support from government, TVET and skills Development has become an important issue in the country which earns the greatest share of its foreign income from the remittances of overseas Bangladeshi workers.
The government has estimated that if each worker has paid as a skilled worker, rather than semi-skilled or unskilled as is currently the case, the value of remittances would increase from the current US$ 10 billion a year to over 20 billion.
...........................................................................
The writer is Secretary, Bangladesh Technical Education Board.