best financial institution
Pioneer: a star insurer
Insurance business in Bangladesh is very challenging as nobody buys a policy voluntarily because of the negative perception about it. Poor governance and dilly-dally in claim settlement has made the insurance business further difficult.
But a professional board of directors and true corporate governance can make a difference and Pioneer Insurance Company is a glaring example of it.
Established in 1996, Pioneer Insurance is now the country's second-largest insurer in terms of profitability. It earned more than Tk 266 crore as premium in 2017, up from Tk 250 crore a year ago.
Presently, fire insurance accounts for almost half of the total premium Pioneer Insurance makes each year.
"From day one, we have been rule-based and transparent. That is why we are successful and marching ahead," said Tapan Chowdhury, chairman of Pioneer Insurance.
The company has been following the global best practices, which according to Chowdhury, is helping them establish people's confidence in the insurance industry.
Credible and reputed sponsors, such as Square Group, Apex and ACI Ltd and a group of professional team management were behind the success of Pioneer, Chowdhury said.
This success has helped the company win the prestigious Bangladesh Business Award 2017 as the best financial institution.
The award in the best financial institution category is given to a company that is innovative, has sustainable profit growth, clean banking, client and tax records, effective management style, and contributes to the development of the country.
Pioneer Insurance is an AAA-rated company, which demonstrates its highest claim settlement capacity. It has 40 branches across the country and employs 534 people. It was listed on the Dhaka and Chittagong stock exchanges in 2001.
The company has reinsurance deals with globally reputed companies in the United Kingdom, France, Singapore, Malaysia, India and some other countries, sharing risks.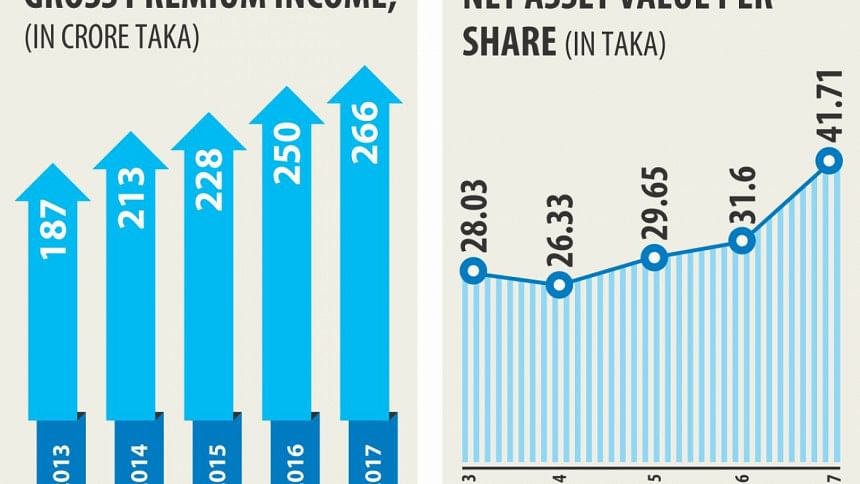 The company gives good dividends to its shareholders consistently. In the last 10 years, it has given 15 percent to 30 percent dividends annually.
"We don't run after business to earn more money. Rather, we follow the rules and regulations strictly," said QAFM Serajul Islam, consultant of the insurer.
He said the insurer is now trying to avoid deceitful clients and risky ventures, such as power plants and commercial vehicles.
After serving the company as the managing director for about a decade, Islam retired last year and took the charge of the company as the consultant.
"Our board of directors has never interfered into our activities," he said.
The veteran insurance personality also talked about the overall insurance sector and the challenges. Bangladesh has less than 1 percent insurance penetration, one of the lowest in the world. The premium market size of the non-life insurance sector stands at about Tk 3,000 crore only.
Still, too many companies – 46 in total – are competing with each other to get clients. Industry experts said this competition often forces an insurer to entice a business by way of offering hefty discounts.
India has only 24 non-life insurers. "Lack of skilled workforce is another major problem," said Islam, who has four decades of experience, both in the public and private insurance sectors.
He said the industry doesn't get qualified persons who can become a managing director. The situation would worsen after five years, according to Islam.
"People believe insurance is a low-profile profession and have very negative perception about insurance, which keeps quality people at bay," said Islam.
Manirul Islam, managing director of Pioneer Insurance, said poor record of claim settlement is one of the major reasons behind the weak position of the sector although insurance is a part and parcel of today's business, be it manufacturing, export or import.  
Sponsors own 45.14 percent of shares of Pioneer Insurance, while general investors hold 31.69 percent and institutions 23.10 percent.
It contributed Tk 35.42 crore to the national coffer in 2016.