OUTSTANDING WOMAN IN BUSINESS
Glittering with golden fibre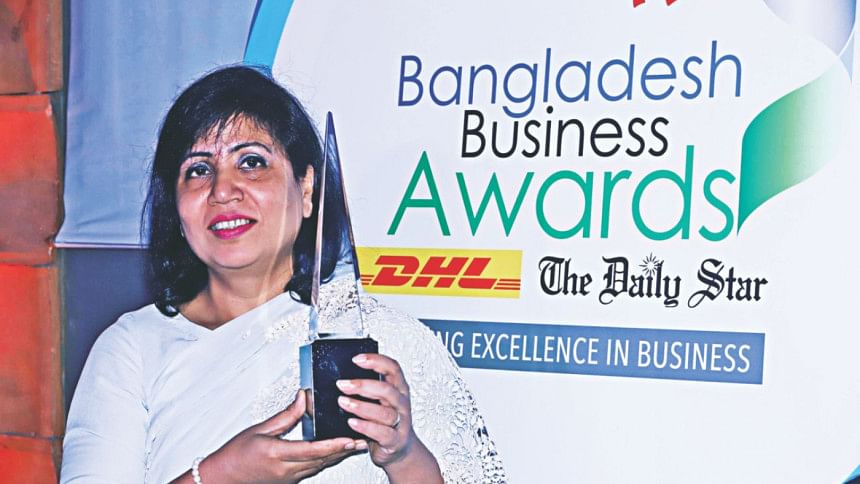 Designing saris with her mother was a childhood passion for Afsana Asif Shoma. That knack for creativity along with perseverance helped her into becoming the country's one of the most successful jute goods producers.
Shoma's company—Asix—now generates some $1.5 million in exports every year. But the journey was not all plain sailing.
Shoma used to manage her own pocket money by decorating clothing for people around her and offering in-home tutoring for students while studying finance at Dhaka University.
With some savings and mortgaging a pair of gold earrings at an Old Dhaka shop, she made her entrepreneurial debut by opening a boutique shop with a neighbouring aunt.
But she had to start anew after getting married in 1994 and shift to Chittagong with her husband. She opened a workshop in Pahartali to make women's clothing and paint saris.
Shoma named her brand—Dalsanea—after a beautiful woman she had read about in school.
At one point, her husband was transferred to Pakistan. But the determined entrepreneur decided to stay put.
Rather, she started teaching at Sunshine Grammar School and took a loan of Tk 25 lakh from the Micro Industries Development Assistance and Services (MIDAS) in 2000 to expand her business.
Another hiccup came in the form of a surgery which her 26-day-old newborn had to go through. She then put the business on hold and gave undivided attention to the child's recovery.
Shoma's worries eventually came to an end and she focused on running the business in full swing in Dhaka.
Thanks to her husband's posting she started travelling to India and Pakistan to collect decorative materials such as stones and beads.
Soon Shoma found that the similar clothing concepts are circling the subcontinent because of the similarities in cultures.
She then tried her luck by exhibiting some jute goods in Pakistan as per the suggestions of some top officials of MIDAS in 2007 and 2008.
After getting a good response, Shoma started producing jute goods on a small scale for local corporate houses. Eventually she got the scope of sending a consignment to Malta through Alibaba in 2015.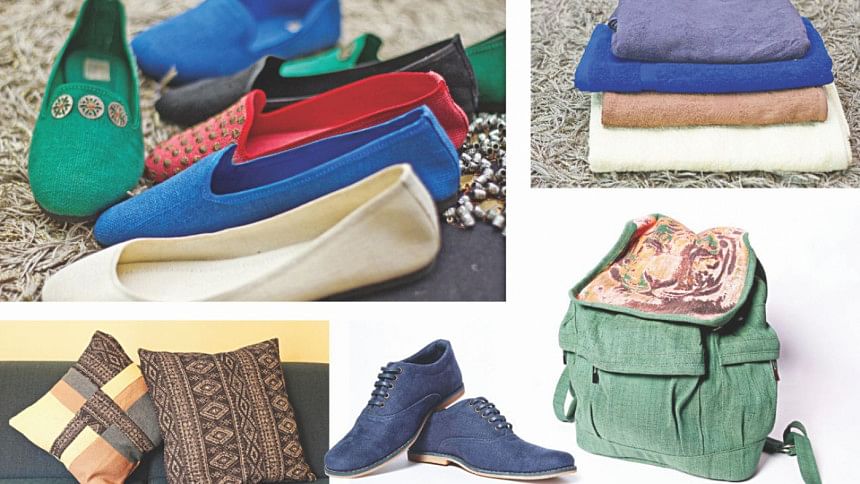 This discovery of export potential encouraged Shoma to gather all her savings and avail a bank loan to invest Tk 50 lakh to set up her jute product factory—Asix—at Khilkhet in Dhaka in 2016.
She became the managing partner of Asix, which focuses on both the national and international markets.
Asix mainly designs and makes home textiles such as cushion covers, bed linens, bed runners, aprons, pot holders, oven mitts, tea towels, bar mops, napkins, place mats, coasters, table runners, towels, bath robes and bath mats.
Shoma now employs 50 people, spending Tk 5 lakh in salaries and managerial costs, Tk 50,000 as rent for the 5,000 square-foot factory and Tk 25,000 as electricity bill on an average every month.
Her local customers include corporate houses, banks and the Institute of Business Administration under Dhaka University, helping to bring in some Tk 5 lakh to Tk 6 lakh a month.
Customers from Canada, Japan, Italy and France also take jute products from Shoma.
She also goes on regular visits to Narsingdi and Rajshahi to place work orders with local design makers alongside going round global trade fairs, including Messe Frankfurt in Germany, to enlighten people of her business.
Shoma learnt a lot from a big loss of Tk 35 lakh in her business career when a Japanese customer rejected a consignment for a "small mistake".
She says Japanese customers are very choosy and they spare neither small mistakes nor anything low in quality. "Finally, I am recovering the losses as I corrected many things to do business with Japanese customers."
While doing all this, Shoma did teach for a period of time at Scholastica, an English medium school in Dhaka. She is also the chairman of Gangchill, a music company of her husband.
Shoma believes that the most difficult part of doing business in Bangladesh is not finding capital but people with the proper skills.
The 49-year-old entrepreneur now plans to set up a fashion designing school in Dhaka alongside a fabrics company to reduce her cost of doing business.
"Only making money is not my motto, I want to contribute to the economy...I want to do better for the country and for the people."
She believes that people remember and cherish an individual's deeds only when that person brings welfare to the people year after year.
She sees a bright future both for business, jute and Bangladesh, as more and more people are tending to disapprove of artificial plastic goods for the sake of green development across the world.
"This change of habit has been and will create opportunities for Bangladesh," Shoma said.