Are the kids actually alright?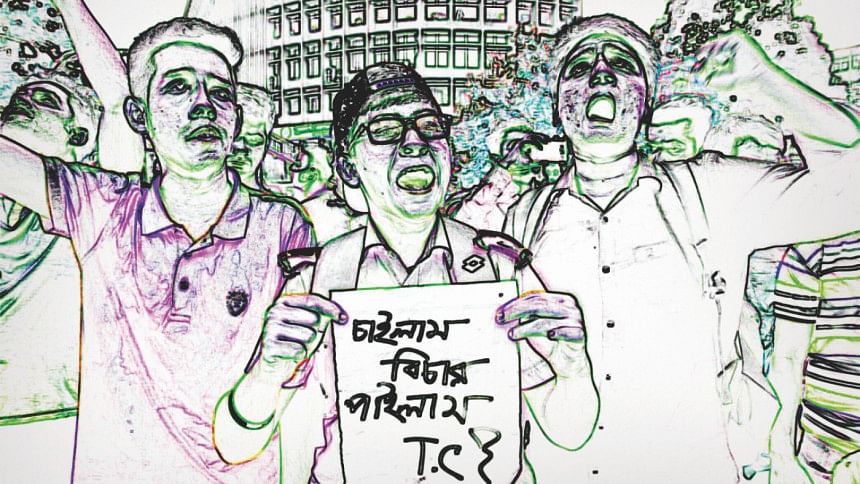 School and college student protesters have returned to the classroom already but their hearts remain on the streets. Meanwhile, allegations have arisen that some institutions are penalising students for their participation in the student movement that sprung up spontaneously for safer roads.
Students who participated in the protests claim that they are facing hostility from the administrations of their respective institutions; a number of students also got handed a temporary transfer certificate (TC) for joining the movement.
N Hossain, a twelfth grader at Dhaka Residential Model College (DRMC), alleges that the authorities were on the verge of suspending students for going to the protests.
"Around 30-40 resident students were temporarily suspended from the DRMC halls for going outside during the protest. According to our prospectus, resident students cannot go outside without prior permission from the authorities, and if they do, the administration can suspend the student temporarily," says Hossain. "But later, the authorities took them back in, when the guardians came and pleaded with them."
Mohammed Omar Faruk, who is the hostel superintendent of DRMC, denies the allegation that residential students were temporarily suspended. "They sometimes go out to eat fast-food after their classes end, and if they return late, we inform their parents. This was something similar."
"Since the students had gone outside, I had to get a written statement about their whereabouts when they came back," he adds.
Hossain, however, believes that the authorities' actions contributed to intimidating the protesting students. "It has come as a warning for the general students to stay away from protests," he says.
He also alleged that some teachers warned them by saying that students who had actively participated in the movement had been "marked" and that their information would be sent to the education ministry.
This claim is not unfounded. On August 5, Mohammed Sohrab Hossain, Secretary of the Secondary and Higher Education Division of the Education Ministry, confirmed to journalists that the government has indeed directed all schools and colleges to report the names of absentee students. This directive was given during the peak of the protests when students were routinely boycotting classes to take to the streets. 
Another student from DRMC says that they remain very scared about what will happen next. "I have taken down everything I had posted on Facebook. Everyone is telling me to delete all the messages I circulated among my friends. My friends are also doing the same," he says.
N Rahman, who is a student of Viqarunnisa Noon School and College (VNSC), informs Star Weekend that her friends were on the frontlines of the protest, but are now suffering for being vocal. "They are afraid to talk about it with anyone or reveal anything, because they have already been warned by teachers several times. They fear that if anything comes out now about our college, they will be the first suspects," says Rahman.
Media reports said that around 350 VNSC students had left the exam hall after writing the slogan #wewantjustice on their exam scripts, after which they also formed a human chain. However, the principal of the institution refuted these reports to Jugantor, claiming that she had personally scrutinised the scripts.
That the teachers are under pressure from the government is also a fact. During a meeting with the heads of all the institutions at the International Mother Language Institute on August 5, Education Minister Nurul Islam Nahid had told them, "The chiefs of educational institutes will be held accountable for the movement of the students."
In addition to school and college students, university students have also been temporarily suspended, allegedly for posting and sharing indecent statuses on Bangabandhu Sheikh Mujibur Rahman, the Prime Minister, and Bangladesh Chhatra League. Nine students from Mawlana Bhashani Science and Technology University, one student from Patuakhali Science and Technology University, and one student from Kushtia Islamic University have been temporarily suspended and asked to show cause as to why they should not be suspended permanently. In every case, BCL supporters had submitted the application to the proctorial bodies of the universities. The students are now in the process of defending themselves.
However, there have also been cases where teachers and school authorities have protected students from harassment and cases. For example, an eighth grader student of Koratitola CMS Memorial High School of Sayedabad informs, "After the protests ended, when I went back to class, some of my friends and class teachers were making me anxious by saying that cases might be filed against me for actively chanting slogans in the protest, but my headmaster rebuked them for doing so and warned them not to discuss my name with anyone."
The fight and the ultimate outcome
For many students, it was the first time in their life that they had taken to the streets to fight for something that is crucial for every citizen living in the country. But have their demands been met at the end of the movement?
According to I Hasan, a student protester of Birshreshtha Munshi Abdur Rouf Public College, students are not happy with the ultimate outcome. "But we cannot do anything right now. We are students and our hands are now tied. We are just waiting for everything to be implemented quickly," he says.
"We wanted to protest peacefully, and till August 4, there was no chaos. Everyone was supporting us. But after we were attacked at Jhigatola, everything became a mess. We don't know who the intruders are, but they ruined a just protest by creating a clash among students and the outsiders," he adds.
S Hossain, a twelfth grader from Scholastica, also states that at first they were very optimistic. "But we could not imagine that the ending would be so abrupt and violent," he says.
"Besides, one of our most important demands was the resignation of Shipping Minister Shajahan Khan. Unless and until he resigns from either his union position or his position as a minister, there is a conflict of interest, for which he cannot manage anything properly. I don't think anything significant will happen in the long run," he adds.
On the other hand, another DRMC student says that although the government has accepted the nine-point demand, the picture on the roads don't reflect the government's promises. "We are giving them time, and still waiting for a change," he adds.
Another eighth grader from Koratitola CMS Memorial High School also says that they never fought for these points to be accepted, but rather implemented. "If all the points are not implemented by September, we will take to the street again," he warns.