Simon Dring recounts "Operation Searchlight"
Special documentary on Desh TV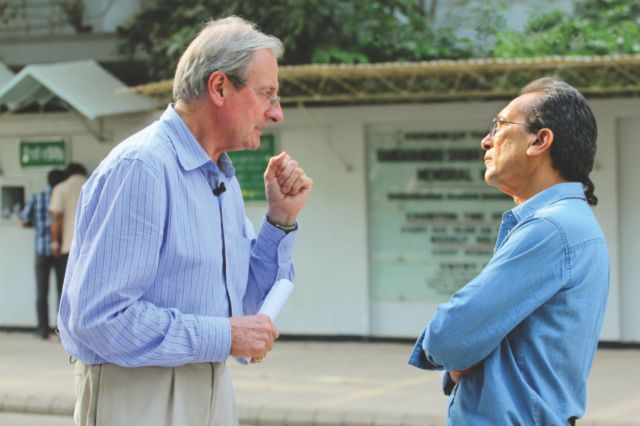 Simon Dring and Akku Chowdhury recollect the horrific days of 1971.
On March 25, 1971, just before the Pakistan army launched the infamous "Operation Searchlight", the brutal genocide in Dhaka, they locked up some 200 foreign journalists at the Intercontinental Hotel (now Ruposhi Bangla), and later sent them directly out of Dhaka, so they could not gather news of their atrocities. British journalist Simon Dring hid at hotel's lobby, kitchen and rooftop for 32 hours. When the curfew was lifted on March 27, he went out and saw evidences of genocide at Dhaka University's Iqbal Hall, Rajarbagh Police Line and parts of old Dhaka, and published the first news of the genocide in The Daily Telegraph on March 30, 1971.
After four decades, Simon Dring visited those places and recounted the horrific memories of that time, in front of a camera, with freedom fighter Akku Chowdhury accompanying him. The 40-minute documentary, directed by Parvez Chowdhury, will be aired on Desh TV at 12:05am on March 26.