UN probe report outlines atrocities of armed forces against Rohingyas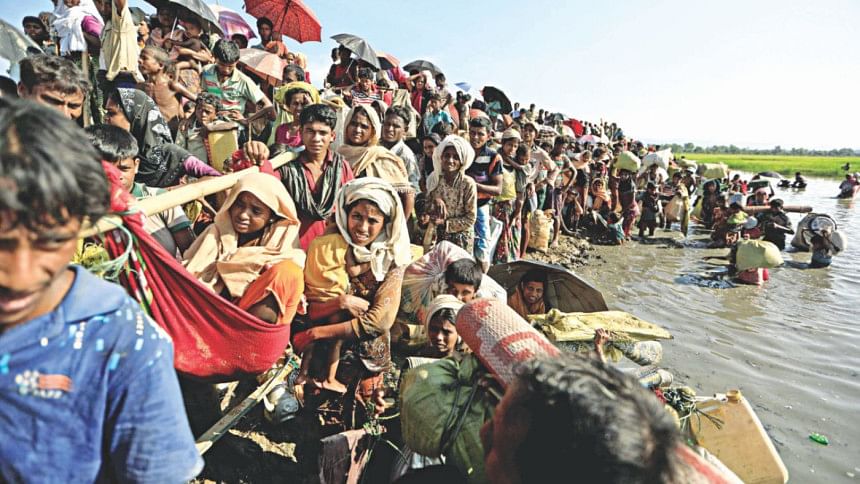 An independent international fact-finding mission on Myanmar formed by the UN Human Rights Council has outlined in its report four key common characteristics of the operations of the armed forces of Myanmar in Kachin, Rakhine and Shan States.
The Tatmadaw (Myanmar Army) targeted the Rohingya minorities, cutting them off from access to food, finances, intelligence, and recruits from the local civilian population in "clearance operations" following the 1960s "Four Cuts" counterinsurgency policy, according to the report.
They killed the civilians and destroyed entire villages defying international human rights law which amount to criminal conduct.
The Tatmadaw's tactics were consistently and grossly disproportionate to actual security threats, especially in Rakhine State, but also in northern Myanmar, the report added.
The pattern of rape and sexual violence has remained the same in Myanmar for at least three decades, the UN investigators observed in the report.
The scale, brutality and systematic nature of these violations indicate that rape and sexual violence were part of a deliberate strategy to intimidate, terrorise or punish a civilian population, and were used as a tactic of war. This level of normalisation is only possible in a climate of long-standing impunity, the probe body said.
The Tatmadaw has historically cast itself as the protector of the nation, preserving "national unity in the face of ethnic diversity", while prioritising Bamar-Buddhist identity and interests. Discrimination against ethnic and religious minority groups has been well-documented for decades, the UN report read.
The Rohingya people have been excluded from Myanmar since 1960, which made them stateless and while other ethnic and religious minorities are, at least in theory, accepted as belonging to the nation under their "national race" status, the Rohingya's lack of status has dramatically increased their vulnerability. This contributes to the extreme scale and intensity of the violence against them, the report added.
The Tatmadaw acts with complete impunity and has never been held accountable. Occasional superficial investigations have only been undertaken when faced with public exposure of undeniable evidence, the investigators said.
This pattern is a result of the political and legal construct of the country, whereby the Tatmadaw is removed from all civilian oversight and is given the constitutional right to adjudicate its own affairs, with the Commander-in-Chief making the "final and conclusive" decisions in matters of military justice, the report added.