Right to equality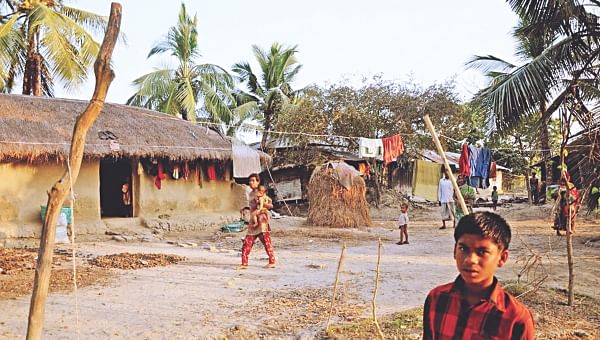 Yamin Tauseef Jahangir
The women in Bangladesh have come a long way since the country came into being. They have stepped out of their homes and made a place for themselves alongside their male counterparts in every industry, they have now a prominent presence in politics, civil society and all cultural and social spheres of the country. One would imagine we live in a society that values and protects its women. While this may be true to a certain extent, we as a country are still surprisingly backwards both legally and socially when it comes to women's rights issues.
The existing laws in our country regarding women's rights to property, personal laws dealing with marriage, separation, divorce, custody etc are archaic and in dire need of reform.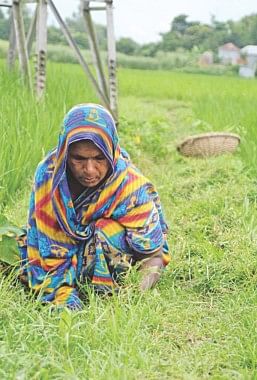 Yamin Tauseef Jahangir
Living in an agriculture-based country, women play important roles as producers of food, managers of natural resources, income earners, and caretakers of household food, nutrition and security. However despite this, their access to and control over land are still confined. Although women are primarily responsible for food production, the land is owned and controlled by men. Women acquire the right to use this land through their relationships to men, usually a husband or father and maintaining those rights depends on continuing these relationships. As a result, women's productivity is often inhibited because they do not have the right to make major decisions, and often cannot get credit without their land rights. Their dependence on men for these rights gives them little security as they can lose the right to use their land if they are widowed or divorced. Therefore, the empowerment of rural women is extremely limited.
Under the Muslim inheritance law, the wife (or wives taken together) gets one-eighth of the husband's property if she has a child, and one fourth if there is no child. The husband gets exactly double of that.
The Quran states that "the daughter, mother and wife would under all circumstances be entitled to some share in the inheritance and are not liable to exclusion from inheritance, but they are not treated at par with their male counterparts, i.e. son, father and husband,"-- to this extent rules of inheritance are discriminatory.
Bangladesh's personal laws can also be described as discriminatory to women as hey, trap women in abusive marriages or drive them into poverty if they get out of these marriages. Human Rights Watch, in a recent report stated that, "In many cases these laws contribute to homelessness, hunger, and ill-health for divorced or separated women and their children." The United Nations Development Program (UNDP) and the World Food Programme (WFP) have recorded significantly higher levels of food insecurity and poverty among female-headed Bangladeshi households.
Muslim personal laws are discriminatory for condoning polygamy for men, greater barriers to divorce for women than men, and their limited provisions on maintenance of women. Under the Muslim family laws in Bangladesh, women have no right to maintenance beyond 90 days after notice of divorce (or birth of a child, if the woman is pregnant at the time of divorce).
Hindu personal laws also discriminate against women by accepting polygamy for men, and containing significant barriers for women accessing maintenance payments. Hindu women can seek judicial separation, but the law does not recognise divorce as most marriages are not registered.
In May 2012 the Bangladesh cabinet approved a bill providing Hindus the option of registering marriages. Unfortunately, the bill still falls short of the many demands of women's rights activists in the country who are campaigning for a separate law governing Hindu marriages and divorce. The necessary alterations not included in the bill include a prohibition on polygamy, allowing divorce, and compulsory marriage registration.
In the Christian personal law, divorce is allowed on limited grounds for both men and women, but the grounds are far more restrictive for women. Men can divorce if they claim their wife committed adultery. The wife however, has to prove adultery plus other acts to secure a divorce. Some of these acts include bigamy, rape, sodomy, bestiality, desertion for two years, and cruelty.
In all the personal laws mentioned above, there is an absence of equitable division of marital property upon divorce, which shows that the significant contributions that women make to their homes after marriage are completely ignored. The law established against domestic violence in 2010 tries to bridge this gap partially, by giving women the right to remain in their marital homes after the divorce, and although this is an important step toward improvement, it does not fully address this issue of equal right to marital property.
In terms of violence against women, the Bangladeshi governments, over the years have taken preventative steps by establishing a number of laws, such as the Nari O Shishu Nirjatan Daman Ain of 2000, which aimed at several changes, intended to make the law regarding violence against women more stringent. The Act imposes a death penalty for several offenses such as murder, attempt to murder and causing grievous injury, kidnapping etc. This Repression Prevention Act also deals with rape, gang rape and marital rape, dowry, domestic violence (wife battering), sexual abuse and harassment and acid violence.
This act also tries to achieve women's empowerment by including women in the different tiers of the local government as a way towards including women in the process of governance. According to the Local Government (Union Parishad) Act of 1997, direct election on the basis of adult franchise to three reserved seats for women members have been introduced in the lower tiers of administration. A woman can also be elected to the nine general seats of the Union Parishad.
Although these laws are in place to protect women's' rights, most are not properly implemented. Many laws that have been enacted are also inconsistent and unclear. For example, at times there are several laws dealing with the same offenses but with different penalties/sentencing. Such as acid crimes which are not only addressed by the Acid Crimes Prevention Act of 2002, it is also dealt with under the 1860 Penal Code and the Women and Children Repression Prevention Act of 2000, none of which have been omitted.
Another impediment for the effectiveness of these laws are the economic, cultural, psychological and social issues which combine together to accentuate the vulnerability of women. In our society women are raised to think of themselves as inferior beings who are financially as well as emotionally dependent on men. Divorcees and victims of violent crimes are treated like social outcasts and are blamed for the crimes committed against them. For this reason, many of these crimes go unreported and many women suffer in silence in unhappy marriages.
Unless the mindset of society is altered by injecting lessons about gender equality at home and in the education system to create awareness, sensitising both law enforcement officers and the general public about gender sensitive issues, encouraging them to empathise with women and help them rehabilitate and give them what is rightfully theirs, the laws will simply not make much of a difference.
Social reform is happening in many places in this country, but on a small scale. NGOs, women's rights organisations and the media are working tirelessly to ensure the rights of our women. The government must increase its support towards this cause in order to bring about changes nationwide. If the nation as a whole alters its attitude towards women, it is then only that women can finally take their rightful place in society beside men, as equals.
.....................................................................
The writer is feature writer for the Star.