SYED SHAMSUL HAQ THEATRE FEST '13
Reliving the best of a master playwright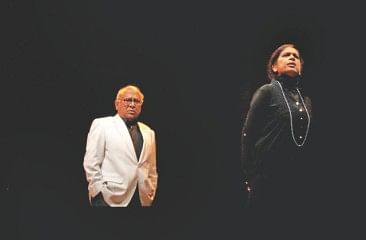 Ataur Rahman and Sara Zaker on stage. Photo: Ridwan Adid Rupon
Hundreds of theatre enthusiasts and activists gathered at the National Theatre Hall of Bangladesh Shilpakala Academy on Thursday evening to watch their favourite artistes performing together on stage.
Theatre troupe Prangone Mor arranged a special programme, titled "Natyakar Shanniddhey" as part of their ongoing Syed Shamsul Haq Theatre Festival. The programme brought together some of the biggest names in Bangladeshi theatre who had enacted different roles in Haq's plays over the decades -- to re-enact popular scenes in front of the playwright.
Theatre troupe Nagorik Natya Sampraday began the proceedings, staging scenes from Haq's groundbreaking play "Nuroldiner Sharajibon". The play -- after many years -- reunited two powerful thespians, Aly Zaker and Asaduzzaman Noor. Aly Zaker played the role of Nuroldin, and Asaduzzaman Noor appeared as Abbas in the play, which raises voice against injustice through the story of an anti-British Raj activist. Aly Zaker utters the powerful dialogue -- "Jaago Bahe Konthey Shobae" -- a wake-up call to the people to stand up against oppression. In addition, Sara Zaker appeared as Lisbeth and Ataur Rahman enacted the character of Good Lad.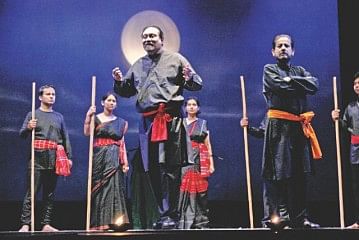 Aly Zaker and Asaduzzaman Noor reunited for a special performance from "Nuroldiner Sharajibon". Photo: Ridwan Adid Rupon
Veteran theatre artiste Ferdousi Majumdar and her daughter Tropa Mazumdar played part of their roles from Syed Shamsul Haq's "Payer Awaj Pawa Jay". Tariq Anam Khan played part of his role from "Ekhon Ekhane", while Nima Rahman enacted the character of 'wife' from the play "Mukhosh".
Theatre artistes Lucky Enam, Khairul Alam, Shanta Islam, Bipasha Hayat and Afsana Mimi also played their roles from Haq's other plays.
Throughout the programme, the playwright was present on the stage; with a smile, he observed how his creations were being enjoyed by the full-house. Veteran theatre personality Mamunur Rashid anchored the programme; his witty remarks and gestures of the artistes further livened up the programme. The last segment of the evening featured recitations of Haq's poems by noted elocutionists, Ishrat Nishat and Hasan Arif. Syed Shamsul Haq also read aloud from his selected writings.
Earlier in the afternoon, a seminar titled "Kaaler Jatra-e Syed Shamsul Haq-er Natok" was held at the seminar hall of the National Theatre Hall. Cultural personality Mofidul Haq presented the keynote paper on Haq's plays, while theatre personalities Aly Zaker, Ataur Rahman, Sara Zaker, Tariq Anam Khan, Golam Sarwar and Aminur Rahman were present as speakers.
The festival, which began on April 19 will end today with Palakar's staging of Syed Shamsul Haq's play "Narigon" at the Experimental Theatre Hall of the Academy.