President laid to rest
Nation pays last tributes to Zillur after janaza in Dhaka, Bhairab; Qulkhwani today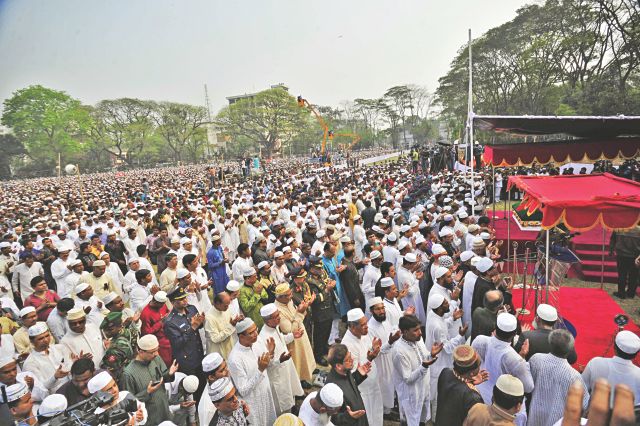 People from all walks of life join the second namaz-e-janaza of late president Zillur Rahman at Jatiya Eidgah Maidan in the capital yesterday afternoon. Photo: Firoz Ahmed
President Zillur Rahman was laid to eternal rest yesterday, after tens of thousands of mourners took part in funeral prayers for one of the country's most revered politicians.
After a final journey to his ancestral home in Bhairab and Gulshan residence, he was buried around 3:50pm with full state honour at his wife Ivy Rahman's grave at Banani graveyard, nearly nine years after Ivy was laid to rest there.
Members of the armed forces played bugles and gave a 21-gun salute in honour of the president, who died on Wednesday in a Singapore hospital at the age of 84.
A two-minute silence was observed in his memory before taking him to the grave.
Zillur's only son Nazmul Hasan Papon with the help of two of his relatives laid down the body in the grave.
A religious cleric recited verses from the Holy Quran during the burial, and special prayers were offered at the grave for the salvation of the departed soul.
Before that, acting president and parliament Speaker Abdul Hamid placed floral wreaths at the grave. Later, he handed over the national flag to Papon to cover the coffin.
Wreaths were also placed at the grave on behalf of Prime Minister Sheikh Hasina.
Awami League General Secretary Syed Ashraful Islam, chiefs of the three forces, director general of Special Security Force, foreign, home and LGRD and cooperatives ministers, and later people from all walks of life and different socio-political and cultural organisations also placed wreaths at the grave.
After the final namaz-e-janaza at the Jatiya Eidgah Maidan at 2:32pm, a jeep carrying Zillur's coffin, draped in a national flag, stopped for a few minutes at his Gulshan residence for the last time.
Tens of thousands of people from all strata of life, including Abdul Hamid, former presidents HM Ershad and Bodruddoza Chowdhury, ministers, MPs, the chief justice, chiefs of the three services, politicians and freedom fighters took part in the janaza.
Prof M Salahuddin, Khatib of the national mosque Baitul Mukarram, conducted the Janaza.
After the janaza, leaders of different political parties recalled their memories with the veteran politician.
Ershad said Zillur Rahman had contributed a lot to the country. "We won't forget his contribution to the Liberation War."
Bodruddoza Chowdhury said Zillur would remain in the hearts of the people for his courtesy and honesty.
BNP acting secretary general Mirza Fakhrul Islam Alamgir said politicians of today would be able to overcome the national crisis through following Zillur Rahman.
Jatiya Samajtantrik Dal President Hasanul Haque Inu said Zillur Rahman was a "symbol of unity, movement, courage and honesty."
senior army officials earlier carry the coffin of late president to the venue. Photo: Firoz Ahmed
Syed Ashraful said Zillur Rahman's was a personality "rare in the world".
According to Finance Minister AMA Muhith, Zillur's death has brought them on a single platform which he hoped would remain in future for the sake of the country.
Earlier in the morning, the president's first namaz-e-janaza was held at Haji Asmat College in Bhairab of Kishoreganj, where people of his ancestral town prayed for the departed soul. An Air Force helicopter carried the body to and from Bhairab.
Thousands of people attended the janaza of their beloved leader, who was elected Member of Parliament from Bhairab in 1973, 1986, 1996, 2001 and 2008.
Zillur took office as the 19th president of Bangladesh on February 12, 2009, after being elected unopposed.
Before the janaza in Bhairab, his son Papon, a lawmaker, urged the people to forgive his father if he had hurt anyone in his lifetime.
Zillur's body was kept there for a few minutes when people and different socio-political organisations paid their last tributes through placing wreaths on the coffin. Many broke down in tears.
The body was flown back to Dhaka after the janaza in Bhairab. As the body reached the Bangabhaban around 11:50am, envoys of different countries, representing their heads of state and government, and other diplomats paid tributes to the president around 12:30pm.
The President of the Malaysian Senate Tanshree Abu Jaher, India's Renewable Energy Minister Farooq Abdullah, Sri Lankan Urban Development Minister AHM Fowzi, Turkish Labour and Social Welfare Minister Farooq Seliq, Singaporean Junior Foreign Minister Masagos Julkifuli and Maldivian Religious Affairs Minister Shahim Ali Sayeed were among those who paid their respects to Zillur Rahman.
Ambassadors and high commissioners from different countries also paid their tributes.
Acting president Abdul Hamid, Prime Minister Sheikh Hasina and other members of the cabinet remained seated in solemn silence as the foreign dignitaries wrote their condolence messages in a special book at the president's residence.
Born on March 9, 1929, in Kishoreganj, Zillur Rahman breathed his last Bangladesh time at 4:47pm on Wednesday at Singapore's Mount Elizabeth Hospital where he had been undergoing treatment for lung infections and other complications. His body was brought back home on Thursday.
The government has declared a three-day mourning beginning Thursday. The national flag has since been flying at half mast atop government and semi-government offices across the country and the Bangladesh missions abroad.
The main opposition BNP has also been observing a three-day mourning since Thursday.
The qulkhwani of the late president will be held at Baitul Mukarram after asr prayers today, president's Press Secretary AKM Nesar Uddin Bhuiyan told The Daily Star.