Kuldip Nayar: A Partition storyteller par excellence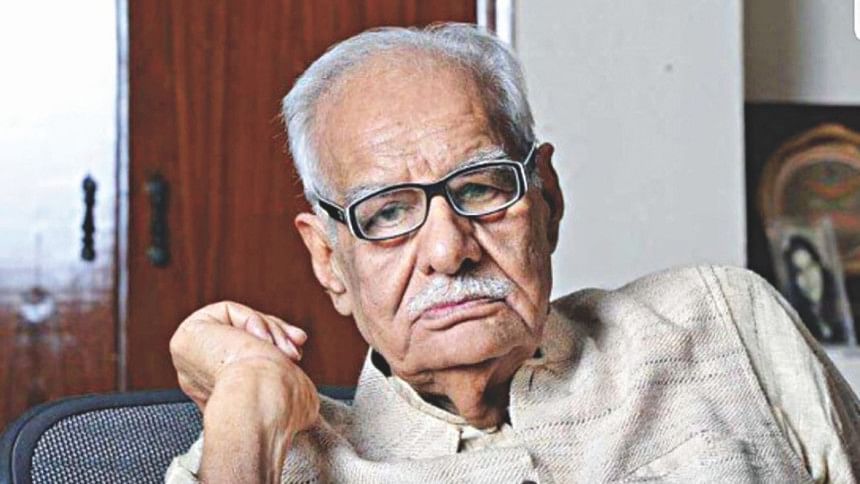 My father, a prolific reader of literature about the historical events connecting India, Pakistan and Bangladesh, was a great admirer of Indian writer-columnist Kuldip Nayar. "Don't miss it," he would tell me, about Nayar's weekly column published by The Daily Star. I often heard my father say that Muhammad Ali Jinnah used to be called an "ambassador of Hindu-Muslim unity".
My knowledge of that time was mostly from my father's recollections, books and documents. But after my father's insistence that I read Kuldip Nayar, I came to realise that if anyone today deserves this ambassador title for their work on India-Pakistan relations, it was Nayar. He was truly a champion of India-Pakistan unity.
Over the years, reading Kuldip Nayar's articles on the pages of The Daily Star had become a regular task for me. Whenever I saw his article, I would read it instantly. I had a folder on my PC named after Nayar for archiving his articles, which were down-to-earth and penetrating and would give a reader the feeling of being a part of this subcontinent, and also a feeling of brotherhood between Hindus and Muslims.
Kuldip Nayar's Beyond the Lines: An Autobiography is a mesmerising piece of work. As I read it, it gave me a feeling as if my father was talking to me. Since my childhood, I heard my father say many striking stories of the Partition. While reading the book, I found many similar stories told poignantly by Nayar. Kuldip Nayar never wrote to exhibit his mastery over the language of English but to penetrate into the hearts of his readers. In many English newspapers, including The Daily Star, I found writings that could only draw me up to the first paragraph or at best the second. But reading Kuldip Nayar, you would feel as if he were chatting with his readers, always saying that the history of the subcontinent was not inevitable, but now that it's there, we should accept it and live in peace like brothers and sisters.
Kuldip Nayar's writing style was extremely vivid. In his last article published by The Daily Star on August 14, 2018, he described how, while he was crossing the border in 1947 from Sialkot to Amritsar, he was aghast to get the stench of bodies of people killed in the riots triggered by the Partition, and at the same time, how he felt utterly lost as he was unable to help the grandson of an old Sikh who begged him to take him along. Kuldip Nayar wrote that these incidents haunted him all his life. Reading the story, I too felt haunted, thinking what could possibly happen to the child afterwards.
A few years ago, possibly at the Hay Festival (now Dhaka Lit Fest), I learned that he was coming to Bangla Academy. As I met him there, I was surprised to see that he looked somewhat like my own father. And as he was giving his account of the 1947 Partition, I felt as if I was listening to my own father. That was a great moment in my life.
Kuldip Nayar had always been a conscience keeper for India and Pakistan. In an article on Rahul Gandhi's relations with Narendra Modi, or the one published on August 14 in The Daily Star, he once again portrayed how insensitively politicians behave, because of which we common people have to suffer. His life's experience and attachment to historic figures such as Gandhi, Nehru, Jinnah, Sardar Patel, Abul Kalam Azad, Subhas Bose and others gave us a picture of what the Indian subcontinent was once and what it is now—how we lived then and are living now.
I pay my deepest respect and love to Kuldip Nayar and pray for his eternal peace. He will forever live in my heart, as my own father will, with his words of wisdom and peace.
---
Shazzad Khan is a development worker, currently working for Manusher Jonno Foundation (MJF).
Email: [email protected]
---
Follow

The Daily Star Opinion

on Facebook for the latest opinions, commentaries and analyses by experts and professionals.
To contribute your article or letter to The Daily Star Opinion, see our

guidelines for submission

.
---