Takeaways from 4th Bimstec summit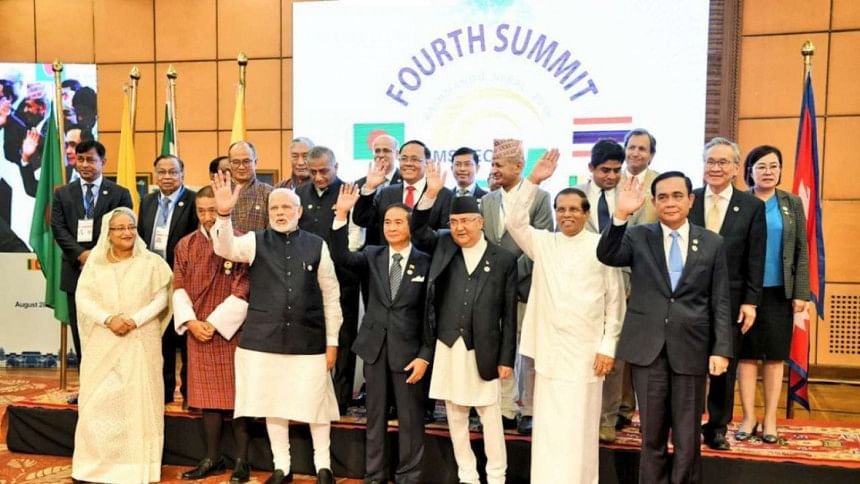 It seems to be the fashion these days to set up regional forums to enhance economic cooperation among countries and raise the standard of living of the common man. But the time has come to do some serious introspection and evaluate what these regional organisations have achieved.
The fourth summit of Bimstec has recently concluded in Kathmandu (August 30-31). A lot has been written and said about this regional organisation. Without being sceptical one can ask some relevant questions. What exactly is this organisation supposed to do? Many have said that the organisation needs to be revived. Why is it in a morbid state for the past 21 years?
The declaration issued after the summit is a banal document which does not evoke any interest or hope. It dwells on the normative aspects of cooperation not on the actual positive challenges. Several issues figured in the declaration—connectivity, terrorism, poverty alleviation, trade, etc. These are the hackneyed issues that figure in almost every summit declaration. A similar declaration was made after the third summit in Myanmar in 2015. Unfortunately, nothing tangible came out of that document.
This declaration speaks about 16 priority areas. It would have probably been wiser to focus on two or  three doable areas and push them seriously for results that people can see. Though two decades have passed since its inception in 1997, very few people in the region have heard about this forum.
Bhutan was not represented by either the king or the prime minister. Instead Chief Justice and Chief Advisor to the interim government Dasho Tshering Wangchuk represented Bhutan. Thus acceptance of the Summit Declaration by Bhutan is conditional on the new Bhutanese government's approval of the document.
Not surprisingly, Suu Kyi—head of the Myanmar government and also Foreign Minister of Myanmar—was absent from the summit. She has been attending regularly all Asean related meetings as head of government. Why did she skip this summit?
Clearly, she was reluctant to face the Bangladeshi delegation led by Prime Minister Sheikh Hasina. Suu Kyi has been under scathing international criticism for her silence about the genocide committed on the Rohingya Muslim community by her military leaders. After shamelessly propagating lies about Rohingyas in Singapore recently (August 21, Grand Hyatt Hotel), surely, she must have been mortally afraid that the Rohingya issue will come up for discussion if she faced Sheikh Hasina at the summit side-lines.
Sheikh Hasina did, however, meet the Myanmar President Win Myint for unofficial talks. Win Myint apparently informed Sheikh Hasina that Myanmar was willing to take back the Rohingyas. Win Myint is a show-case president without any powers. He certainly did not have any brief to say or do anything that his master back home (Gen Min Aung Hlaing) did not approve.
What is depressing is that there was no reference to the Rohingya issue. But the fact is that a member of BIMSTEC (Myanmar) has created a massive refugee problem. Myanmar has launched a non-military aggression on Bangladesh. It is blatant interference in the affairs of Bangladesh—aimed at destabilising the socio-political, economic and ecological balance of the country. This development has undermined the first operative paragraph of the declaration which says,"…cooperation within BIMSTEC…is based on...non-interference in the internal affairs, peaceful coexistence and mutual benefit."
It is true that summit declarations are drafted by Sherpas on the basis of unanimity. Naturally, Myanmar officials would have resisted any reference to the Rohingya issue. But Rohingyas are not the only refugees in Bimstec region. It is well known that over four million refugees fled to Thailand because of conflicts in Myanmar. Even if the Rohingya issue per se could not have been used, ertainly a non-accusative general paragraph on quick rehabilitation of refugees or "displaced people" (term used by Myanmar) in the region could have been included in the declaration.
One of the peculiarities of Bimstec is its religious heterogeneity. Of the seven members, four are Buddhist-majority states—Bhutan, Thailand, Myanmar, Sri Lanka. Two are Hindu-majority states—India and Nepal. Bangladesh is the odd Muslim-majority country in the forum. Then again Myanmar and Thailand are states governed by the military. These attributes act as obstacles in regional organisations when it comes to international cooperation.
The other major lacuna of Bimstec is that it still does not have a charter yet. The declaration has asked the Secretariat to prepare a draft of the charter delineating responsibilities of members and different layers of the organisation. Here, caution has to be applied while drafting the Rules of Business and the Charter. One would recall that Saarc has become inoperable because of the principle of "unanimity" in decision-making which is enshrined in its Charter. Bimstec can follow the example of Asean while drafting its charter—which kept the organisation functional by applying the principle of "consensus" in decision-making. If the "consensus" principle is adopted Bimstec can continue to do its job even if one or two members are not happy with a programme or issue.
What is noteworthy in both Bimstec and Saarc is that the predominant member is India. The reality is India not only contributes the largest share of the budgets of these two forums, but also wields its weight on everything that these two organisations try to do. The Bimstec outreach summit in October 2016 in Goa on the side-lines of Brics summit was an attempt by Delhi to snub Pakistan. By playing the politics of exclusion, Saarc has gone comatose.
Let us hope that Bimstec does not replicate Saarc. Rather the two organisations can create active bridges of cooperation between South Asia and Southeast Asia for improving the lives of the people of South Asia and the littoral states of Bay of Bengal.
---
Mahmood Hasan is former Ambassador and Secretary.
---
Follow

The Daily Star Opinion

on Facebook for the latest opinions, commentaries and analyses by experts and professionals.
To contribute your article or letter to The Daily Star Opinion, see our

guidelines for submission

.
---