Mahmudur sent to jail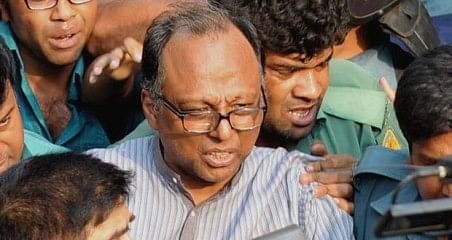 This April 11 photo shows law enforcers taking Mahmudur Rahman, acting editor of Bangla daily Amar Desh, to a court hours into his arrest at the newspaper office in the capital.
Mahmudur Rahman, acting editor of Bangla daily Amar Desh, was sent to jail after completion of his seven-day remand on Wednesday in connection with a case filed for publishing reports on Skype conversation.
The case was filed with the Court of Chief Metropolitan Magistrate, Dhaka on December 13 last year.
Later, the case was registered as a regular one with Tejgaon Police Station on December 14.
Mahmudur was arrested on April 11, four months after he was sued, in line with a High Court directive, for publishing reports on Skype conversation between former International Crimes Tribunal chairman Justice Md Nizamul Huq and an expatriate Bangladeshi legal expert, Ahmed Ziauddin, last year.
The order asked the authorities concerned to send Mahmudur to jail on Wednesday when Tejgaon police produced Mahmudur before the Court of Additional Chief Metropolitan Magistrate Shahidul Islam Faroque.
The court on April 11, directed the investigation officer of the case to produce Mahmudur before it in completion of the seven-day remand.
Meanwhile, Mahmudur appointed a group of lawyers to defend him.
During Wednesday's hearing, the defence lawyers submitted two separate petitions before the court -- one for facilitating Mahmudur with first class division and another for his proper treatment in jail.
The lawyers told the court that their client was subjected to torture during the interrogation at the office of Detective Branch of police.
After holding hearing on the petitions, the court ordered jail authorities to provide Mahmudur with proper treatment and first class division according to the jail code.
Earlier, the same court placed Mahmudur Rahman on six-day remand in connection with two separate cases for vandalising and torching vehicle on March 17 and 26.