The forgotten pride in language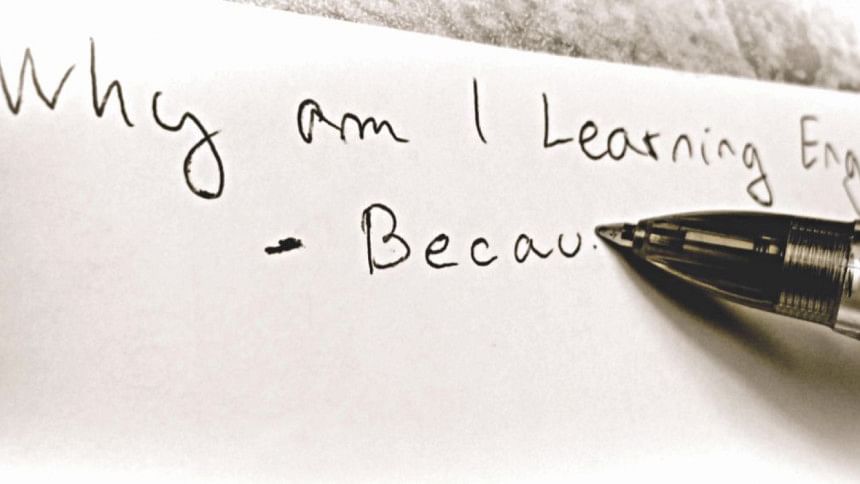 When asked what our mother language is, we proudly say Bangla because we fought for it. Yet when someone says they prefer reading Bangla books or listening to Bangla songs, we ask questions like "You read Bangla?" or "You listen to Bangla music?" Why is it a surprise if someone reads books in Bangla or chooses to listen to Bangladeshi music over Western music? We were born Bangali and Bangla is our mother tongue; isn't it only natural for Bangla to be a priority over English?
When we see people come over from different countries across the world to beauty pageants or international competitions, they are glorified for refusing to speak in any other language than their own. They are considered to be patriotic and down to earth. But when someone representing our country cannot speak in English, they are insulted and asked to never go to such platforms. It's a tragedy that we so easily judge our own people for not knowing a foreign language as well as our own. How many times have you snickered at our cricketers or Miss Bangladesh for stuttering in English?
Education and intelligence should be measured based on your knowledge and how you apply it, not on what language you speak. Many tend to consider people who speak English fluently to be smarter and more educated; and this is where the conflict between English Medium and Bangla Medium comes in. English Medium students are considered to be superior almost everywhere by default, be it at a work place or at college. Hence, some (not all) English Medium students consider themselves to be better than their Bangla Medium peers. In turn, some Bangla Medium students are spiteful towards the English Medium students. But being weak in English does not mean anyone is inferior in terms of hard work and IQ. Learning more than one language may help in cognitive development, but in no way is it necessary for establishing your self-worth.
It is no surprise that schools focus more on English than on Bangla in modern times. Moreover, children spend so much time on social media that they speak in English more than they do in Bangla. Many families are proud of this, often boasting about how their children speak English from the minute they were born. Some parents even encourage their children to speak in English all the time. However, learning your mother tongue is crucial for cognitive and thinking process development. Children who do not learn their mother tongue may grow up to be poor at learning other languages and subjects. Research has also proved that thinking in your own language helps you solve problems better. So, teaching children Bangla before teaching any other language must be a priority both for the family and the schools.
When Sheikh Mujibur Rahman gave a speech at the UN assembly on the 25th of September, 1974, he spoke Bangla. It was considered to be a proud moment for our nation, and still is. Then why is it that our pride has subsided, why is speaking in our mother tongue, for which we laid so many lives, not deemed as respected as speaking in a foreign language-- English? Grab a Bangla book, play a Bangla song and speak Bangla with your head held high.
Photo: Collected