A trip down grenade-hit lane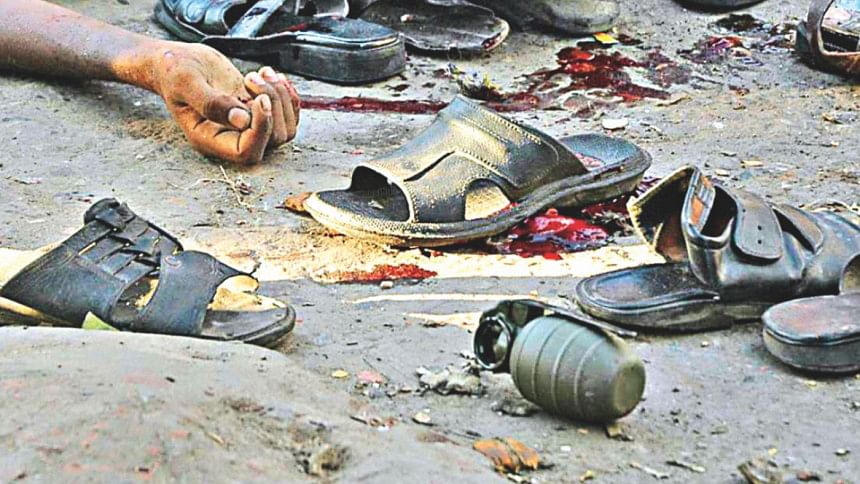 Anisur Rahman, deputy chief photographer of The Daily Star, was right behind Ivy Rahman when grenades were hurled on the truck-turned-dais at the Awami League rally on Bangabandhu Avenue on August 21, 2004. Having narrowly escaped the bloodbath, the lens man revisits the fateful afternoon.
I was standing a few feet away from Ivy Rahman. But I didn't know when I was swept along by the crowd and discovered myself posted right behind her. 
I wanted to get on the truck that Sheikh Hasina would use to address the rally. I figured that's where I would get the best shot of Hasina. But the place was packed like sardines- and I could not move.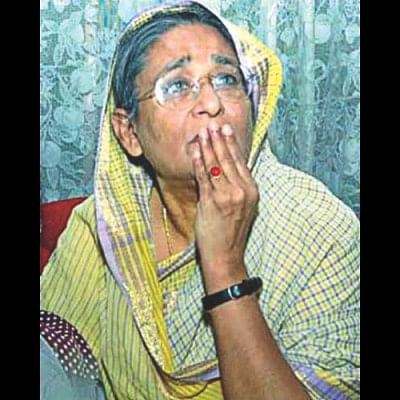 I drew attention of Hasina's bodyguard standing on the truck bed… and indicated that I too wanted to get on the truck.  "Don't come here. The truck is too full." he yelled back.
I still tried to squirm forward through the crowd and Ivy Apa turned at me and yelled loudly, "Why are you trying to move? Stay put. Can't you see this place is packed? Don't try to push through the women crowd," she said.
I was standing in the midst of the women AL supporters. Matia Chowdhury was beside Ivy Rahman.
By now Sheikh Hasina had started her speech. I raised my camera and started clicking over Ivy Apa's head.
A few minutes later Matia told Ivy, "Apa, let's go. We have to get ready for the procession."
The AL was supposed to bring out a procession from Baitul Mukarram after the rally.
"You go ahead, Apa. I'll join you after the speech," Ivy replied. Matia left the venue after that conversation.
Hasina's speech was short, about 10 to 12 minutes long. I took the last shot as she concluded with 'Joy Bangla, Joy Bangabandhu!'
But before she could finish her slogan, I heard a loud explosion from the side of the truck.
I was not alarmed that much because crackers often are blasted from rallies. I glanced in the direction of the sound but could not see anything because of the people standing in front of me.
Just then I heard another big bang from the back of the truck about six feet from me. This time I saw the women who were standing there suddenly sit down. I was baffled. Why did they sit down so suddenly with the sound? I thought they were taking cover from the blast.
Another bang in the back and I turned my head. What I saw froze my heart.
Men and women were lying on the street in pools of blood. Their limbs were torn apart. The impact of the grenade had shredded their clothes.
My heart was beating so fast that I could hardly breathe. I went numb. My knees felt weak. Then I felt something moist on my leg. I looked down and found a glob of flesh mixed with red blood, sticking to my foot.
I shuddered and quickly shook it away. And then I noticed a blood-stained Ivy Apa slumped in a heap on the road in front of me.
Unthinking, like a robot, I raised my camera and took a snap of Ivy apa's crumpled figure. My head was blank and I don't know how I did that, probably that is how I am trained – to take photographs even when not thinking. Then I started to run, my feet slipping on thick blood flowing on the tarmac.
But there was nowhere to go. Thousands were running to escape just like me. It seemed it was a roiling, fuming human wave.
More grenades were raining down on the crowd. I don't know how many grenades were hurled that day but I can recall at least five blasts. The last one was near the AL office entrance where among others Suranjit Sengupta was standing.
The rally space was now left only with the dead and the hundreds of injured men and women.
I moved to the sidewalk where thousands were pushing and shoving to get away from the unseen assassins.  There were people lying in front of the AL office. Their blood soaked bodies shredded by grenade splinters.
There were bodies everywhere. And the injured too. The injured were silently trying to say something; they had no voice. They just opened and closed their mouths but no words came out. They were clutching at the air with their hands, calling for help.
I saw Suranjit Sengupta standing there with a stunned look. His body was soaked in blood streaming down his face.
I thought it was the last day of my life. I felt a jolt of fear almost paralyzing me. I felt a tightness in the chest as if something very heavy had been piled on me. I wanted to do something, anything to save myself. There was this rickshaw van by the sidewalk with clothes on it. The seller had run away abandoning it.
In desperation I grabbed a handful of clothes and clutched them around my chest, as if this would protect me from the splinters. I looked at the truck and saw Mohammad Hanif (former mayor of Dhaka) and others kneeling down on the truck, creating a shield around Sheikh Hasina. 
Then I started running towards Ramna Bhaban. As I crossed the road I saw Ada Chacha, the old tea vendor who used to sell raw tea mixed with Ada (ginger, hence his name), sitting dazed by the truck. Then some running feet struck him and he just rolled over onto the street, dead.
As I reached Ramna Bhaban, another grenade exploded about 20 feet from me. It was then that I gave up all hope for my life. And that brought a sudden transformation in me. I knew I would die. Death no more mattered now.  I raised my camera and started capturing the mayhem.
I saw a man in a bright orange shirt come out of an alley and run towards Ivy Rahman. He tried to lift her. A mortician of the Dhaka Medical College Hospital, who I knew from before, also joined him. They sat her up. Ivy Rahman had a blank look. She was in shock. She looked down at her legs which were missing from above her knees. Then she collapsed.
By now I had run out of films. We did not have digital cameras back then. And I felt exhausted and numb. I felt lightheaded, dizzy.
So I walked to my motorcycle parked near the Zero Point and went straight to a relative's house. First thing I did there was to get a shower. My legs were all smeared with blood and I felt as if I could still sense that glob of flesh on my feet. I washed for an hour before I headed for my office with the pictures of the carnage that day.
[This article was first published on August 21, 2015]