Long tailbacks on Dhaka-Tangail, Dhaka-Aricha highways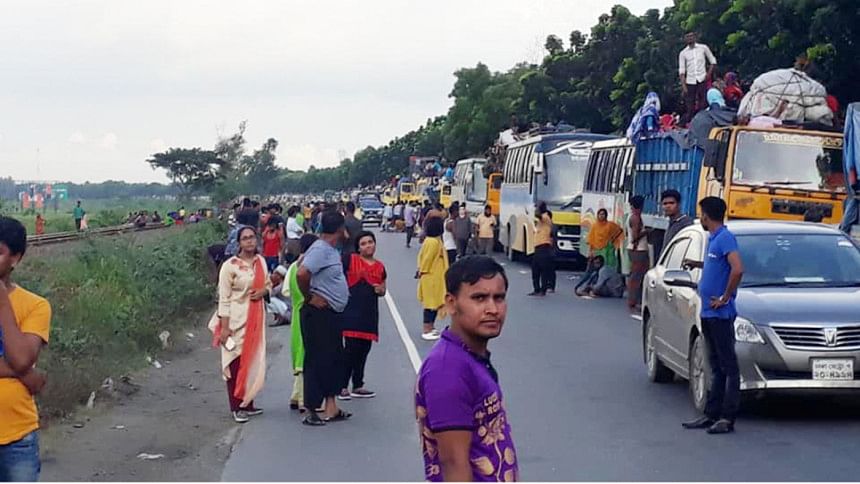 Holidaymakers ahead of Eid-ul-Azha have been suffering immensely on Dhaka-Tangail and Dhaka-Aricha highways for long tailbacks since this morning. 
A 30-kilometre-long tailback was created on Dhaka-Tangail highway, leaving thousands of homebound people stranded on the road.
The tailback stretching from Bangabandhu Bridge east end to Kataria in Tangail Sadar upazila was still persisting till last reported at 5:45pm, our local correspondent reports quoting traffic police.
Two road accidents in Elenga area and halting of vehicles on the bridge for toll collections were cited as the reason of the gridlock.
Meanwhile, another 30-kilometre-long tailback was persisting from the west end of Bangabandhu Bridge to Hatikumrul roundabout in Sirajganj, as thousands of vehicles bound to 16 northern districts rolled over the road, our Sirajganj correspondent reports quoting Syed Shahid Alam, officer-in-charge Bangabandhu Bridge Police Station.
The bridge authorities had to stop toll collection at 3:15pm as no vehicles could pass through the bridge, tailback of hundreds of vehicles spread to at least 30 kilometre area at the east end of the bridge in Tangail, Sajedul Islam, a traffic inspector told our Tangail correspondent.
The bridge authorities will resume toll collection after the gridlock eases at the east end of the bridge.
Rafiul Islam, passenger of a bus, said he along with family members is going to Bogra from the capital for celebrating Eid at the village home.
"My bus, however, could move only five kilometers towards the east end of Bangabandhu Bridge from Elenga in four hours," he added.
Holidaymakers suffer in tailbacks on Dhaka-Aricha highway
Commuters on the Dhaka-Aricha Highway have been suffering since morning due to heavy traffic jam.
There is a 15 kilometre tailback of vehicles headed in the direction of Manikganj on the road stretching from Hemayetpur to Nabinagar, our Savar correspondent reports from the spot.
On the other hand vehicles were moving very slowly from Jirani to Nabinagar on the Dhaka-Tangail highway. The vehicles moving towards Dhaka have created an eight to ten kilometres tailback in the area.
The situation has remained unchanged since 6:00 am, the correspondent adds.
Last reported at 2:30pm, the tailbacks continued to persist on parts of the highway, the correspondent said.
The vehicles are moving very slowly due to huge pressure vehicles on the Dhaka-Aricha highway, Savar Traffic Inspector Abul Hosen said. "We are trying to ease the situation since morning," Abul Hosen added.
Meanwhile, many passengers alleged that the staff of the vehicles were demanding three to four times more fare on the occasion of Eid, our correspondent reports quoting commuters