Fishes from natural resources disappearing in Bagerhat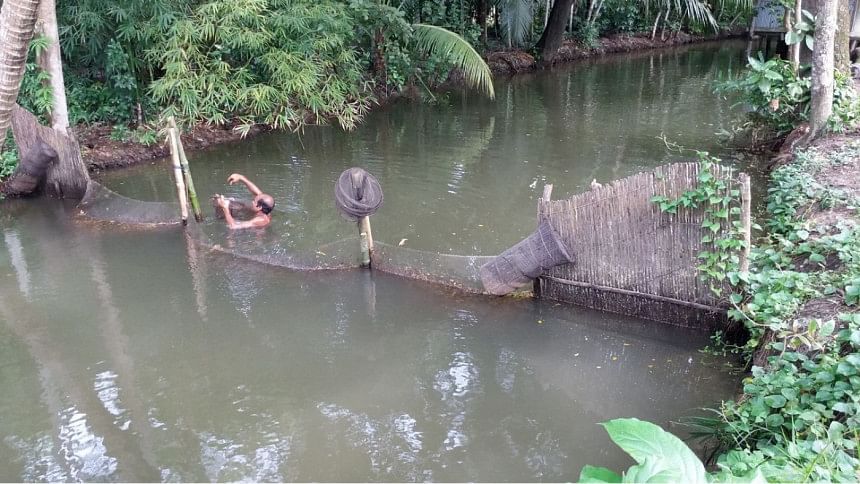 With increased salinity in many waterways, following more-than-usual evaporation during last dry season, around 49 of the fish species that naturally occur in Bagerhat and the Sundarbans are struggling to maintain their numbers. The illegal use of current nets and using poison as a fishing technique are adding to the degradation in fish biodiversity. Locals and experts alike are worried that if the trend continues, some species may be lost entirely.
"My father was a fisher," says Shahidul Sheikh from Afra village in Kachua upazila. "He made a decent living from fishing local canals and rivers. But now the situation has changed. Influential people have encroached upon rivers in many places. Marshes and canals are often dotted with shrimp and carp enclosures. There is increased salinity too. I could not follow in my father's footsteps. After his death I became a rickshaw van puller."
"I have been catching fish in the local canal with homemade traps for twenty years," says Shahidul's neighbour Sangdia Mrinal Das. "But for the last six years or so, the catch has been steadily decreasing. This year it was even worse. I caught hardly any fish. In the last two weeks I only managed to catch 250 grams of fish."
Many other fishers from Afra have similar stories to tell. From climbing perch to boal fish, they can readily list around twenty species that were once common but are now rare.
"Some wild species like Thai koi, Asian stinging and walking catfish, and the Bengal parshey are also being pond-farmed these days," observes Narayan Chandra Mondal, the fisheries officer for Gopalganj who lives in Bagerhat's Chitalmari upazila. "But the pond fish are often fed with poor quality feed containing high levels of chromium. Fish produced in this way don't taste so good. Meanwhile, the use of illegal nets in rivers like the Daratana is widespread, to the detriment of the natural breeding cycles of many species."
His Bagerhat colleague Zia Hyder Chowdhury said, "The main reasons behind extinction of local fish species are the use of banned current nets and poison in waterways. Farming also contributes due to the run-off of insecticides which can kill fish larvae," he says. "But we are trying to protect native freshwater fish. The department has declared six breeding sanctuaries to this end."
Yet, according to others, the department itself is at times a part of the problem. "It isn't only a question of dishonest fishers," says Sheikh Idris Ali, Bagerhat Coastal Fisheries Association president. "Their activities are only possible because of some dishonest officials.