Team Bangladesh in global robotics competition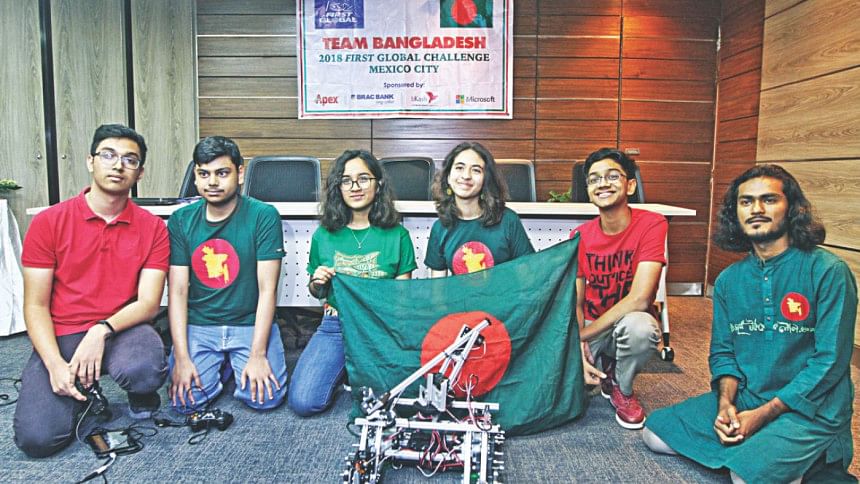 A team of five Bangladeshi students will participate in an international robotics competition titled "FIRST Global Challenge" to be held in Mexico City this month.
The participants are Arman Khasru and Laleh-naz Bergman Hossain from Sunbeams School; Razeen Ali and Anahita Anoara from Sir John Wilson School; and Sujoy Mahmud from Mangrove School. They all are O-level students.
The Tech Academy, a social start-up that teaches children, yesterday introduced the participants at Brac Centre in Dhaka.
All participants have trained at Tech Academy, founded in 2013 by Shams Jaber. He will accompany the team as their mentor during the competition.
This is the second time Bangladesh is participating in the event. The team will leave Dhaka for Mexico today to join the event, scheduled to be held on August 16-18.  More than 175 countries will participate in the global challenge.
While introducing the participants, Shams Jaber said, "Our participation will connect us with other competing communities and it will bring an opportunity to present Bangladesh to the world positively. This participation is a reflection that our country has made significant progress in technology and tech-based education."
Talking about the preparation as a participant, Anahita said, "We have given a lot of effort. Besides our regular studies, we had to give considerable time to preparing ourselves for the competition. Our preparation, planning and designs are really good. We are confident that we can do better [than previous year] this time."
FIRST Global organises an annual international robotics challenge to ignite a passion for science, technology, engineering, and mathematics among over two billion youths around the world.
The theme of this year's competition is "Energy Impact". The global robotics competition requires each country's representing team to build a robot capable of feeding power plants to scale and build a transmission network in the most efficient way. National teams will be placed in randomly assigned alliances, which compete to achieve their goal and accrue points.  Brac Bank, Apex Footwear Limited, bKash and Microsoft Bangladesh are sponsoring the team to participate in the global challenge.