Cost of floating farms on the rise
In wetland areas of Pirojpur, farming on floating seedbeds called "dhap" is a tradition that spans centuries. Primarily constructed from water hyacinth, the seedbeds that are up to 180 feet long, four feet wide and two feet thick, allow farming in areas otherwise unavailable for regular crops. But this year, the rising cost of floating cultivation has farmers worried.
"Last year a floating seedbed cost Tk 8,000 at most," says Mizanur Rahman from Uttar Gagan village in Nesarabad upazila, a farmer who grows vegetable seedlings on the floating beds. "This year the same dhap cost Tk 9,000. Labour costs have also risen. Last year's wage of Tk 500 for labour is up to Tk 600 this time around."
"Farming on floating seedbeds is not like it used to be," agrees his neighbour Ibrahim. "We have to go quite a distance to make the dhap that used to be available here."
Each seedbed is used up to five times to grow as many as 2,000 seedlings per planting, with seedlings taking around one month to be ready for sale.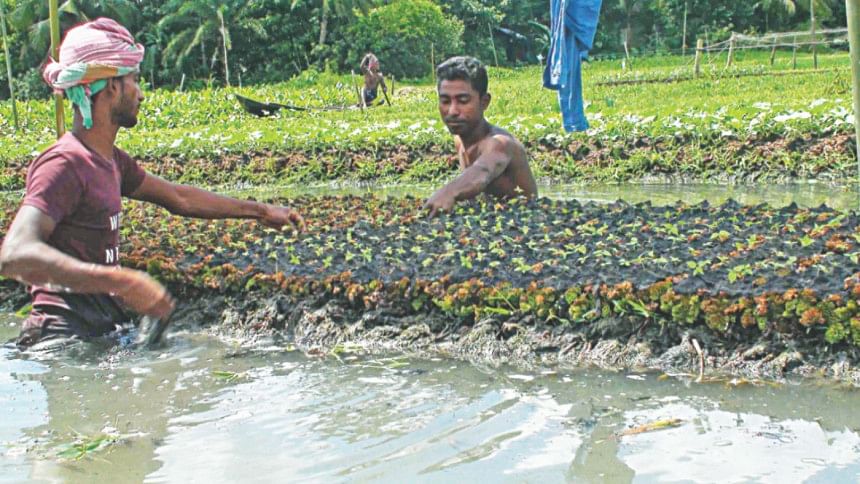 Floating cultivation is suitable for a wide variety of crops including beans, bitter gourd, papaya, brinjal, beet, pumpkin, tomato and chilli. This farming method is widely seen in Nazirpur and Nesarabad upazilas of Pirojpur and the neighbouring Banaripara upazila of Barisal. The season lasts five months from June.
Traditionally, farmers' costs have hovered around Tk 2.5 per seedling, with an expected profit of around Tk 2 per plant. Profits are highest early in the season when seedlings from other areas are yet to reach local markets.
It's not only the cost of the seedbeds and labour that have gone up, but also of several of the different fungicides and pesticides farmers use. Moreover, profits are readily influenced by weather conditions, particularly an excess of rain.
"If it rains heavily the seedlings grow very quickly," says Saidul Islam, a farmer from Mugarjhor village in Nazirpur upazila. "Tall seedlings are less valued by buyers."
This year floating seedbeds have been used on 290 hectares of Pirojpur marshland. Last year, district-wide, around one crore seedlings were produced using this unique farming method.