Shipbuilding thrives on domestic demand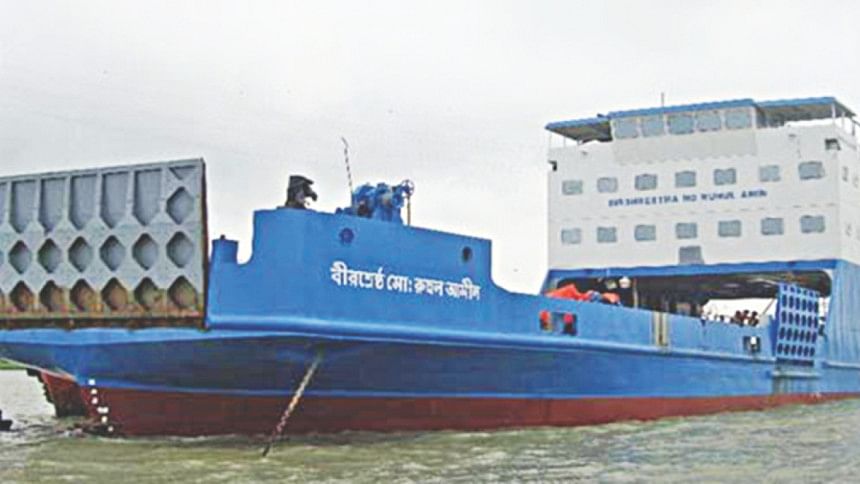 The country's shipbuilding sector has returned to growth following years in doldrums, on the back of a surge in demand from domestic conglomerates and the government, said industry
insiders.
A number of shipyards are working to build more than 100 vessels, said Md Sakhawat Hossain, managing director of Western Marine Shipyard Ltd, which has orders to make 38 vessels, including four for foreign buyers.
"We are really passing a very good time after facing bad days until 2016. The recession is over," he said.
The sector, with 130 companies, had suffered a blow in the aftermath of the 2008 global financial crisis when a couple of shipbuilders were trying to enter the international market by making smaller vessels.
However, the demand from the public and private sectors for vessels to carry cargoes provided a cushion to the shipbuilders and the industry has gathered pace in recent years, according to
operators.
Now, a number of industrial conglomerates, namely the Meghna Group of Industries, City Group, Bashundhara Group and S Alam Group are building vessels to carry cargoes from their factories and business units to serve the domestic market, creating a buzz among ship-makers and workers.
Hossain said the demand for cargo vessels has shot up on the back of soaring imports.
Annual imports totalled 4 crore tonnes three-four years ago and it exceeded 13 crore tonnes this year, Hossain said.
This is mainly due to the ongoing works to build large infrastructures, he said, citing the increased demand for transporting boulder, sand, clinker, coal and various other items.
As a result, 300 vessels would be required in the next two years and the construction is under way for nearly 100, he added.
"We see a bright prospect until 2021 owing to steady economic growth and the government's plan to build infrastructure." "There will be no shortage of work if the government's plan is implemented properly."
The government is currently implementing a host of mega infrastructure projects such as the Rooppur nuclear power plant, Padma bridge, Padma rail link and metro rail, in order to give a fillip to trade and commerce and boost the economy now growing at more than 7 percent annually.
MA Rashid, managing director of Karnafuly Ship Builders Ltd, said domestic demand for ships has risen because an increased number of vessels is required to transport coal, oil, and other items as existing vessels are inadequate to meet the requirement.
He said almost all the large business groups are building ships.
Apart from the private sector, the government is also making vessels. Rashid's firm is making 112 dredgers and dredger related vessels.
"Our future is very bright if we can maintain international standards in making ships," he said. "For this, we will have to win the confidence of foreign buyers."
Md Mustafizur Rahman, deputy managing director of Bashundhara Group, said the group is making a couple of coastal vessels in its own shipyard to carry its cargoes from vessels at ports.
He said highways, particularly the Dhaka-Chittagong one, have become very congested and the load restriction on trucks has made the transportation through roads less attractive.
"On the other hand, the river route is faster and economical and we have plans to move 100 percent of our cargoes through waterways in future," he said.
The Meghna Group of Industries (MGI), a leading commodity importer and processor, is making 30 vessels to transport goods for its concerns operating in the cement, steel, paper, power, edible oil, flour, sugar and chemical sectors. The Meghna Shipbuilders & Dockyard Ltd, a concern of the MGI, has built 46 vessels so far.
"We usually see a lot of traffic jam on roads and there is also a lot of hassle to transport cargoes by roads. In contrast, a huge quantity of cargoes can be transported though rivers. This is economical too," said Md Nurul Islam, deputy general manager of Meghna Shipbuilders.
M Shabbir Ali, director for group human resources of City Group, said the importer and processor of commodities is building 25 ships at Khan Brothers Shipbuilding Ltd, which it bought one and a half years ago. 
"We are making the vessels to meet our own demand," he said.