DSE to get a face-lift
New tech, products to flow in as China bourses become its partner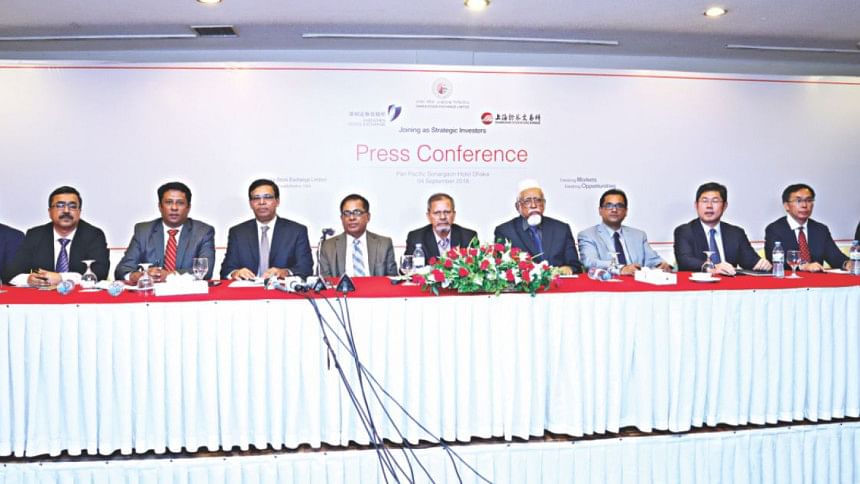 The Chinese consortium said it will modernise the Dhaka Stock Exchange, bring in new products and enhance its capability as it officially became the strategic partner of Bangladesh's premier bourse yesterday.
The consortium of the Shenzhen Stock Exchange (SZSE) and the Shanghai Stock Exchange (SSE) said technological improvement is a must for the expansion of the DSE.
"Developed technology is very useful for market expansion. So, we will do it first," Liu Fuzhong, director of the international department of the SZSE, said at a press briefing at Sonargaon hotel in Dhaka.
The Chinese exchanges now own 25 percent stakes in the Dhaka bourse.
Some 45.09 crore shares worth Tk 962 crore have been credited to the beneficiary owner's account of the two exchanges, said KAM Majedur Rahman, managing director of the DSE.
Of the money, Tk 15 crore has been deducted as stamp duty.
Fuzhong said the consortium will develop the capacity of the DSE by sharing experience of the Chinese capital market and improve the surveillance and trading system to boost investors' confidence.
"We will work to bring in new products to the stock market as well."
China has more than 11,000 qualified institutional investors and when asked whether they will invest in Bangladesh, Fuzhong said the institutional investors have a very strong interest in Bangladesh's stock market.
"I hope they will invest a sizeable amount, but before that an understanding between the two stock markets should be developed and the system of the DSE should be improved," he said.
Fuzhong said Bangladesh is a growing economy so its stock market has potential to grow.
"That's why we have chosen the stock exchange to be its strategic partner."
The consortium nominated Xie Wenhai, deputy director general of the IT management committee of the SZSE, as a member to the DSE board.
Wenhai said the consortium will incorporate strong corporate governance in the Dhaka bourse. "We will develop cross-border relationships in the capital market."
The consortium will work to contribute to the real economy of Bangladesh by introducing an SME board in the exchange, he said.
The consortium becoming the strategic partner capped the DSE's five-year long effort to choose one in line with the Demutualisation Act 2013.
The consortium bought each share at Tk 21 and it will also provide a technical support worth $37 million.
On May 6, the Bangladesh Securities and Exchange Commission approved the consortium as the partner. The DSE signed the agreement on May 14.
DSE Chairman Prof Abul Hashem and directors Justice Siddiqur Rahman Miah, Md Masudur Rahman, Rakibur Rahman, Hanif Bhuiya and Minhaz Mannan Emon were present at the media briefing organised by the bourse.