StanChart launches new home loan product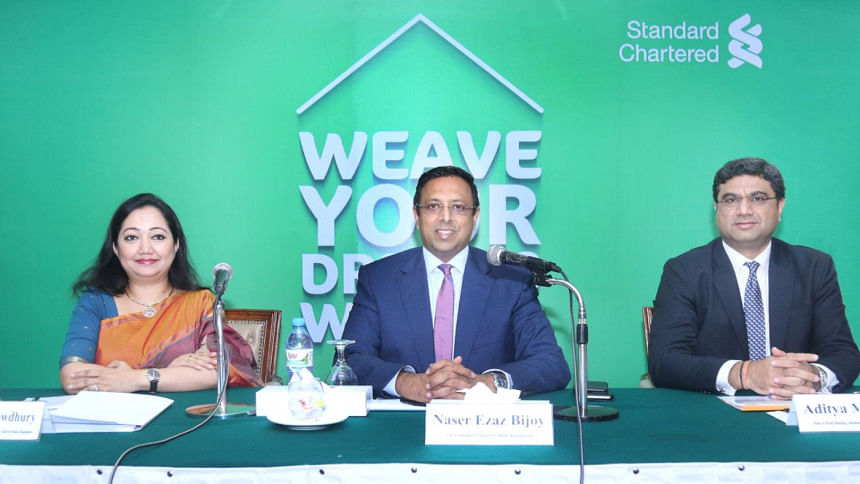 Standard Chartered Bangladesh yesterday launched MortgageOne, a home financing solution enabling clients to enjoy a reduced interest rate and loan tenure through maintaining deposits with current accounts.
The variable rate product was introduced at a press conference at Sonargaon hotel in the capital.
For existing home loans in the market, clients pay interest based on the outstanding loan amount.
With MortgageOne, clients will pay interest based on the difference between the loan balance and funds in a current account linked to MortgageOne. In the process, the customer will pay less interest.
The balance maintained in the current account can be a maximum 25 percent of the loan amount, according to a statement from the bank. One of the product's primary aims is to attract current deposits, said Naser Ezaz Bijoy, CEO of Standard Chartered Bangladesh.
Customers usually do not get any return against deposits maintained in current accounts but MortgageOne will allow them to get that benefit, he said.
The products will help the bank manage non-performing loans as the bank can monitor the money flow of the client due to the link with the current account, he added.
The product understands that the middle class segment is expanding fast and they are looking for a house, said Aditya Mandloi, the bank's head for retail banking.
The main targeted areas for the product are Dhaka, Chittagong and Sylhet, he said.
A maximum of Tk 1.20 crore can be taken on loan under the offer. The bank can finance up to 70 percent of the apartment price for a maximum 25 years.