Biotechnology and genetic engineering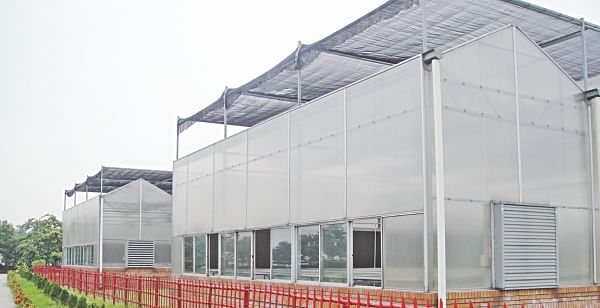 Biotechnology, a technology that is being used from time immemorial, has gained immense speed in research and discovery with the advent of genetic engineering in the 1970s. This again manifested itself through discovery of restriction enzymes, one type of molecular scissors used to cut DNA (deoxyribonucleic acid) in molecular biology laboratories worldwide. Consequently, this technology has been changing the world through advancement in agriculture, health, environment, medicine, pharmaceuticals, neutraceuticals, beautyceuticals, and so on. All of these are achieved by playing with a unique genetic material, namely DNA and their products RNAs (ribonucleic acid) and proteins among which proteins are the eventual role players in showing/expressing the characteristics/conditions which the DNA regions, called genes, are coded for.
Bangladesh, a developing country thriving  to make progress in the fields of economy and education, has tremendous possibilities to do a lot better by focusing on biotechnology and genetic engineering. This article will focus on the recent trends of this rapidly advancing technology in our country and its future prospects as well.
Think of the production of insulin in a bacterium. With the use of genetic engineering, this once costly and rarely available drug has become widely marketed and cheaper. The ever-advancing pharmaceutical companies in Bangladesh have started to develop separate and dedicated biotech units. For example, Incepta Pharmaceuticals has formed Incepta Vaccines Limited. Pharmaceutical biotechnology is a fascinating research area to explore and apply in our country, where collaboration between universities and pharmaceutical companies in research and development can serve the ground for scrupulous research work to generate novel drugs including life-saving ones. The Incepta pharmaceuticals and some other pharmaceuticals are already making and marketing insulin produced themselves and hope to export many of their drugs to the world market including Europe and the US.
The forensic tests of world standard are possible to be carried out in Bangladesh at present. This has become true with the establishment of National Forensic DNA Profiling Laboratory at the Dhaka Medical College Hospital (DMCH); since 2005 with the technique termed  DNA Fingerprinting it is able to perform paternity tests, criminal dispute in cases of rape and murder. However, the country's first-ever criminal investigation DNA Profiling Laboratory is yet to be set up in the capital to facilitate biological investigation of criminal cases by examining biological evidences like saliva, blood, hair and sperm through fingerprints and footprints of the samples. Again, the government has launched seven DNA screening laboratories as one-stop crisis centres in seven medical colleges including that of DMCH to ensure immediate fair justice for tortured women. So, biotechnology is beyond doubt ready to serve the intelligence force for faster investigations of such criminal disputes.
A very exciting field of biotechnology is bioinformatics which is actually the marriage between biology and computer science, where enormous amount of data that are being produced in the biological research laboratories around the globe are compared, analysed, and annotated to discover new genes, characterise them, develop new drugs and build complex biological networks. The sequencing of a whole genome has been made possible through the bioinformatics approach and, of course, the functional annotation, finding the distinct regions responsible for unique functions/characteristics. Bangladesh has made use of this technology to sequence the jute genome and the genome of macrophomina phaseolina, a deadly fungus that causes seedling blight, root rot and charcoal rot of more than 500 crops and non-crop species including jute. While the jute genome project earned Bangladesh the pride of being the first ever country to sequence the whole genome of jute, the discovery of the genome of the deadly fungus later will definitely have an impact on the improvement of yield and quality of the jute fibre. The jute genome project was carried out through a tripartite combination of the public-private-government partnership of the three institutions: University of Dhaka, IT farm Datasoft and Bangladesh Jute Research Institute (BJRI) and the declaration of their discovery came out on June 16, 2010 by prime minister Sheikh Hasina in an assembly of the national parliament. In consequence, the Agriculture Ministry took an initiative with a project entitled "Basic and Applied Research on Jute (BARJ)" at Bangladesh Jute Research Institute, which brought about another breakthrough in September 2012, with the discovery of the entire genome of the dangerous fungus, macrophomina phaseolina. Dr Maqsudul Alam, a professor of microbiology at Hawaii University led the teams for both the cases. These two innovations will hopefully help bring back the golden days of jute, the once golden fibre.
Although biotechnology can shower its blessings on us in terms of medical, pharmaceutical and industrial advancements etc., the sector which needs to be given the prime importance is agriculture. This is because agriculture builds our economy and also serves our livelihood. Without the traditional biotechnology approaches like breeding and marker-assisted selection in agriculture, it would not be possible for us to meet the need of food for the ever-growing population at such a high rate. This is pretty much understandable from the fact that the country is now capable to produce adequate food that can feed more than double the population of  the 1970's with the same or less amount of land in hand. Hence, food security is one of the many precious gifts of biotechnology to the world, especially for the developing countries including ours. However, this won't be enough for the future. For an agro-based country like Bangladesh biotechnology and genetic engineering has a lot to contribute. There is an urge to develop stress-tolerant crop varieties of rice, jute and other crops to fight environmental adversities like flood, drought and salinity etc. Several molecular biology laboratories at the University of Dhaka are working on jute, rice and lentils. The Bangladesh Academy of Sciences, through its programme in agriculture and life sciences under the auspices of United Stated Department of Agriculture (USDA), is partially supporting quite a good number of projects in the agricultural universities and research organisations.
Plant biotechnology holds a great promise for our country. Although golden rice can meet the requirement of vitamin A to avoid blindness, our poor people also suffer from other nutrient deficiencies and hence some plants and vegetables could serve as a source of multiple nutrients if engineered biologically in a proper fashion. Different public universities including the agricultural ones and National Institute of Biotechnology (NIB) are working on various facets of plant biotechnology. Besides developing better varieties, they also work on varieties capable of fighting natural calamities. Thus, research on transgenic plant development, GMOs (Genetically modified organisms), in other words, is going on in many laboratories country-wide, which include developing pest/insect resistant varieties, salt-tolerant varieties etc. Moreover, there are a good number of plant biotechnology companies such as BRAC ARDC, Lal Teer, etc. Another private venture on plant tissue culture development and commercialisation has been taken at University of Rajshahi, where they worked on strawberries and some exotic flowers that went on to successful commercialisation.
The future potential of plant biotechnology includes working on genetic modification of herbal plants by modern technology to develop effective drugs, beautyceuticals and neutraceuticals, development of rapid diagnostic tools and development of post-harvest technology to minimise the loss of agricultural produce and many more. NIB has within its many achievements micropropagation of different fruit and ornamental plants, and the institute plans to work on transformation of genes of interests into various plant species. In future, we can produce vaccines in fruits and vegetables like banana and potato respectively to develop edible vaccines which are also termed as 'vaccines for dinner'. Just imagine you and your child are taking a banana at breakfast or some potato crackers in the afternoon and at the same time getting vaccinated!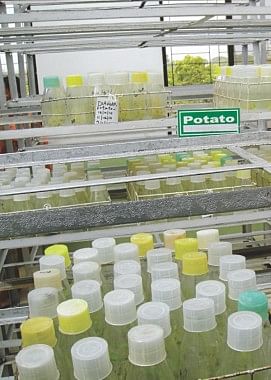 Although having some fascinating research directions in agriculture and plant biotechnology, we are far behind in medical biotechnology research. The Institute of Public Health (IPH) and International Center for Diarrheal Disease Research, Bangladesh (icddr'b) are performing most of the medical biotechnology and animal genetic engineering. For example, icddr'b works on shigella, rotavirus, pneumonia and cholera vaccines etc. while IPH works on tetanus and small pox vaccines. IPH, by producing sufficient quantity of highly potent vaccines, has made the small eradication programme successful. In this present situation, the national biotechnology policy emphasises more on medical biotechnology including the production of laboratory kits and tools for local use and export. Based on the policy document, the Director General of Health office has undertaken an aggressive programme on medical biotechnology. It held a series of workshops to sensitise the medical professionals and the policy makers for investing in medical biotechnology. Guidelines for implementation of the policy on medical biotechnology have been formulated and series of dissemination workshops involving both public and private sectors have been held. A Medical Biotechnology Centre has been established and active programmes are in progress for research and development in medical biotechnology including stem cell research and application, DNA-based diagnostics for the identification of genetic and infectious diseases, genetic counseling, genome sequencing of disease causing microbes and pharmacogenomics programme on Bangladesh's human genome diversity for the validation of drug targets.
The eventual outcome of any biotechnology is directed to produce money by developing suitable products for human welfare. "Research is money turned into knowledge and innovation is knowledge turned into money." Now that we have 'knowledge', we need to turn this into 'money' that can come from breeding improved plant varieties, improved microbial strains and so on. With its huge population, Bangladesh is a very good market for the biotechnological products. Industrial biotechnology can pour its blessings on us through biopolymer production to serve biodegradable plastics, biomaterials for polymer engineering and processing, plant for biofuel production, biogas for electricity and biomolecules like proteins, hormones and enzymes to use in industrial and therapeutic purposes. For example, the protein keratinase can increase the efficiency and quality of leather in leather industries by fine processing of the raw hide. The notable thing in industrial biotechnology is that it is closely implicated with microbial biotechnology, bioprocessing and fermentation and many more. The Bangladesh Council for Scientific and Industrial Research (BCSIR) has invented virus-free potato seeds, high quality banana and orchid already and every year new entrepreneurs are coming to take the BCSIR technology to build small scale industries of their own. Spirullina, biofertilisers and mushrooms are other successful ventures of BCSIR. Genetic improvement of industrial microorganisms like citric acid producing Aspergilus niger through gamma radiation has reached commercial stage. With so much hope and pragmatic possibilities, the Bangladesh Ministry of Industries (MoI) has prepared a policy guideline and also finalised a Five-Year Action Plan which is included in the National Biotechnology Road Map.
Environmental biotechnology is definitely one of the major concerns. With densely populated cities and industries at the river banks, industrial effluents and household waste are creating a large amount of garbage every day. If microorganisms could be used for the processing of these wastes to detoxify them or to make them less toxic at least, it would help protect our environment a lot. Moreover, through resorting to biofuel in the light of depleting natural gas reserve, we can dream of a greener and better world. Bangladesh undoubtedly would be one of the most blessed countries in this regard. The environmental biotechnology division of NIB could lead the way.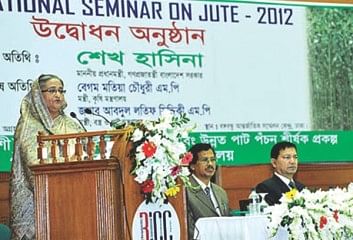 Although the infrastructures and initiatives taken are not yet sufficient to keep pace with the developed world in the field of modern biotechnology and genetic engineering, Bangladesh is gradually progressing to catch up with them. Some research institutions are actively working on different biotechnological aspects. For instance, Bangladesh Livestock Research Institute (BLRI) and Bangladesh Agricultural University (BAU) are giving attention to animal and plant biotechnology. Also, are Bangladesh Institute of Nuclear Agriculture (BINA) contributing in agriculture; it has developed Rhizobium biofertiliser for grain legumes such as lentil, chickpea, groundnut, mungbean and soybean which have significant demand in the country. Bangladesh Atomic Energy Commission (BAEC) has established an irradiation technique for substantially increased production of silk from silkworm, Bombyx mori. Bangladesh Agricultural Research Council (BARC) and Bangladesh Rice Research Institute (BRRI) are also playing significant roles in different biotechnological research. Bangladesh Fisheries Research Institute (BFRI) is working on developing better strains of fish through transgenic fish development. Above all, as the centre of excellence, NIB can take the major steps in the betterment of our country through biotechnological research. NIB, with its six different laboratory divisions including plant, animal, microbial, fisheries, agriculture and molecular biotechnology divisions, is an appropriate institution for taking responsibilities for biotechnology movement. Again different public and private universities including University of Dhaka have a Department of Genetic Engineering and Biotechnology to generate skilled researchers and manpower to develop biotechnology research.
Although Bangladesh is one of the poorest among the developmental countries in Asia, for biotechnology development it has great potential. This is because the enormous biodiversity and the fertile land we have. Nowhere in the world is soil that alluvial where plants could be grown so easily. The general mass is also well accustomed to different agricultural practices. What we need is a trained manpower in biotech research and development, better world class infrastructures, and mass awareness of the ethical and legal issues and the regulatory and safety issues ratified and maintained by the government. In this regard, some developments have already been made. The national biotechnology policy of 2006 has been revised in 2012 and the revised national Biotechnology Policy 2012 has been approved and gazetted in November 2012.
NIB, with its six different laboratory divisions including plant, animal, microbial, fisheries, agriculture and molecular biotechnology divisions, is an appropriate institution for taking responsibilities for biotechnology movement.
There are different committees to look into policy and implementation, indicating a serious commitment on the part of the government to enter into the modern era of biotechnology. The National Taskforce on Biotechnology of Bangladesh (NTBB), headed by the prime minister, has approved the policy for the application of the latest innovations towards risk-free, health-proof and environment-friendly developments in every aspect of biotechnology. The National Executive Committee of Biotechnology (NECB), headed by the Principal Secretary to the Prime Minister's Office, is in charge of the implementation of the national policy already formed. In addition there are national technical committees for each sectors of economy to develop programmes and activities in respective sectors. It is the time to ponder on how we could maximise the benefits of biotechnology using our diverse natural resources. We need to harmonise our research with the advancement of this science worldwide to reap the best out of it. And, in that journey with the involvement of mass people including researchers, diplomats and, of course, general people we could build a better, greener and a golden nation.
...........................................................................
Naiyyum Choudhury is a Professor of Biotechnology at BRAC University.
Md. Riajul Hossain is a Lecturer of Genetic Engineering and Biotechnology at the University of Dhaka.