Slanting Approach Road
A perennial woe to villagers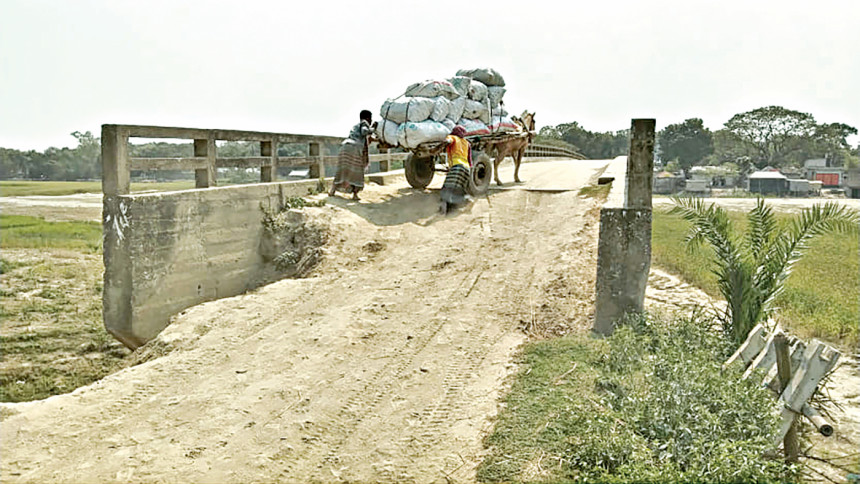 Hundreds of people of eight to ten villages have been suffering immensely due to low approach road of a bridge over a canal at Gotampur village in Rajbari's Pangsha upazila.
Locals said the approach road is so slanted that it is even difficult to mount it on foot. Goods-laden vehicles and ox-carts need to be pushed from behind to surmount the bridge causing woes to the villagers. Very often vehicles overturn.
According to the sources of Pangsha Local Government Engineering Department (LGED), the 120-metre-long and 12-metre-wide bridge was constructed in 2004.
On a recent visit, it was seen that a paved road which is much lower than the level of the bridge has gone toward Gotampur bazar on the south side. However, the situation is more precarious on the north end as the dirt road connecting the bridge has collapsed.
Ayub Khan, a horse cart driver, said he has to use this bridge five to seven times in a day. But the bridge is much higher than the approach road. It is very difficult to get on the bridge with the horse. The cart has to be pushed from behind. For this reason, he has to wait for people who would push his cart. The suffering has no limit during rainy season."
Azizul Islam of Gatampur village  said, "I have never seen any development work of the road. Accidents occur here very often. Few days ago a horse cart overturned while crossing the bridge. Later, famers who were working nearby rushed to the spot and saved the horse's life."
Al Mamun Khan, chairman of Havaspur union parisahd, said, "I know people of that area have been suffering much due to the low approach road of the bridge. I will solve the problem within six months."