Metro rail milestone: Entire 20.10km viaduct to be completed this month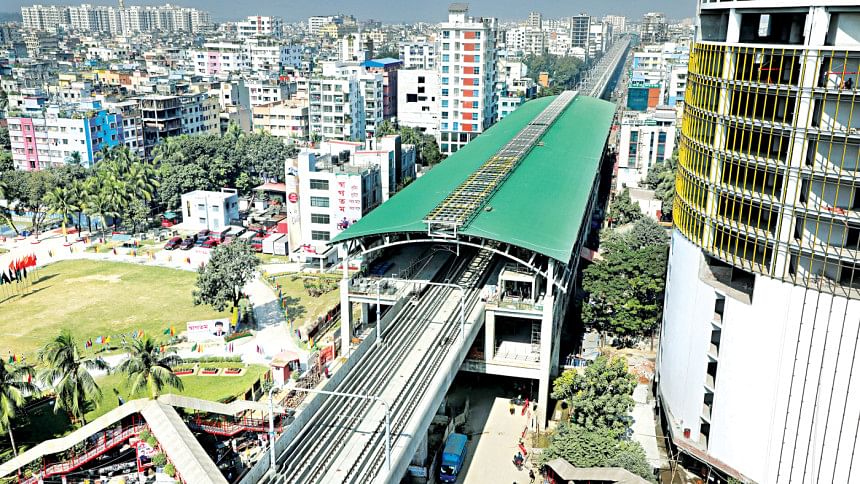 In a major breakthrough for the country's first metro rail project, the construction of the entire 20.1-kilometre viaduct will be completed by the end of this month.
Only the installation of box girders between two piers near the capital's Jatiya Press Club remains incomplete and the work is expected to be done within a few days, project officials said yesterday.
The exact date of completion will be known today, they said.
"As per our prior announcement, construction of the entire viaduct would be completed within this month," MAN Siddique, managing director of Dhaka Mass Transit Company Ltd (DMTCL), the implementing agency of the project, told The Daily Star.
A meeting with consultants and officials will be held today, here they will know the exact date of completion, he said.
"This will definitely be a milestone for the project."
Formally known as the Mass Rapid Transit Line 6 or MRT Line-6, the elevated rail line is being constructed between Uttara Sector-3 and Motijheel.
Commercial operation in the Uttara-Agargaon section will start on December 16 -- the country's Victory Day -- this year. The full section will be operational by December 2023, as per the DMTCL announcement.
Once operational, the metro rail will be able to transport 60,000 people per hour and reduce travel time from Uttara to Motijheel from about two hours to only 40 minutes.
The original cost of the project is Tk 21,985 crore but project authorities last year sought a further Tk 11,487 crore for additional work, including extension of the line up to Kamalapur and building spacious footpaths outside the stations for convenient entry and exit of passengers.
If the proposal for additional funds is approved, the cost of the fast-track project would be Tk 33,472 crore and deadline would be December 2025, one and a half years longer than the original one.
While visiting the project at the High Court and Jatiya Press Club areas yesterday, this correspondent saw that installation of box girders between two piers beside the Secretariat station near the press club was incomplete.
However, the installation of box girders between two piers near the High Court was completed two days ago.
"We are expecting to complete the rest of the work within two or three days," a DMTCL official told this correspondent yesterday.
The overall progress of the fast-track project was 74.04 percent till December last year.
The first phase, between Uttara and Agargaon, saw 90.08 percent progress and the second phase -- from Agargaon to Motijheel -- 73.08 percent.
The installation of tracks and other equipment, and procurement of cars saw 70.91 percent progress till last month, according to the project's monthly report.