Enforced disappearances: Civil society gripped by fear
Say rights activists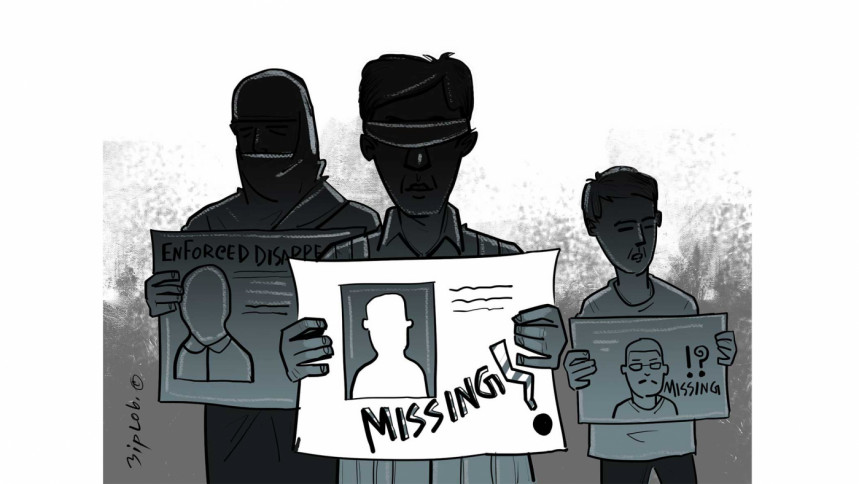 The civil society is gripped by fear stemming from cases of enforced disappearances, said human rights advocates at a conference in the capital yesterday.
"Because of enforced disappearances and killings, our civil society is now enveloped in fear," said Nur Khan Liton, adviser of Human Rights Support Society.
"Crossfire deaths and disappearances have increased and people [who have been or might be affected by it] have stopped talking.
"We want to know if the ministers or MPs are connected to these disappearances," he said, adding, "Citizens have the right to know."
The path to justice, according to Nur, is to establish a "neutral investigative committee who can tell us exactly what happened to the victims."
Eminent human rights activist Hameeda Hossain, said, "The law enforcers can't take the law into their own hands."
According to Odhikar, a human rights organisation, at least 667 individuals have become victims of enforced disappearances from 2009 to 2021.
Of them, 81 were found dead and 154 remain missing, according to the organisation.
Human Rights Watch's latest report finds that 86 victims of enforced disappearances are still missing.
These figures were revealed in the eighth human rights conference, organised by the Human Right Support Society, at the Bishwo Shahitto Kendro yesterday.
Syeda Rizwana Hasan, chief executive of Bangladesh Environment Lawyers Association, said that according to the constitution, all the power in the republic belongs to people, and if that were a reality, the DCs and public representatives would have listened to them.
"But the people actually have no power."
Sara Hossain, executive director of Bangladesh Legal Aid Services Trust, urged  citizens, journalists, political leaders and human rights organisations to be more alert to the state of democracy.
She pointed out how children are being prosecuted under the Digital Security Act and held in detention for extended periods of time before conviction.
Izazul Islam, executive director of the Human Rights Support Society, delivered the welcome speech while Barrister Shazada Al Amin presided over the programme.