'Over 1,200 BNP activists arrested in last 3 days'
Claims the party; Rab, police step up checking at entrances to Dhaka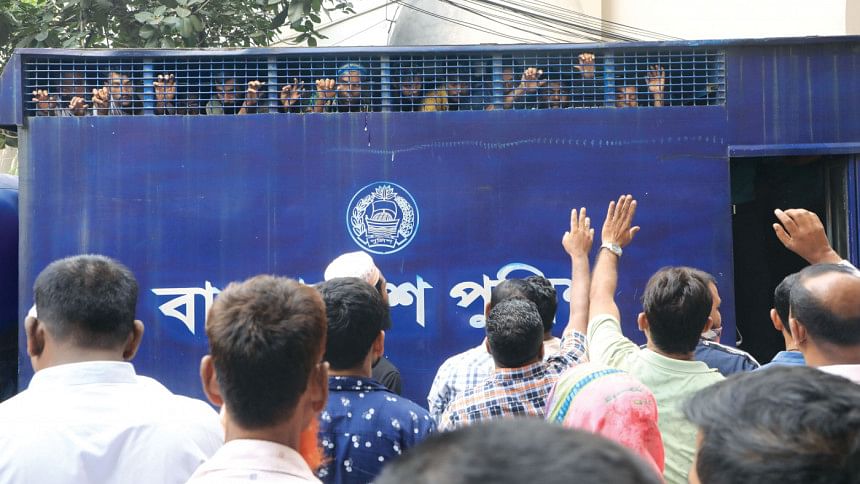 BNP yesterday claimed that over 1,200 of its leaders and activists were arrested over the past three days and that the arrests were made as the party will hold a rally in the capital tomorrow.
The party's Senior Joint Secretary General Ruhul Kabir Rizvi said 330 of their members were arrested from Wednesday night till 8:45pm yesterday, adding that at least 16 false cases were filed against opposition activists.
BNP Joint Secretary General Khairul Kabir Khokon was among the arrestees. He was picked up by detectives from a house in Dhaka's Sipahibagh area early yesterday.
Confirming the arrest, Razib Al Masud, deputy commissioner of Motijheel Division, said, "He was accused in many cases in Dhaka and elsewhere."
Meanwhile, 205 people were produced before the Dhaka's Chief Metropolitan Magistrate's Court over the last two days. 
Of them, 122 were arrested on Wednesday from different parts of the capital in 40 cases filed on different dates last year and this year. Many of them are BNP members.
The same night, five leaders and activists of BNP and Jamaat were arrested from different places in Dinajpur's Ghoraghat upazila.
Police yesterday also detained 45 leaders and activists while raiding the house of Jatiyatabadi Sramik Dal President Salahuddin Sarkar in Tongi.
Meanwhile, police and Rab have set up checkpoints on roads leading to Dhaka ahead of the rally and have been searching vehicles, checking ID cards, and questioning commuters about their destination, reason for visit and occupation.
The check posts were set up in Amin Bazar, Jahangir Nagar University, Srinagar in Munshiganj and Bhanga in Faridpur
Law enforcers also ramped up surveillance on hotels and student messes in different parts of the capital. 
With the ruling AL announcing a counter rally at the south gate of Baitul Mukarram mosque – merely 1.5km from BNP's declared rally venue – and Jamaat-e-Islami's vow to hold their separate one at the nearby Shapla Chatta on the same day, police are fearing violence and sabotage.
A sense of fear and panic has also spread among city dwellers over the multiple rallies on the same day.
Dhaka Metropolitan Police spokesperson Faruk Hossain said they have analysed the threats and an adequate number of law enforcers will be deployed to ensure public safety.
He denied the claims that the arrests of BNP members were made centring the rally.
"Rather, a regular drive is going on to arrest people accused in cases or those charge sheeted, and the arrests are made with warrants. Many accused who were absconding are being arrested. There might be BNP leaders and activists among them," he told The Daily Star yesterday.
On the other hand, families of many arrestees on Wednesday night said their near ones are neither involved in politics nor accused in any case, yet they were arrested "on suspicion".
Speaking to The Daily Star, the sister of a college-going arrestee who was waiting near a court to meet her brother, said, "My brother is a college student. I told him to go out and get some food last [Wednesday] night. After he went out, police arrested him from Ambagan area in Hatirjheel around 8:00pm"
Like her, over 100 people related to those arrested on Wednesday were gathered at the Dhaka court area to meet their loved ones.