Govt plotting to foil BNP's Thursday rally: Fakhrul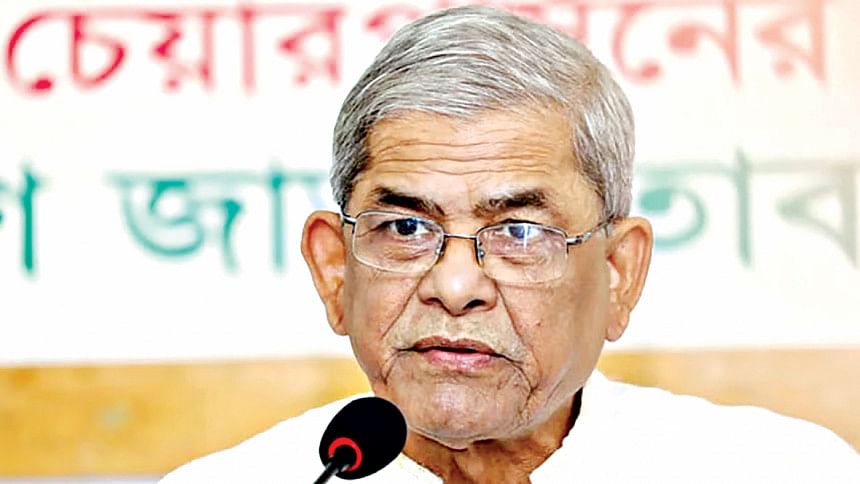 Trashing the ruling party's allegation of 'stockpiling arms along the border', BNP Secretary General Mirza Fakhrul Alamgir today said it's a fresh plot to foil the anti-government movement and Thursday's grand rally.
"They (govt) have started a new plot to stop the rise of people and the political movement to restore democracy. Mr Obaidul Quader said in a meeting that BNP is accumulating weapons along the border to create anarchy in Bangladesh," he said.
Speaking at a discussion with lawyers, the BNP leader said the ruling party leader made the terrible remark when the people are waking up and starting their final movement to establish their rights.
"They (AL) are trying to hatch a new conspiracy. We would like to make it clear that you'll have to bear all the responsibilities if you use weapons against the people again. The people will also give a reply to it," he warned.
Fakhrul said their party's grand rally in the capital slated for Thursday will be held in a peaceful manner. "This rally can't be thwarted by resorting to any conspiracy and unleashing violence," he pledged.
He urged the authorities concerned to make all necessary steps so that BNP can hold the rally peacefully.
Or else, he warned that the government, the authorities will be held responsible if anything bad happens centring the grand rally.
Bangladesh United Lawyers Front arranged the programme at the Institution of Engineers, Bangladesh.
Earlier in the day, Awami League General Secretary Obaidul Quader at a views-exchange meeting said BNP is "preparing to foil the election through violence."
"Awami League wants free, fair and peaceful elections. But BNP, which does not believe in public support, is stockpiling firearms to contest the elections," he said.
Fakhrul called upon the lawyers to join the ongoing democratic movement of the opposition parties to free the country and its people from misrule. "The people of Bangladesh have to fight another war like the Liberation War to build a welfare state for the people. Let us all move forward toward that goal."