B'baria by-polls: Central AL leader joins Sattar's campaign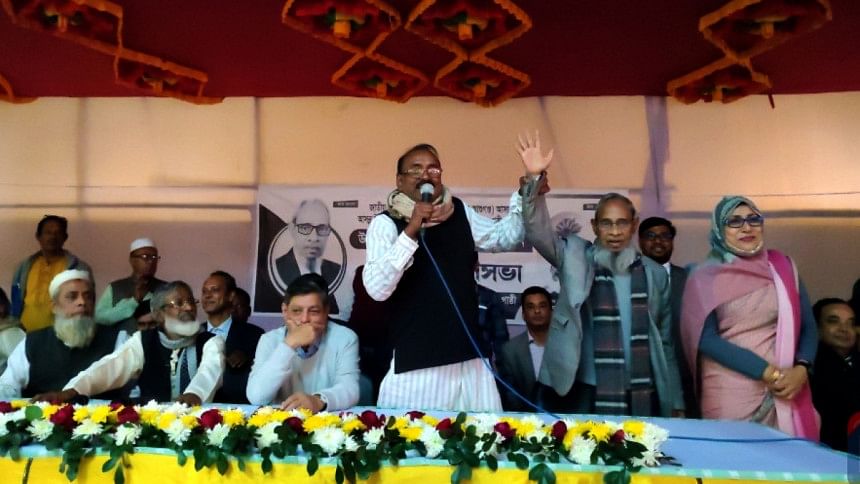 A central Awami League leader has joined the campaign for expelled BNP leader advocate Abdus Sattar Bhuiyan, who is running for the Brahmanbaria-2 by-polls as an independent candidate.
Under the banner of "Abdus Sattar's supporters' group", central, district, and upazila units of AL organised a meeting at Syed Sirajul Islam Auditorium in Sarail upazila of Brahmanbaria today and sought vote for Sattar.
The by-polls to Brahmanbaria-2 (Sarail-Ashuganj) will be held on February 1, according to the schedule announced by the Election Commission.
Sarail upazila AL President Nazmul Hossain presided over the event while central AL Organising Secretary Ahmed Hossain was the chief guest.
Brahmanbaria-3 lawmaker RAM Obaidul Muktadir Chowdhury, lawmaker from reserved seats for women Umme Fatema Nazma Begum Sheuly Azad, district AL General Secretary Mamun Sarkar were also present at the meeting, among others.
Before the meeting, Sattar came to the hall in a processing of AL leaders and activists.
Terming Sattar an honest politician, AL central leader Ahmed Hossain said, "He left BNP as they [BNP] did not show respect to him. He has shown the courage to participate in the by-polls as an independent candidate and that is why the Awami League has extended its support to him."
While addressing the event, Sattar called upon all to vote for him.
Sattar, a former adviser to BNP Chairperson Khaleda Zia, was elected lawmaker five times from different constituencies in Brahmanbaria and Cumilla on BNP tickets.