50 injured in AL-BNP clash in Keraniganj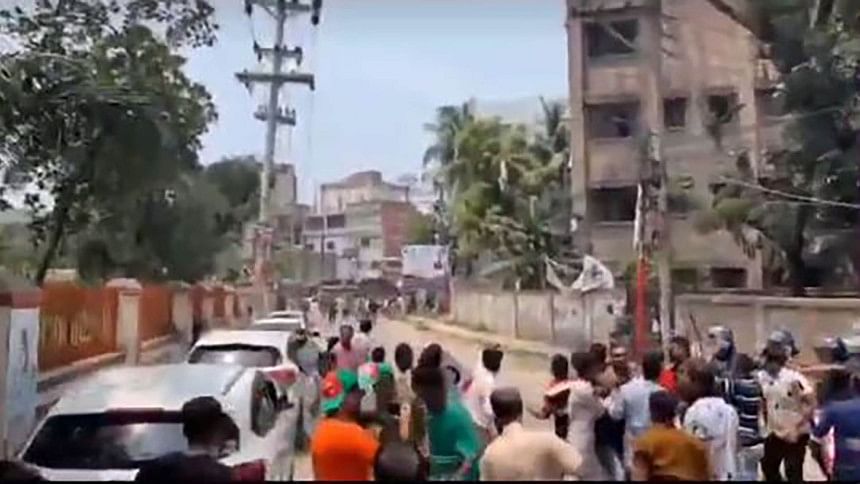 At least 50 persons were injured today as leaders and activists of BNP and ruling Awami League (AL) locked in clashes in Dhaka's Keraniganj upazila.
The clash took place around 11:00am at Jinjira area.
Witnesses and police said activists, who hurled brick chips at each other, from both parties were injured in the clashes.
The local BNP leaders said at least 30 of the party's leaders and activists including Nipun Roy Chowdhury, a member of the BNP Central Executive Committee, were injured. Nipun was taken to a Dhaka hospital with head injuries.
According to witnesses, the attack took place when a procession of Jubo Dal was going towards the party office from the Jinjira Chatgaon area around 10:45am to attend a rally arranged to press home the party's 10-point demand.
As the procession was crossing the local AL office, tensions among the activists of parties started building as both sides started chanting slogans against each other. At one stage, clashes broke out between the two groups, leaving dozens injured from both sides.
Additional police force later rushed there and took the situation under control, said Mamunur Rashid, officer-in-charge of Keraniganj Model Police Station.
Talking to Bangla daily Prothom Alo, ME Mamun, general secretary of Keraniganj South thana unit AL alleged that a group of BNP led by Nipun Roy attacked and vandalised their party office, leaving at least 20 AL activists injured.
However, Khandaker Abu Ashfaq, president of Dhaka District unit BNP claimed that AL leaders and activities carried out the attack unprovoked, leaving at least 30 of them injured.
After the clashes, BNP held their programme at the local party office where BNP Senior Joint Secretary General Ruhul Kabir Rizvi spoke.
The OC said police have not received any complaint following the clash. No arrest was made following the incident.