Legendary director Tarun Majumder passes away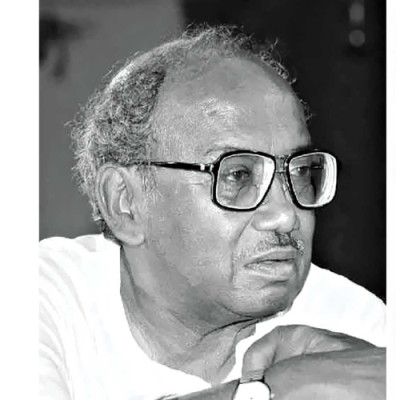 Veteran director Padma Shri Tarun Majumdar, known for making popular films based on finely-woven tales of human relationships in the lives of rural and urban middle-class families, passed away in a hospital in South Kolkata yesterday.
He was 92.
Tarun, husband of eminent actress Sandhya Roy, had been undergoing treatment at the state-run Seth Sukhlal Karnani Memorial hospital since June 14 for old-age complications
After he developed a lung infection, he was moved to the ICU on Sunday, where he was put on a ventilator.
Born on January 8, 1931, in what is now Bangladesh's Bogra, Tarun, a Chemistry student in Kolkata's Scottish Church College, made a name for himself with his works like "Balika Badhu" (1960), "Smriti Tuku Thaak" (1963), "Palatak" (1963) (1976), "Kuheli" (1971), "Shriman Prithviraj" (1972), "Ganadevata" (1978).
His Dadar Kirti (1980) had a significant impact in uplifting the Bengali film industry in West Bengal from the 60s to 80s.
Several of his films also had superhits songs by Hemanta Mukhopadhyay and Manna Dey.
Among his other major box office successes are "Kancher Swarga", "Bhalobasha Bhalobasha", "Sangsar Simante" and "Nimantran".
"I have always been intrigued by human relationships and values. I think the quest of a man is to become a better human being. I think I understand the middle-class milieu better and hence, interpreted it in various ways on celluloid," Tarun had said back in 2015.
While Tarun has worked with many notable actors like Uttam Kumar, Suchitra Sen, Chhabi Biswas, Soumitra Chatterjee, Sandhy Roy and more, he was more importantly known to introduce actors like Tapas Pal, Mausumi Chatterjee and Mahua Roy Chowdhury.
Honoured with the prestigious Padma Shri -- the fourth highest civilian award of the Indian government -- in 1990, the veteran filmmaker won four national awards, Bengal Film Journalists' Association Awards, among several others, during his lifetime.
Tarun came to cinema under the banner of Yatrik -- a group of filmmakers that broke up in 1963.
It was in 1965, he made his solo debut as a director in the film industry with Basanta Choudhury in "Alor Pipasha" and Soumitra Chatterjee-starrer "Ektuku Basha".
Ganadevata, based on Tarashankar Bandyopadhyay's novel, won Tarun a national award for Best Feature Film with Mass Appeal, Wholesome Entertainment and Aesthetic Value in 1978.
In 1984, he went on to win another national award for Best Scientific Film (including Environment and Ecology) for "Aranya Aamar".
West Bengal Chief Minister Mamata Banerjee expressed deep sorrow over Tarun Majumder's death, saying his passing was a big loss to the entertainment world.