Tangail-Aricha Regional Highway
Traffic movement halted as bridge deck collapses again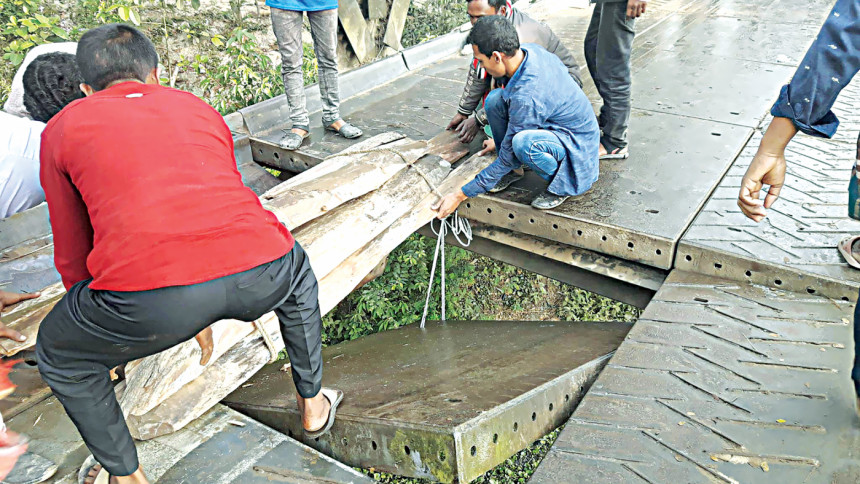 Vehicular movement on Tangail-Aricha regional highway came to a halt as a steel plate of the deck of a Bailey bridge, repaired just a few days ago, on a canal at Tengripara in Nagarpur upazila collapsed again yesterday.
As a result, a good number of vehicles including passenger buses and goods-laden trucks got stranded on either side of the vulnerable bridge.
Locals said due to the sudden collapse, passengers were compelled to cross the bridge on foot and board another vehicle on the opposite side of the bridge to go to their destinations.
Meanwhile, in a temporary fix, workers put a bundle of logs on the broken part so that some heavy vehicles could cross the bridge amid serious risk of accident.
On March 8, another portion of the bridge deck collapsed when a mustard-laden truck was crossing it.
After couple of days of suspension, vehicular movement on the bridge resumed when workers engaged by the Roads and Highways Department (RHD) repaired the damaged part.
"I have informed the matter to the RHD officials after one of the steel plates of the bridge deck collapsed again yesterday morning," Nagarpur Upazila Nirbahi Officer (UNO) Waheduzzaman said.
Bhadra Union Parishad Chairman Shawkat Ali said vehicular movements on the bridge remained suspended on August 23 and September 17 last year due to collapse of the bridge deck in other spots.
Though the bridge was repaired later, but it got damaged again due to substandard repair work, he alleged.
"Hundreds of vehicles as well as nearly one lakh people, who move on the road every day, are facing immense sufferings due to suspension of traffic movement through the bridge," the chairman added.
RHD officials, however, claimed that they were trying to hold a sustainable repair work of the old bridge, but could not do so due to plying of overloaded heavy vehicles, defying ban.
Of the 55.5 kilometre Tangail-Aricha regional highway, 35.5 kilometre area is under Tangail, RHD officials said.
Besides, almost all the 12 Bailey bridges under Tangail portion of the regional road, constructed over two decades ago, have turned awfully risky.
Although, RHD hung caution notices on both sides of all the old bridges, prohibiting movement of overloaded vehicles, nobody pay heed to it.
Tangail RHD Executive Engineer Aliul Hossain said a project has already been approved to construct 10 concrete bridges in places of the risky Bailey bridges.