Traders trying to get back on their feet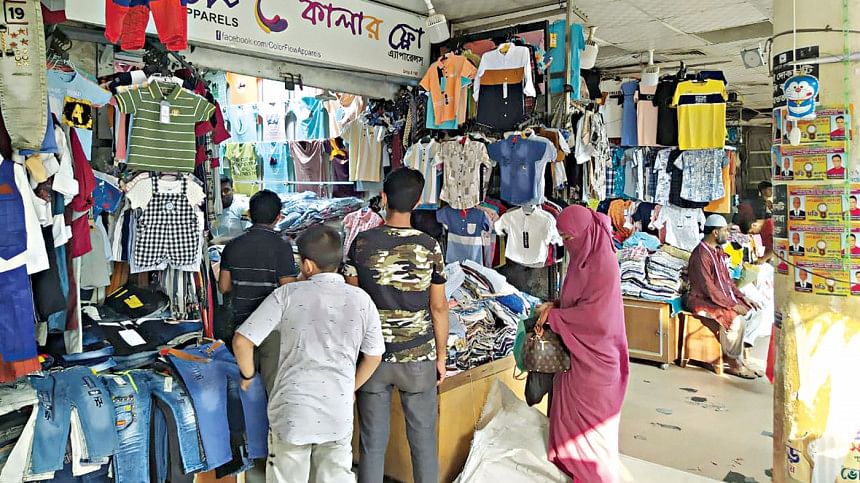 Three days after a devastating fire that ravaged Dhaka New Super Market, traders started reopening their shops yesterday.
During a visit, traders were seen removing burnt clothes and debris, cleaning and sorting goods, and decorating their shops.
The shop owners had to depend on generators to use electric fans and lights, as there was no electricity connection in the market till filing this report at 7:30pm yesterday.
Many who did not have generator connections were seen using charger lights, candles, and cell-phone lights to illuminate their shops.
Around 250 shops on the ground floor, 200 on the second floor, and 50 on the third floor were reopened for business after permission was granted to do so, though most of them had little or no customers.
Kazi Abul Khayer, member secretary of Dhaka New Super Market Beboshayee Samity (South), said 125 shops were totally destroyed and 100 were partially burnt out of the 1,050 shops in the market.
"Electricity connection is expected to be restored in the market soon," he added.
The massive fire that broke out just a week prior to Eid-ul-Fitr, left the market, which was usually abuzz with buyers and sellers, in a devastating state.
Alamin Hossain, an employee of a shop on the third floor of the market, had decorated the shop with new jeans for the upcoming Eid.
But his joy turned into tears as he sat alone in front of his shop, watching everything get burnt to ashes.
"Everything changed for the worse in an instant," said Alamin.
Many traders like Iliyas Akanda are struggling to get back to their previous stream of business.
Akanda, an employee of Bismillah Spice Shop on the ground floor, said that the shop was open for four hours and made only Tk 600 in sales, a tiny fraction of the average of Tk 8,000 of sales per day during Eid season.
Another trader, Kamal Hossain, owner of Himel Fashion on the second floor, said the fire destroyed around 20 percent of their merchandise, including pants and t-shirts.
The road to recovery has been challenging, as Hossain said only two t-shirts were sold in two hours of re-opening the shop.
Some traders are busy with restoration work, while others eagerly waited for customers to come.