Road to Freedom: This Day in Bangladesh Liberation War History
Today the war in Bangladesh has become a war on India: Indira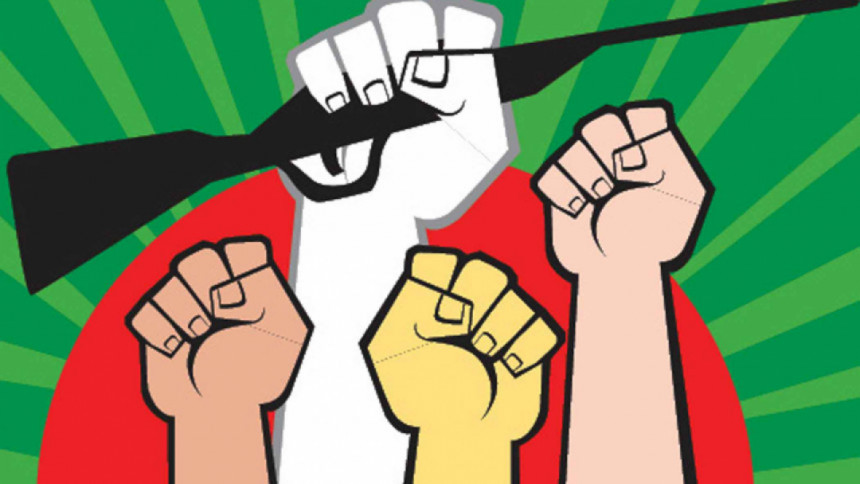 December 3, 1971
FULL-SCALE WAR BEGINS
Pakistan today launched an undeclared full-scale war on India. Pakistan made air strikes on a number of airfields in the western region of India and began shelling several places. Immediately, the Indian armed forces were ordered to hit back at the Pakistan army. The joint command of the Mukti Bahini continued advancing inside Bangladesh.
The Indian Defence Minister Jagjivan Ram said today that orders had been issued to Indian troops to take "all necessary action to meet the Pakistani challenge".
Emerging from a meeting of the cabinet, which discussed the blatant Pakistani attack, the Indian defence minister declared: "The challenge has come. It will be met."
A Pakistani spokesman said today that the bombings were retaliatory actions, charging that Indian troops had attacked at least four points along the West Pakistan border. He claimed that the first fighting in West Pakistan began about noon today with firing along the border, especially on the cease'fire line in Kashmir.
INDIRA VOWS TO REPEL FOE
Indian Prime Minister Indira Gandhi declared today, "Soon after 5:30 PM on Dec 3, Pakistan launched a full-scale war against us."
She made the announcement in a radio speech at midnight. She pledged: "The wanton and unprovoked aggression of Pakistan would be decisively and finally repelled.
 "Today the war in Bangladesh has become a war on India," she said. "We have no option but to put the country on a war footing.
"Since last March," continued Indira, "we have borne the heaviest of burdens and the greatest of pressures in a tremendous effort to ask the world to help in bringing about a peaceful solution and preventing the annihilation of an entire people whose only crime was to vote democratically. But the world ignored basic causes and concerned itself only with certain repercussions.
"The situation was bound to deteriorate," she said. "We must be prepared for a long period of hardship and sacrifice."
A state of emergency throughout India was proclaimed this evening.
CONVERSATION BETWEEN NIXON AND KISSINGER
US President Richard Nixon had a telephone conversion with his Assistant for National Security Affairs Henry Kissinger this morning on the Indo-Pak conflict.
Kissinger informed Nixon, "It appears that West Pakistan has attacked because situation in East collapsing. State wants to use it as a pretext not to put out statement [announcing the cut-off of military assistance to India] at noon. I think it's more reason to cancel programs. State believes and I agree that we should take it to the Security Council once actions are confirmed."
Nixon replied, "I am for that. We have to cut off arms aid to India. We should have done it earlier."
Kissinger replied, "If they [West Pakistan] lose half of their country without fighting they will be destroyed. They may also be destroyed this way but they will go down fighting.
Nixon further said, "Pakistan thing makes your heart sick. For them to be done so by the Indians and after we have warned [India]… they have brought it on. We have to cut off arms. Why not? Because [they were] attacked by West Pakistan. Tell them that when India talks about West Pakistan attacking them it's like Russians claiming to be attacked by Finland."
Later, on the same day, Nixon had another telephone conversation with Kissinger.
Kissinger said, "It's more and more certain it's India attacking and not Pakistan. We cut off other military supplies. Secy wants to go to Security Council and go on TV. I say we can go just as soon as Pakistan says it's alright with them. We are sending a message through our channels to speed it up. I don't think we should rush until we see what they want. And tell the Chinese it's done with Pakistan's concurrence."
Nixon commented, "Why stick our nose in unless they want us."
Shamsuddoza Sajen is a journalist and researcher. He can be contacted at sajen1986@gmail.com