Things still bleak on graft front
Bangladesh 12th most corrupt country in world, 2nd most in South Asia, TI index shows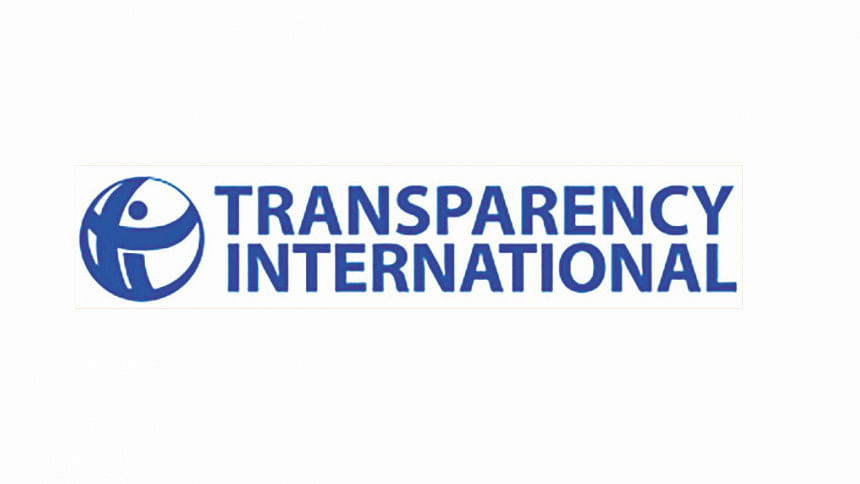 One notch down, Bangladesh ranks 12th highly corrupt country in the latest edition of Transparency International's Corruption Perception Index due mainly to a lack of pragmatic strategies to fight graft.
Of the eight South Asian nations, it remains the second lowest both in terms of score and rank, ahead of only war-torn Afghanistan.
Bangladesh has scored 25 out of 100 in the latest Index. It had scored 26 in four consecutive years since 2018.
The results are given on a scale of 0 (highly corrupt) to 100 (very clean); the average score is 43, according to the CPI 2022.
In terms of ranking from the top, Bangladesh stands 147th among 180 countries, shows the report.
"The performance is disappointing. We are also well below the global average of 43, which is a matter of grave concern," Iftekharuzzaman, executive director of the local chapter of TI, said while unveiling the flagship report, which is universally believed to be the most well-known indicator of how much corruption exists.
He said Bangladesh is among 122 countries that scored below 50, which denotes nations having a "serious corruption problem".
Iftekharuzzaman said, "Analysing the information of the index, corruption is found to have a three-dimensional relationship with conflict and insecurity. Corruption creates conflict that triggers insecurity. It creates a vicious cycle."
Referring to the lowest scoring countries riven by war and conflicts, he said, "We've seen in our previous researches that corruption creates discriminations and scope for injustice that lead to conflict and ultimately to distrust in the government and its acceptability."
The Berlin-based corruption watchdog prepares the CPI based on the perception of corruption, mainly in the public sector, particularly bribery; use of public office for private gains; diversion of public funds; nepotism in appointments; red tape; state capture by vested interests; and mechanisms available for control of corruption.
It also considers legal, institutional and policy capacity and practice to curb corruption; integrity of institutions; effective prosecution of corruption cases; laws on financial disclosure and conflict of interest of public officials; access to information; and legal protection for whistleblowers.
Pointing out the reasons for Bangladesh's poor performance in reining in  corruption, Iftekharuzzaman said that though a zero-tolerance policy on corruption was declared from the top position of the government, there was no pragmatic strategy -- be it in short or long term -- to offset graft during the current period.
On the other hand, the corrupt practices have become acute during the Covid period. "Money laundering took place on a massive scale between 2019 and 2022 but no effective measures were taken," he said.
There were no instances of taking action against big fishes and corrupt government officials; rather, whistleblowers were harassed, he said.
"No effective measures were taken on forgery in the banking sector … Bangladesh Bank did not play the role of a controller; it instead worked as a  protector of the corrupt," he pointed out.
Somalia got the lowest score of 12. The worst performers in the CPI include Syria, Sudan, Venezuela, Yemen, North Korea, Haiti, Burundi, Equatorial Guinea and Libya, all of which got scores ranging from 12 to 17.
The highest scorers (88-76) are Denmark, Finland, New Zealand, Norway, Singapore, Sweden, Switzerland, Netherlands, Luxembourg, Germany, Ireland and Hong Kong. No country has scored 100.
In South Asia, Bhutan continued to score the highest: 68. It was followed by India and Maldives (40), Sri Lanka (36), Nepal (34) and Pakistan (27).
Interestingly, Afghanistan made progress in the last one year. It ranked 174th and scored 16 in 2021.
"If the current trends continue, there is a risk for Bangladesh to be the worst performer in South Asia," said Iftekharuzzaman.
In 2001 when the TI included Bangladesh in the annual CPI for the first time, the country ranked the lowest with a 0.4 score. With incremental improvement, Bangladesh scored 2.7 in 2011. For the last one decade, the country's score ranged between 25 and 28.
Pointing out the stance of top scoring countries on money laundering, the TIB executive director said, "Corruption paves the way for injustice globally. The countries that score high in the index welcome dirty money from the developing countries like Bangladesh. Though there are legal barriers, money is laundered due to loopholes. These countries actually create the scope for laundering.
"These countries [top scorer] get financial benefit whereas developing countries like Bangladesh get deprived of economic development … corruption creates an environment for culture of impunity both nationally and internationally."
Replying to a question, he said TIB only publishes the survey carried out by the Transparency International.
"TIB is not responsible for the low points of Bangladesh. The corrupt are responsible for the ranking," he said, adding that there is no connection of this report to the next parliamentary election.