Sufferings abound at Benapole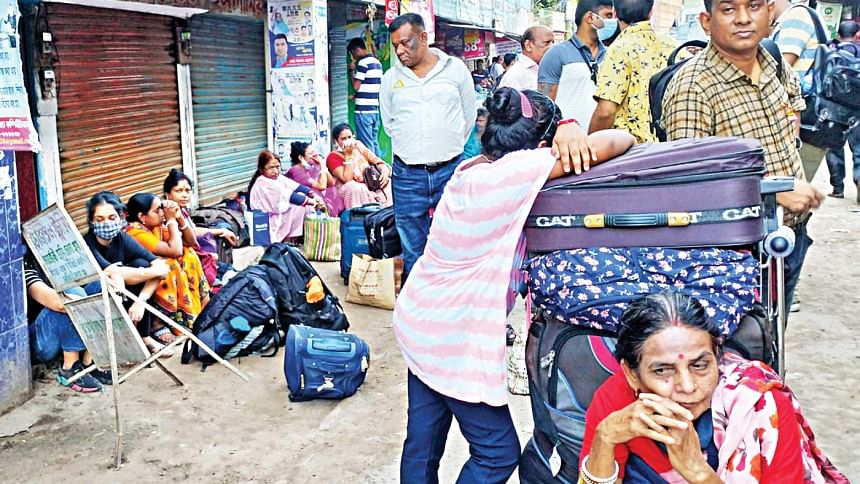 The checkposts at the Benapole-Petrapole point on the India-Bangladesh border have been swarming with travellers since a week before Eid-ul-Azha.
Meanwhile, those travelling have been waiting in line for 17-18 hours at a stretch and suffering immensely due to a delay in immigration procedures.
While most are going to India for vacation, many are travelling for medical purpose. 
According to immigration officials, over 22,000 passengers have entered India through the border over the last five days.
"This means over five thousand passengers have crossed the border daily," said Abul Kalam Azad, officer-in-charge of Benapole Checkpost Immigration.
Around 7,000 people crossed the border only on July 8. This is the record number of passengers traveling between the two countries through this border in a single day, immigration sources said.
Normally, around one to 1.5 thousand people travel through this border daily.
But the numbers have increased sharply since the beginning of this month and gained momentum over the past week, said Abul.
This was because the Indian government recently started issuing tourist visas after around two years of suspension due to the Covid-19 pandemic.
Each passenger has to cross the border through scrutiny at both points.
At the Benapole point, all 10 immigration booths are operational. Of these, four are designated for medical patients and the elderly, the OC said.
However, only four out of 10 booths were open at the Petrapole point in India, travellers and immigration sources said.
Each passenger had to wait at least six hours to complete immigration at both points combined.
For those who are not fully vaccinated, the process took at least two more hours due to health check-ups upon entry.
Ali Hossain, a resident of Jashore town, who was going to India on a tourist visa, said, "I had to wait for over six hours for immigration. I felt so sick that I thought I would lose my senses."
Tutul Hossain, another traveller, alleged that many passengers are bribing law enforcers to get ahead in lines.
Immigration official Abul, however, denied the allegations.
"We are working hard to deal with the huge rush of passengers in a disciplined manner."
Ari Ahsan Panna, going to India for medical treatment and visiting relatives, yesterday said there was only one gate for immigration at the Petrapole point and that is why the process is slow and lines are long.
Due to a lack of passenger sheds, everyone is having to wait under the open sky.
Another passenger, Mohin Uddin, said only four officials at four desks were working at the Petrapole immigration point for thousands of travellers yesterday.
At least 3,500 passengers travelled to India through Benapole yesterday, immigration sources said.