Stealing trees from reserve forest
Vested interest groups cutting trees to sell logs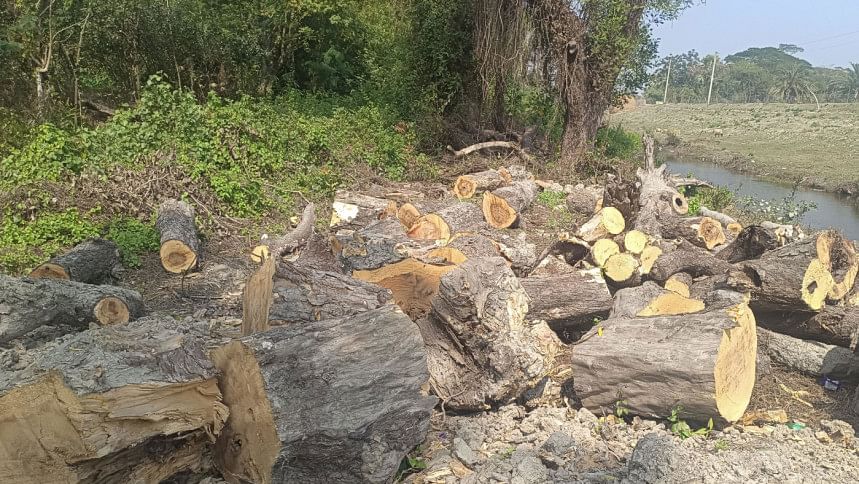 Trees are being looted from reserve forest areas in Patuakhali, adjacent to the flood control embankment of Kalapara upazila.
During a recent visit to Pakhiapara village of Baliatali union in the upazila, it was seen that several trees have been cut and left in small pieces for sale next to the dyke.
Rafiqul Islam, director of a local madrasa, alleged that one Shahabuddin Sikdar cut down at least 20 trees in Pakhiapara area a month ago. When the matter was informed to the upazila administration, the logs of trees were seized.
However, no action has been taken against those involved as of yet.
Rafiqul also mentioned that the forest department gave him custody of the tree logs for the time being.
"A vested quarter often cuts trees illegally and then sells logs. Many dare not to speak against them. This is how trees are regularly getting stolen," he added.
This correspondent could not reach Sahabuddin over the phone despite repeated attempts.
Mahbub Mridha, another local, said the forest department planted many trees near the flood control dyke about 30 years ago to protect the area from natural calamities, including storms and floods.
However, these trees are now disappearing. So, the forest is being destroyed every day making locals vulnerable to natural disasters. The administration should look into this issue seriously, he added.
Kalapara upazila forest officer Abul Kalam said, "Action is being taken against those involved in cutting trees. But we have a lack of human resources."
Kalapara UNO Shankar Chandra Baidya said, "I sent people to stop cutting trees after receiving information from locals in Pakhiapara area. The tree logs have been kept in the custody of a local man. The forest department has been instructed to take necessary measures in this regard."
Contacted, Patuakhali Divisional Forest Officer Abdullah AL Mamun said the matter is being taken seriously and necessary action is being taken, including the filing of a case against those involved in tree cutting.