A slogan ever in sync with a nation
Joy Bangla set to be nat'l slogan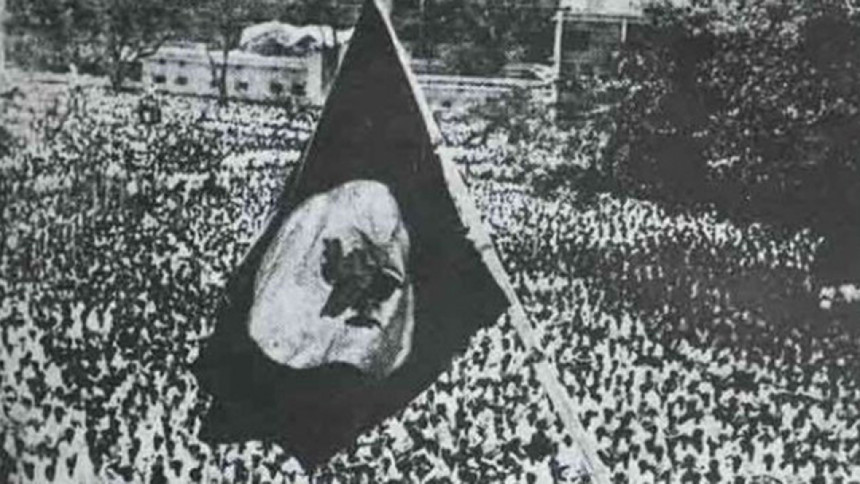 "Joy Bangla", the strongest slogan during the Liberation War and also during the struggle for the country's independence, is set to become the national slogan of Bangladesh.
The slogan, which translates as "Victory to Bengal", was not merely a political one, but a sign of commitment to the motherland and a symbol of national spirit and patriotism.
It became a rallying cry of the people of all classes and ages irrespective of political identities during the nine-month war in 1971.
The Cabinet Division has drawn up a proposal for making "Joy Bangla" the national slogan. The proposal will be placed before the cabinet by March 7 for approval, said sources.
Prime Minister Sheikh Hasina has already consented to placing the proposal before the cabinet, they added.
Once approved, the slogan would be used at all state functions and assemblies of academic institutions. Those holding constitutional posts and all government officials will have to utter "Joy Bangla" at the end of their speeches at government programmes and on national days.
According to the summary of the proposal, the High Court on March 10, 2020 directed the government to take necessary steps to make "Joy Bangla" the national slogan.
The HC bench of Justice FRM Nazmul Ahasan and Justice KM Kamrul Kader, while delivering the verdict on a writ petition filed in 2017, ordered the authorities concerned to submit a report on the progress of complying with its directives through the Supreme Court registrar general's office within three months.
It said "Joy Bangla" is the slogan of independence and national unity.
Historians said during the mass upsurge in January 1969, students under the banner of Sarbadaliya Chhatra Sangram Parishad (All Student Parties Resistance Council) started chanting "Joy Bangla" instead of "Pakistan Zindabad".
Students also chanted "Amar Desh-Tomer Desh, Bangladesh Bangladesh".
"Students started to use Joy Bangla slogan in 1969. But it became a universal slogan of the country during the Liberation War. It was also used as a greeting at that time," historian Muntassir Mamoon said yesterday.
The slogan helped Bangladeshis get united and fight against Pakistani regime.
According to The Indian Express, Joy Bangla slogan was first used during anti-British movement. Anti-British hero Purnachandra Das, a school teacher from Madaripur, was imprisoned and tortured by British rulers for his anti-British regime movement.
National Poet Kazi Nazrul Islam composed the poem "Purna Abhinandan" in 1922 upon a request from Kalipada Roychowdhury on the occasion of the release of Purnachandra Das.
The poet used the words "Joy Bangla" in the fifth stanza of the poem:
Joy Bangla'r purnochondro, joy joy adi ontorin,
Joy juge juge asa senapoti, joy pran ontohin.
The main theme of the poem was rebellion against colonialism, oppression and exploitation.