Short term govt project: A boon for stone crushers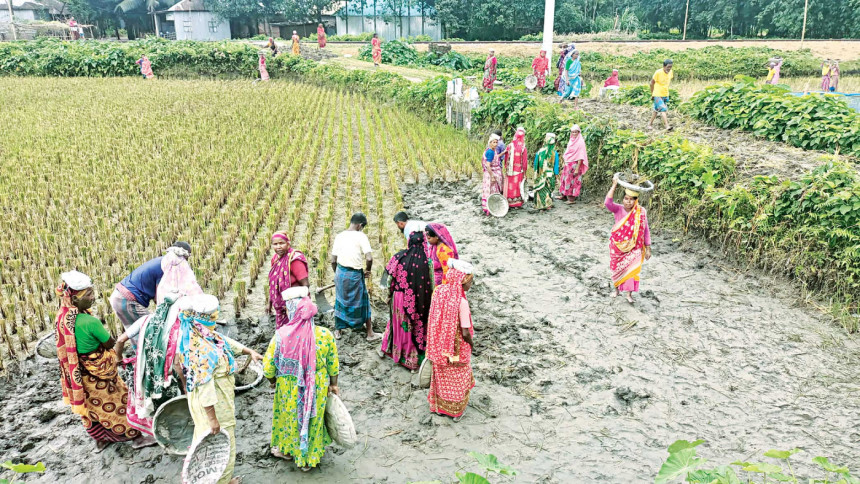 A total of 1681 male and female workers from impoverished families of Lalmonirhat's Patgram upazila are happy getting an opportunity to work under the government 40-day job creation project. Prior to joining the project, they were involved in risky stone crushing jobs.
The workers said that previously they had to toil hard and got a wage of Tk 350-400 per day. However, they are now earning Tk 400 a day working under the government's job scheme.
Working under the government project is a lot more comfortable, they said adding that under the project, they are repairing dirt roads in the village. While doing stone crushing works, they often suffered from respiratory infections including silicosis.
Khodeja Bewa, 55, a labourer from Ufarmara village, said that they were now happy working in the project. She also added that they often suffered lung problems including silicosis while working in stone crushing.
If they got alternative employment opportunities like job creation project all year round, they would not get themselves involved in stone crushing, she also said.
Sharifa Khatun, 48, of Baniapara village, said they will have to return to stone crushing once the government job scheme is over.
"We don't want to return to stone crushing work," she added.
Rafiqul Islam, the owner of a stone-crushing machine at Burimari land port, said they have been in a labour crisis since the govt's job creation project started.
Many stone crushing machines have been shut down due to labour crisis, he said adding that more than 1500 machines are in operation in Burimari Land Port area.
Patgram Upazila Project Implementation Officer (PIO) Uttam Kumar Nandi said the workers are renovating village roads, educational institutions, Eidgah and mosque-temple grounds. The workers are very happy with the project. Workers get their wages through mobile.
He added that it would be nice if they could get alternative jobs all year round. The adoption and implementation of such projects depend on government high-ups.