Riverside people in precarious situation
Dyke collapses in Kalapara due to high tide under the impact of full moon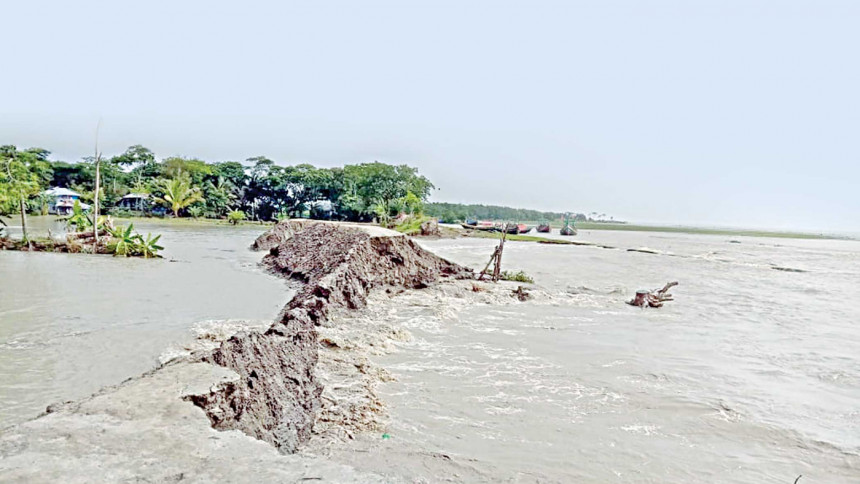 People living on the bank of the Ramnabad river in Kalapara upazila of Patuakhali are in a precarious condition as around 500 feet of the dyke on the river has been washed away due to the high tide under the impact of the full moon recently.
Jahangir Sikder, a fisherman along with his three children and his wife, has taken shelter on another dyke as he lost his shelter to the abnormally high tide due to the impact of Cyclone Ashani on May 9.
The grief of this landless family seems perpetual as their address changes every year. But Jahangir is not the only one who has borne the brunt of the furious river. At least 50 other families have been displaced in the incident. Those shelterless families are trying to find a nook on other dams or roads in the periphery.
Fisherman Abul Hossain, who has also lost his shelter, said "I took shelter on the dyke as I have no land property but now I and my family are in utter distress. I don't even afford to erect a makeshift shelter."
Local UP member Zafar Ali Hawlader said that before Eid this year, some parts of the dyke on the banks of Ramnabad river were repaired at the initiative of the Payra Port authority, but this time it has been washed away by the high tide. Now tidal water is entering villages.
There seems to be no let-up in the sufferings of the people of at least eight villages including Chandupara, Munsipara, Burojalia and Nawapara, he said.
Md Arif Hossain, executive engineer of the Water Development Board (WDB) in Kalapara, said that about a 2.50-kilometre-long dyke at Lalua and Devpur villages of Champapur union on the Rabnabad river banks has been washed away. About two kilometres area of the dyke is being repaired.
Some parts of this ongoing work have also been washed away by the pressure of tidal water.
WDB has allocated around Tk 9 crore for the repair of these dams, he said, adding that about six kilometres of the dyke in Lalua area will be repaired by the Payra Port authority.