'Read book widen your horizon'
UIU, The Daily Star launch yearlong book reading campaign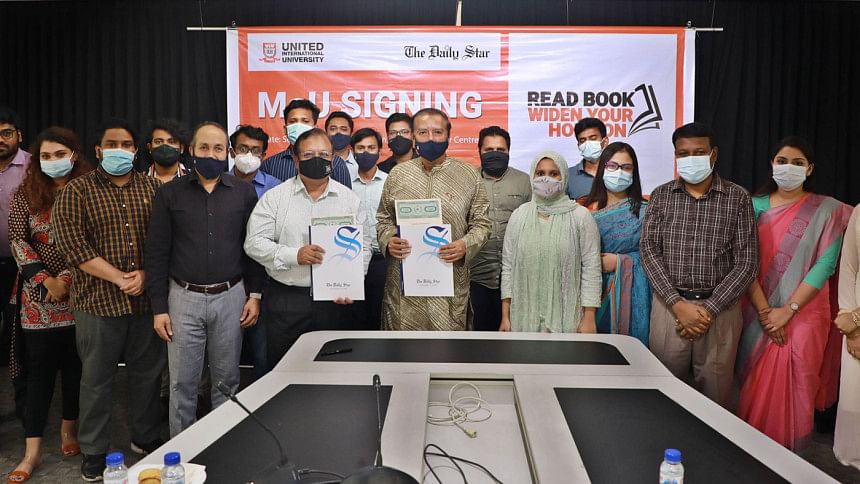 To develop reading habit among teenage students, United International University (UIU) and The Daily Star have jointly launched a yearlong book reading campaign.
Titled "Read Book Widen Your Horizon", the campaign will run across the country, reaching out to students aged between 15 and 19 years.
Following a month of reading a book, a quiz contest will be held each month, where top scorers will get certificates as well as attractive prizes.
A memorandum of understanding (MoU) was signed between UIU and The Daily Star at the capital's The Daily Star Centre yesterday.
Prof Chowdhury Mofizur Rahman, vice-chancellor of UIU, and Mahfuz Anam, editor and publisher of The Daily Star, signed the agreement.
The UIU VC said the younger generations have become too dependent on social media.
"They lack reading habits and cannot retain their concentration and enthusiasm for longer periods while reading a book," he remarked.
"This is why we're launching the campaign, aiming to develop reading habits among them," he said.
"We want them to discover the hidden treasure that is books," he added.
Mahfuz Anam said one of the main goals of the campaign is to grow keenness for attaining knowledge among the students.
SHOUT is the youth engagement partner of "Read Book Widen Your Horizon" campaign.