Radio Silence: Bangladesh Betar's external service inoperative for three years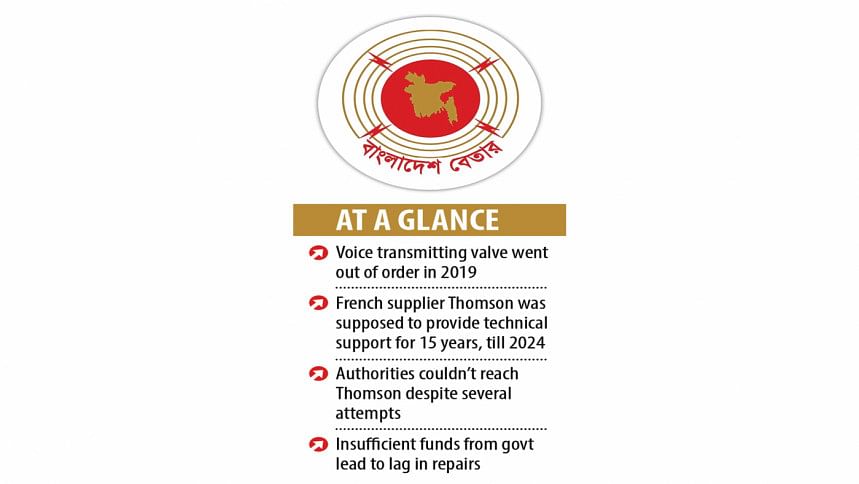 The external service of Bangladesh Betar has remained disconnected from the rest of the world for over three years due to a mechanical fault, depriving a vast diaspora of foreign listeners.
The worldwide service, which was accessed through mobile apps and the web, shut down on March 3, 2019, as a valve, a major part of the voice-transmitting machine, went out of order, according to the director of Betar's external service department.
The lone state-run radio station used to broadcast programmes for eight and a half hours daily for its foreign audience from Dhaka's Kabirpur station.
It covered news and different development and cultural programmes in Europe, the Middle East, South Africa, and neighbouring countries, in five languages -- Bangla, English, Hindi, Nepalese and Arabic.
The long closure has put a question mark over the country's future in providing proper services to people who tune into Betar, said experts.
Mentionable, Betar's external service was launched in 1972.
After the Liberation War, the station became a voice of the country for locals and foreigners. Since then, Bangladesh Betar established itself as one of the most high-profile and popular international radio broadcasters, according to officials.
Nasrullah Md Irfan, additional director general of Bangladesh Betar, said they have been unable to repair the machine as the supplier did not cooperate in this regard.
He said Betar authorities tried to communicate with Thomson, the French company that supplied the machine and was supposed to provide technical support for 15 years, till 2024.
"We've communicated with them many times, but they aren't supplying the parts," Irfan said recently at a programme.
The Daily Star sent a mail and text message to Thomson for comments, but it did not respond.
Abdul Alim, sub-assistant engineer of the Kabirpur radio station, said as the machine is not working, there is no alternative way of sending audio outside the country.
Md Masud Bhuiyan, the chief engineer of Bangladesh Betar, said a new valve would cost them around Tk 1.40 crore.
"But we have a budget of Tk 1.20 crore," said Bhuiyan. "Besides, it normally takes more time to buy such equipment as we have to follow international tender processes."
Over the suspension of transmission, Shams Ibne Obaid, station chief of Radio Bhumi, said, "The government has been spending a lot of money in this sector. But being one of the richest departments, Bangladesh Betar has only been counting losses for years, instead of serving anything good for the people."
Shahanaj Begum, director of Bangladesh Betar's external service department, refused to comment on this matter when contacted over the phone.