Over 1.3 million evacuated as Mocha set to unleash fury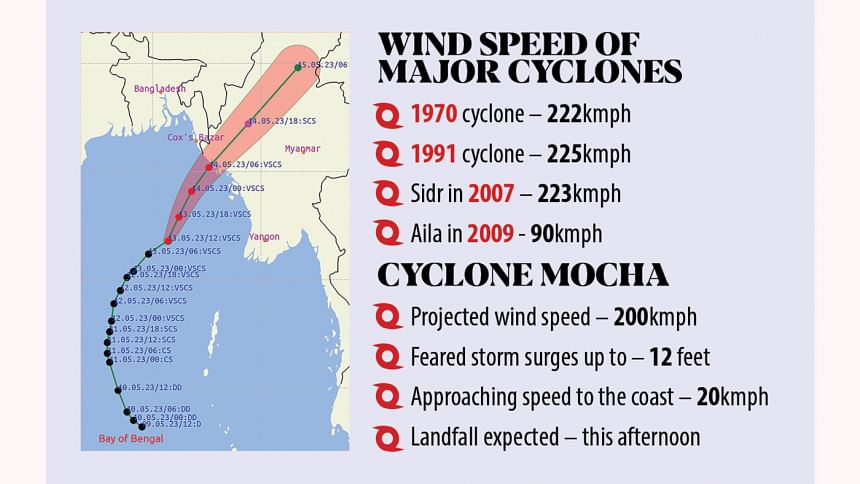 The government evacuated over 1.2 million people to safety in Cox's Bazar and the efforts continued until late last night as Cyclone Mocha kept getting fiercer by the hour in the Bay of Bengal.
The cyclone will make landfall in the afternoon today in Bangladesh and Myanmar and bring winds of up to 200km/h and trigger storm surges up to 12 feet in  Cox's Bazar.
Hours before the eye of the cyclone passes through Bangladesh, people living along the coastline will see bad weather, said Azizur Rahman, director of Dhaka Meteorological Department.
As of 6:00pm yesterday, Mocha was around 525km south-southwest of Cox's Bazar, approaching the coast at a speed of 20km/h.
But it may move faster as it comes closer to the coast, said renowned meteorologist Quamrul Hasan.
Mocha began as a depression near the Andaman Sea at the beginning of this month and slowly turned into a cyclonic storm on May 10.
The Met office advised "great danger signal no-10" for maritime ports and islands in Cox's Bazar and "great danger signal no-8" for 11 other coastal districts. Signal-8, -9, and -10 means the storm has windspeeds over 90km/h. The signals differ to warn people about which side of a port the storm will pass.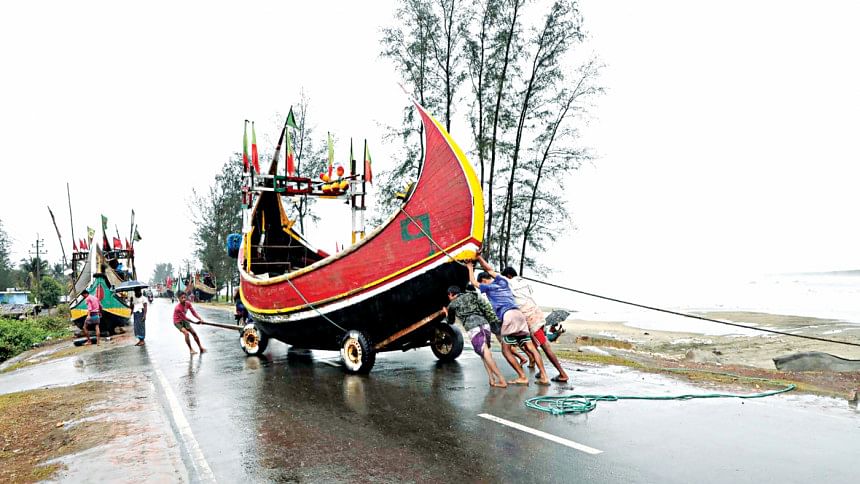 GOVERNMENT PREPARATION
River traffic in the coastal areas and operation of planes in Chattogram and Cox's Bazar have been suspended. Besides, educational institutions in the coastal districts were ordered to remain closed. 
Prime Minister Sheikh Hasina yesterday said, "Cyclone Mocha is coming. We have readied the cyclone centres and made all types of preparations."
Enamur Rahman, state minister for disaster management, said the surges may be 6 feet in Chattogram, Noakhali, Laxmipur, Barishal, Barguna, and Bhola.
Saint Martin's island, which faces the greatest risk, has 37 shelter centres with enough room for 8,500 people, he added.
Some areas could see 200mm of rainfall, and landslides are a major risk in Rohingya camps.
At least 4,500 volunteers were working at refugee camps under the Refugee Relief and Repatriation Commissioner, he said, acknowledging that evacuating 12 lakh Rohingyas to the cyclone centres was not possible.
Bibhishan Kanti Das, additional deputy commissioner at Cox's Bazar, said about 1.27 million people were evacuated by yesterday evening.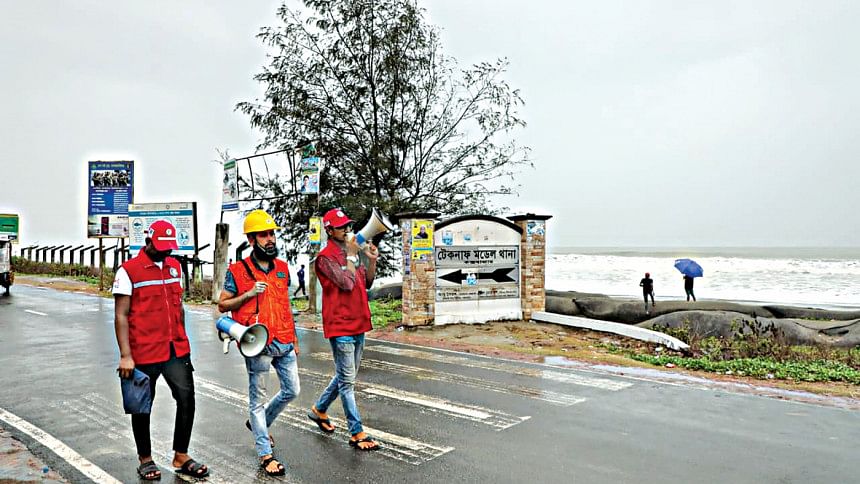 Over 4,000 people were taken to government buildings, hospitals, hotels and motels on St Martin's island.
Mujibur Rahman, chairman of St Martin's Union Parishad, said, "Our volunteers are bringing people to the cyclone shelters."
In Cox's Bazar town, a large number of people from Samitypara, Nazirartek and Kutubdiapara were evacuated, said Hasanul Amin, deputy director of Cyclone Preparedness Programme (CPP).
Some 565 cyclone centres, which have the capacity to accommodate over half a million people, have been prepared in Cox's Bazar.
After yesterday afternoon, tourist police were asking people to steer clear of the beach in Cox's Bazar.
In Chattogram, almost one lakh people, mostly women and children, were evacuated to cyclone shelters.
Some 16,500 volunteers are working to help the people, Deputy Commissioner Abul Bashar Md Fakruzzaman said.
In Patuakhali, hundreds of people from the small islands and char areas were taken to 118 cyclone centres.
In Noakhali, officials said in the evening that they had the preparations to evacuate people in Hatiya upazila.
"But the weather is still good and people do not want to come to cyclone centres," said UNO Mohammad Kaisar Khasro.
"When the weather starts deteriorating, people will begin to move," he told The Daily Star.
Meanwhile, the people of Nijhum Dweep are in fear as there is no embankment on the island of around 40,000 residents.
Besides, there are no cyclone centres at Chargasia and Dhalchar islands, locals said.
[Staff correspondents in Cox's Bazar, Chattogram and our correspondents from Patuakhali and Noakhali contributed to the report.]