Mashrafe elected as AL's youth and sports secretary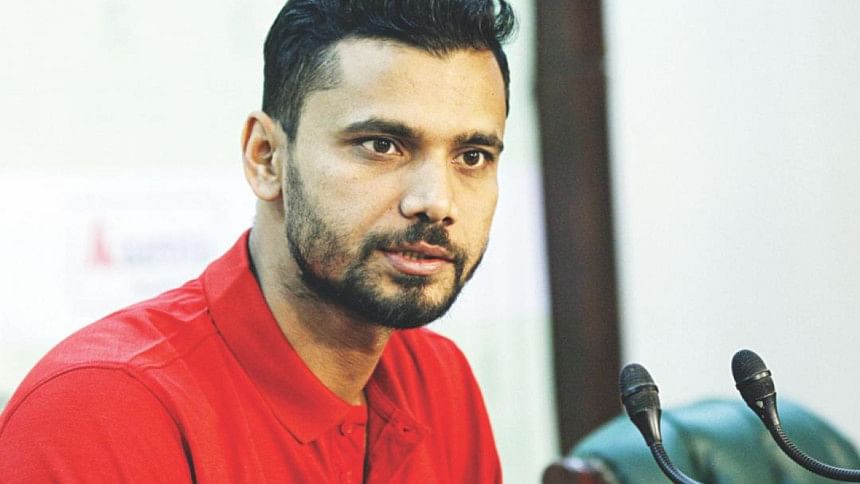 Mashrafe Bin Mortaza was elected the youth and sports secretary of Bangladesh Awami League today.
AL General Secretary Obaidul Quader made the announcement after the maiden presidium meeting chaired by Prime Minister and AL President Sheikh Hasina at the Gono Bhaban.
The PM proposed the name of the former Bangladesh cricket team captain and the incumbent lawmaker from Narail-2 and the meeting endorsed it.
The ruling party elected all the office bearers at its 22nd triennial council session on Saturday except three posts -- deputy publicity and publication secretary, youth and sports secretary, and labour and manpower secretary.
Other than that two more presidium posts still remain vacant.
The meeting was convened to elect 28 executive members of the party's highest policy-making body.
"We discussed both national and international issues at the first meeting of the party presidium. Our leader [Sheikh Hasina] gave us guidelines centring the [upcoming] national election," he said.
At her introductory speech at the meeting, Sheikh Hasina said the only goal of her party is to ensure that none can play ducks and drakes with the fate of the people of Bangladesh, reports BSS.
Mentioning that the people of Bangladesh have suffered a lot and they won't have to suffer anymore, the premier said her only goal was to ensure that the people get a beautiful, developed, and prosperous life.
"If the organisation [AL] remains strong, we will be able to earn people's confidence and trust. Then, it will not be a tough job to run a government and carry out the development of the country," said Hasina, who was reelected as AL President for the 10th consecutive time.
"Our goal is to build a 'Smart Bangladesh' by 2041," she said, referring to the fact that Bangladesh has already become a digitised country.
Speaking on the Covid-19 pandemic and the Russia-Ukraine war, she said, "If these shocks did not come…we could have progressed much further..."