'Let's go home; let's go to Myanmar'
Say Rohingyas at rally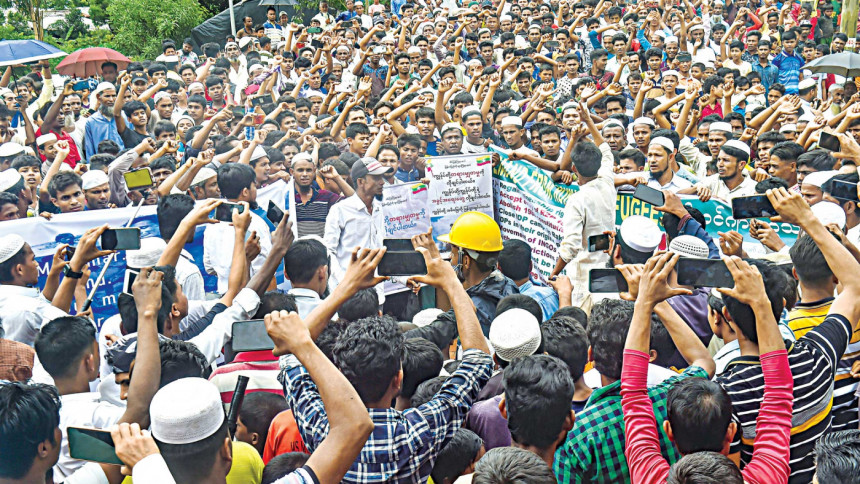 Thousands of Rohingyas yesterday held a rally in Ukhia of Cox's Bazar -- to tell the world that they want to go back to their homeland Myanmar, marking World Refugee Day.
Rohingyas joined the rally in front of the Balukhali 18 camp in-charge's office -- holding the national flag of Myanmar and banners and festoons with different demands.
The Rohingya community organised the rally on the first day of "Let's Go Home" (Bari Cholo) campaign launched at 23 camps -- 21 in Ukhia and two in Teknaf upazila, an official of a government intelligence agency told The Daily Star.
They also handed out leaflets with their seven-point demand which includes repatriation of Rohingyas to Myanmar at the earliest, cancellation of 1982 citizenship act of Myanmar, ensuring dignity and security of Rohingyas in Myanmar, and ending of persecution of innocent people of Myanmar.
Additional law enforcers have been deployed and members of different intelligence agencies were also put on alert ahead of their programme.
One of the organisers, Zahid Hossain said, " June 20 is World Refugee Day. Ahead of the day, we want to inform the world -- through peaceful rallies -- that the Rohingyas are citizens of Myanmar."
"The State of Arakan (now Rakhine State) is our birthplace. We want to return to our homeland," he further said.