It's just ward councilor's thuggery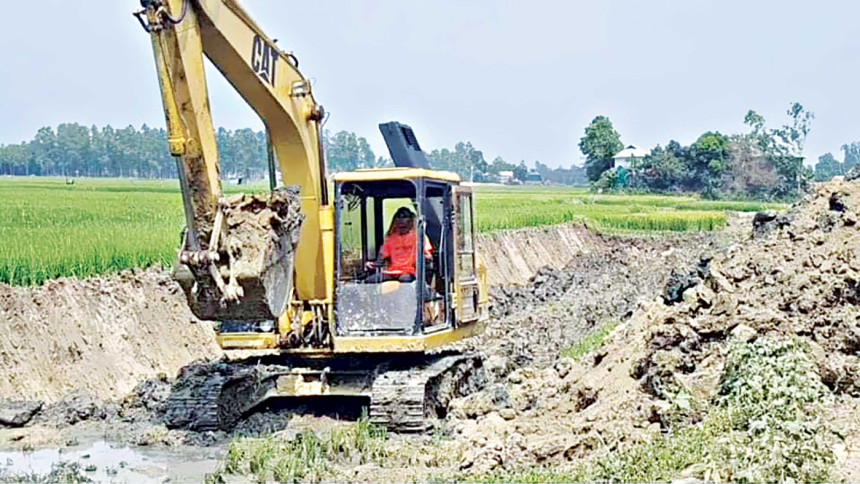 A ward councilor of Basail municipality in Tangail has excavated earth from roadside paddy fields in the name of the development of a road, farmers alleged. However, the road development project has yet to be officially approved.
HM Ershad Alam, councilor of ward no 9, has also issued threats that whoever tries to lodge a complaint against the move will be taught a lesson.
According to the municipality and locals of the ward, a tender notice was published in newspapers on March 24 for dumping earth for constructing a 300-metre dirt road from Bornikishori to Akhtar's house in ward no 9 under the "T-Ten" project. The cost of the work was estimated at Tk 31.45 lakh.
Councilor Ershad's nephew Arif Miah's Sharmin Enterprise got the work through the lottery. Following this, the councilor declared that they have got the road construction work and there is government instruction to take soil from both sides of the road. If the land is not given, lawsuits will be filed against them.
A few days after the announcement, Earshad started cutting the soil from Boro paddy fields with an excavator.
The farmers urged that the soil be cut after harvesting the paddy. However, he did not pay heed to their pleas, they said.
"They have destroyed our paddy fields. How can I run my family? Won't we get anything from the government?" questioned farmer Abdur Rashid.
However, the ward commissioner could not be reached for his comment.
Basail Upazila Agriculture Officer Nazneen Akhter said, "We will not be able to compensate the farmers. However, if the aggrieved farmers apply for compensation to the upazila nibarhi officer (UNO), we can estimate the amount of loss as per the instructions of the UNO."
Basail municipality Engineer (Additional Responsibility) Mosharraf Hossain said, "I don't know who cut the soil from cropland. Sharmin Enterprise has won the lottery in the tender. Papers have been sent to the higher authorities as per rules. There is no legal relationship between soil cutting with the tender. If anyone cuts the soil then it is his own responsibility."
Basail municipality Mayor Abdur Rahim Ahmed said that he has received no complaint so far about cutting off the earth from croplands.
"We did not place any work orders. If someone throws dirt on a road without permission, it is his personal matter," he said.
Basail UNO Nahida Parveen said that she has not received any complaint in this regard so far.
Necessary action will be taken after getting complaints, she added.