International Literacy Day: 50 lakh to be made literate
Govt planning 5yr nationwide campaign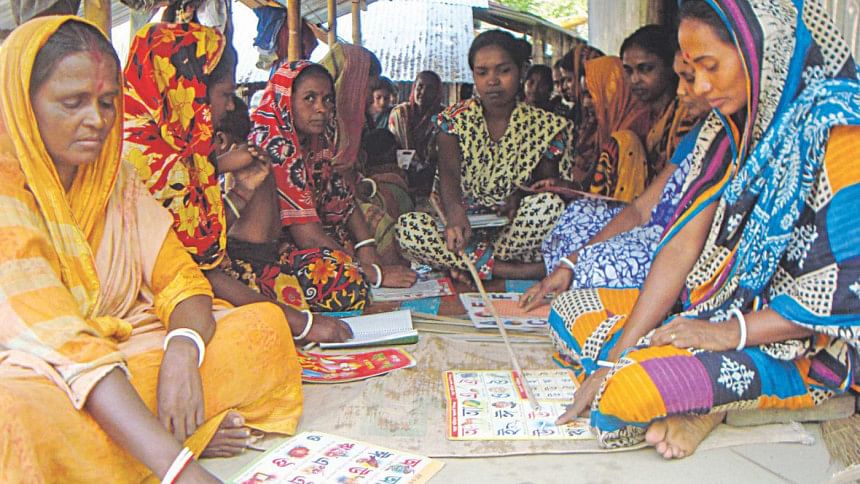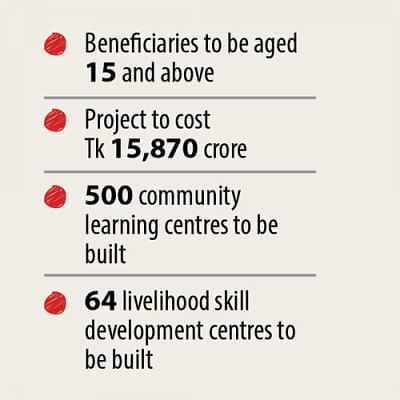 The government is working on a programme that aims at providing basic literacy knowledge to 50 lakh people aged 15 and above and skill development training to five lakh of them.
It wants to set up 500 permanent community learning centres at the union level and 64 livelihood skill development centres in as many districts under the proposed project, called Non-Formal Education Development Programme (NFEDP).
The Bureau of Non-Formal Education (BNFE) finalised the five-year government-funded programme for Tk 15,870 crore and sent the proposal to the primary and mass education ministry for further action several months back.
The ministry is now working on it.
"The work of the programme is going on. We will be able to take further steps soon. It is taking some time due to the Covid-19 situation," State Minister for Primary and Mass Education Zakir Hossen said ahead of International Literacy Day today.
The ministry is set to hold a programme, titled "Literacy for a human-centric recovery: Narrowing the Digital Divide", to mark the occasion.
Zakir also said the literacy rate in the country is currently 75.6 percent.
NFEDP
BNFE officials said they planned the non-formal education programme aiming to root out illiteracy and improve the livelihood skills of the disadvantaged people. These two aspects are crucial for human resource development and poverty reduction, they said.
The NFEDP will impart basic literacy knowledge to 50 lakh males and females aged 15 and above across the country, they said.
Each of the beneficiaries will get six months of education to become literate and they would be chosen with the help of different non-government organisations (NGOs).
Basic literacy knowledge is the ability to write, understand and explain different issues both in writing and orally. People with basic literacy knowledge have numeracy skills and the ability to communicate.
BNFE officials said 5 lakh of the newly literate people, aged between 15 and 45, will then be provided with different skill development trainings.
Besides, the government aims to set up 64 livelihood skill development centres where beneficiaries will get advanced training for six to nine months to have technical and vocational expertise.
The community learning centres will be used as venues for public awareness programmes on different issues, including agriculture.
A BNFE official said the project cost was high as they would need to set up 500 permanent community learning centres in all Sadar unions of the upazilas and 64 livelihood skill development centres. "We would need land and construct buildings ….," the official added.
Another official said implementation of the programme was being delayed as the BNFE did not have infrastructural set-ups in upazilas. 
Recently, the government has approved 1,473 new posts for BNFE to have its offices at the upazila level.  It was also taking initiatives to appoint more manpower.
The BNFE is now implementing a project under which 45 lakh people, aged 15 and above, in 64 districts are being given training on basic literacy skills. It is implementing another project to provide non-formal education to 10 lakh children who have either dropped out or have never gone to school.
Till 2019, the Bureau provided basic literacy skills training to 23.6 lakh beneficiaries. It eyes to make the remaining 21.4 lakh beneficiaries in 114 upazilas literate by the end of this year.
State minister Zakir said they were done with all preparations to make 21 lakh beneficiaries literate by this year and provide non-formal education to 10 lakh children, but the work got stuck due to Covid-19.
"We will start working as soon as the Covid-19 situation improves," he said.